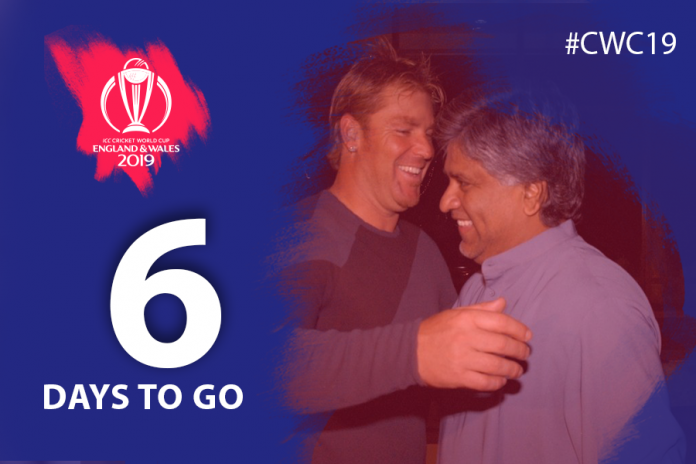 In early 2005, a couple of weeks after the deadly tsunami disaster, the unthinkable happened at the Water's Edge. Two of the bitterest rivals of the game of cricket, came together for a charity dinner to help raise funds for the victims of the disaster.
>>ICC Cricket World Cup 2019<<
Now a retired cricketer and a Deputy Minister, Arjuna Ranatunga and the world's highest wicket taker then, Shane Warne were the two chief guests at the gala dinner. It wasn't an occasion Colombo's richest were going to miss out on. The dinner and the subsequent auction were a tremendous success. Ranatunga and Warne shook hands, hugged each other and applauded each others' contributions to the game.
"I am writing a book these days," Arjuna said. "Half of it is about Shane Warne," he added.
"I haven't met a tougher opponent in cricket than Arjuna," Warne went onto say.
The Ranatunga – Warne rift started just before the 1996 World Cup. There was bad blood between the teams after a long tour of Australia the previous summer. At the conclusion of the tri-nation final, some Sri Lankans refused to shake hands with their Australian counterparts and the hosts including Warne took exception at this gesture.
Read More: Australian dominance restored (2015)
When the Central Bank bombings happened a fortnight before the World Cup, Warne went on record saying that he had reservations about touring Sri Lanka. His famous quote, 'a bomb might go off while I am shopping in Colombo,' saw sharp reactions in a day and age when twitter was unheard of.
Subsequently, Australia didn't tour Sri Lanka and conceded the points. The same teams met in the finals. Arjuna saw it as an appropriate time to hit back at Warne. On the eve of the final, Arjuna said that Warne was a media myth and wasn't as good a bowler as people feared him to be. That saw a sharp reaction from the opposition camp.
"I remember Ravi Shastri had to interview Ranatunga and I had to interview Shane Warne a day before the final," recalled former Australian skipper Ian Chappell, one of the commentators during the World Cup.
"Ravi had done his interview already, and the message must have got through to the Australian camp. Shane Warne had definitely heard it. Because he came over to me, and before we even did the interview, he said, "What's the fat b*****d said about me now," Chappell remembered.
Read More: Shopping is for sissies
When Asanka Gurusinha was dismissed in the final with Sri Lanka still needing 94 runs, Arjuna had to walk the walk. Most people's memories went back to what had happened at the SSC four years ago. With a first innings lead of over 290, Sri Lanka messed up a great opportunity to win a first ever Test match over Australia as they collapsed in dramatic style to lose by 16 runs. Warne was Australia's match winner.
Once again, Warne was operating and he was the biggest threat. Arjuna took him on and sealed Sri Lanka's fate as Warne failed to pick up a wicket.
However, Warne thrived against Sri Lanka, in general. He averaged 25 against them in Tests while in Sri Lanka that was even better – 20.
Warne and Arjuna would carry on their battle beyond the next World Cup too. Writing a column in a British broadsheet, just before the 1999 tournament, Warne made a scathing attack on the Sri Lankan skipper. "Sri Lanka are not as powerful as the side that won in 1996, and as far as I am concerned the problems stem from their captain. Ranatunga might be a shrewd, experienced leader. But his batting is not what it was, and he is terrible in the field. Frankly, Sri Lanka – and the game overall – would be better off without him," Warne went onto write.
The 11th commandment and Arjuna
Warne was censured by the ICC for his comments.
During the subsequent World Cup in South Africa in 2003, Warne was sent home in disgrace having failed a drug test. He was banned for one year. The leg-spinner made his comeback in Sri Lanka in 2004 and the press asked Ranatunga for a comment.
"It looks to me like Warne has put on too much of weight. I don't think he will be that effective,"  Ranatunga said.
Warne  was asked to respond to the comments of the former Sri Lanka captain. Warne said, "Arjuna should be the last person who should be talking of fitness. Look at him. He looks like he swallowed a sheep or a goat or whatever."
Arjuna didn't take a backward step. "I would rather swallow a sheep or a goat than swallow what he had been swallowing and then blame my mum for it."
Warne would have the last laugh though. He would take 26 wickets in that series as Australia whitewashed Sri Lanka 3-0. No bowler has taken more than Warne's haul of 26 wickets in a series against Sri Lanka so far.