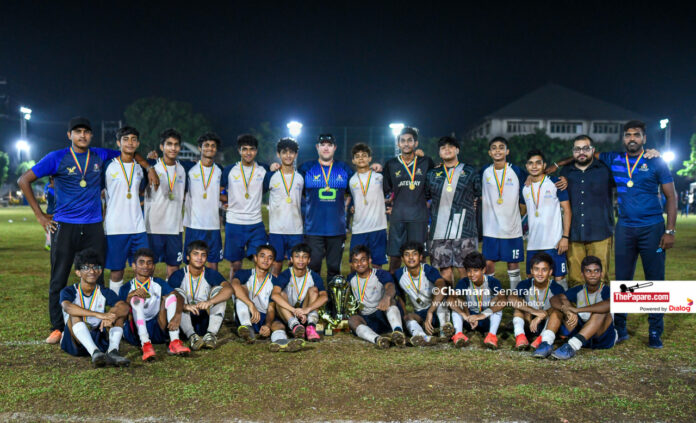 Samunu Kaggodarachchi's added time goal helped Gateway College clinch the Inter-International School U20 Football Championship 2021 as they beat Royal Institute by 4 goals to 3 in a thrilling finale at Gateway College grounds in Rathmalana.
Gateway College was in cruise control when  Umur Shakil scored two goals within four minutes and Ometh De Silva scoring the third in the first half to give them a 3-0 lead. Up until the 45th minute, the score line didn't change but a frantic five minutes saw second-half replacement Geeth Prabashwara, skipper Asif Ahmed and Hamdi Rahuman scoring three goals to draw level. However, during added time Samunu Kaggodarachchi managed to steal the win through a lobbed free kick which deceived the keeper and looped into the net.
Royal Institute started off with good intensity but it was Gateway College who controlled the midfield. Despite creating chances RI failed to capitalize in the first fifteen minutes. However, Gateway College finally found their groove after the first quarter. The first goal came in the 17th minute when Kaggodarachchi's overhead ball found Umur Shakil who cut back in and beat the keeper at the near post.
Three minutes later, Shakil found the back of the net once again and this time it was Isa Fahim who fed the winger as he beat the keeper at the near post. Gateway found their third just before the break and it was once again Fahim who fed the ball to Ometh De Silva to shoot past the keeper.
Half time: Gateway College 3 – 0 Royal Institute
Royal Institute showed intent in the second half but they were struggling to beat the Gateway defense. However, it was second half replacement Geeth Prabashwara who turned the tides around when he curved in a corner straight into the net in the 48th minute. Right from the restart RI skipper Asif Ahmed forced an error from the Gateway Defender and beat the keeper with a stunning strike. With momentum on their side, RI surged on and was rewarded with the equalizer in the 54th minute when Hamdi Rahuman's free kick bounced in front of goal and snuck in.
With 60 minutes up on the clock, Gateway pushed for a winner. RI's defense was once again under the pump and they conceded a free kick at the side of the box. Samunu Kaggodarachchi took the responsibility and made it count with loopy kick which deceived the keeper and crept in at the far corner for the winner.
Full time: Gateway College 4 – 3 Royal Institute
Player of the Final: Isa Fahim (Gateway College)
Golden Boot: Asif Ahmed (Royal Institute)
Player of the Tournament: Samunu Kaggodarachchi (Gateway College)