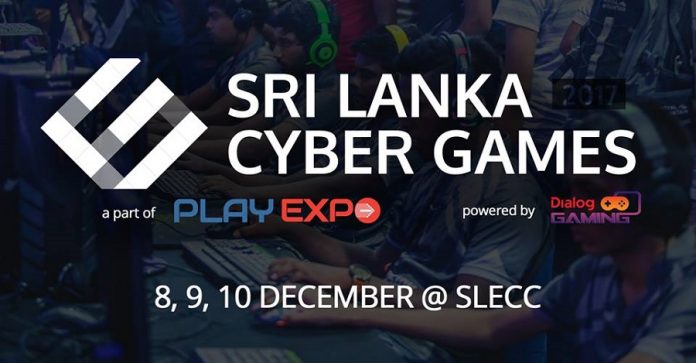 The annual Sri Lanka Cyber Games (SLCG) eSports Championship will be returning this year on the 8th, 9th and 10th December 2017 at the Sri Lanka Exhibition and Convention Center. SLCG is will be organized by Gamer.LK, and powered by Dialog Gaming for the 5th year. 2017 marks a milestone for this event, with SLCG celebrating its 10th consecutive championship being held this year.
The Sri Lanka Cyber Games brings together the best cyber-athletes and competitive gamers from across the island to compete for the grand championship trophy – a coveted prize for every gamer in Sri Lanka. SLCG has become the proving grounds for gamers to show off their skills, as it attracts over 3,000 participants across its 11+ game titles. Winning a title at SLCG secures a slot in the Sri Lankan eSports hall of fame, and establishes that you are the best in Sri Lanka.
Since 2008 SLCG has been the major gaming arena for the pro-competitive gamers all around the island. With time SLCG has grown bigger and better, especially over the last 5 years. Over 20,000 people visit this mega event every year. Game clans all around the country battle it out to be the best of the best and some to showcase their ongoing rivalries. The event is always heated and will keep the spectators at the edge of their seats. Sri Lanka has six major gaming clans, Phoenix Gaming, Xiphos Gaming, nOOb Alliance Gaming, Maximum Gaming, Tech Morph Gaming as well as Wolfgang Gaming. These clans battle it out to be the ultimate gaming champions but in the past years Phoenix Gaming has taken the lead while Xiphos Gaming and nOOB Alliance Gaming are close behind.
SLCG 2017 has a special value this year and that is the introduction of the brand-new game which is popular in the South East Asia region – Special Force 2, a free to play, free to download Massive Multiplayer Online game with partnership of Dialog Gaming and Asiasoft Online Pte Ltd. Further SLCG will also feature well known online multiplayer gaming titles in Sri Lanka, Call of Duty 4, Defense Of The Ancient 2(DOTA), League of Legends(LOL), Counter Strike Global Offensive (CS:GO) and Overwatch with single player gaming titles such as Injustice 2, FIFA 17, Project Cars and Tekken 7 as official titles. In addition, newer titles such as PUBG and Rainbow 6 are featured as promotional titles with Ingress, Clash Royale and Rider Rush by Honda being played as the mobile game titles at SLCG 2017.
Dialog Gaming presents the Sri Lanka Gamers Leaderboard (SLGL) which introduces a game on a monthly basis and features the top players in the country. The SLGL will be featured at SLCG 2017 for all casual and professional gamers to showcase their talent against the best in the country and win exciting prices. All the winners in SLCG 2017 are rewarded with the biggest data pool ever to be announced in Sri Lankan e-Sports arena.
ThePapare.com, Sri Lanka's No.1 Sports Hub is partnering up with Dialog Gaming for the second consecutive year to bring SLCG to you as the online media partner.
For more information on this event and how to participate, please visit http://slcg.lk