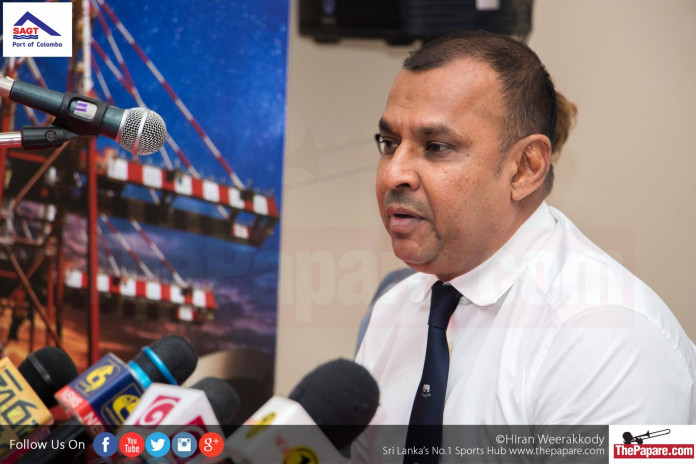 The overseas player abstention rule for the 2015/2016 season was a collective decision that was taken with discussion of the stakeholders of the Dialog Rugby League according SLRFU President Asanga Senevirathne and there exists a larger possibility of the players returning next season.
Asanga Senevirathne in a chat with ThePapare.com mentioned that the entire motive of bringing the overseas rule during his tenure as President in the 2012, was to see development in the playing arena with the locals blending in to the overseas player patterns.
The past two seasons of club rugby has seen good escalation with the competition heightening due to the inclusion of the overseas players. Therefore the omission of such impact players in this upcoming season seems stark.
On ThePapare.com's query Mr Asanga Seneviratne of the Sri Lanka Rugby Football Union (SLRFU) states"It was the clubs request that we operate without the foreign players this season because it was the clubs that was operating with a deficit."
Mr Seneviratne brought ThePapare up to speed saying the rule to cease the involvement with foreign players came through the stakeholders of the Dialog Rugby League who are the club officials. In the exclusive meeting that was held in order to decide the fate of the foreigners, the omission was passed with a majority.
Surprisingly it had been Army SC, Air Force SC and Police SC who had shown their interest in bringing down the overseas players whilst the other clubs Kandy SC, Havelocks, Navy and CR & FC had gone-on with the notion of not entertaining any overseas players this season.
Heavy budgets invested on foreign players last season have sent most clubs to financial difficulties and are currently resolving their credit issues and the heavy investments was something these clubs had not planned for.
The inclusion of the foreign players brought a lot of excitement and spectator interest into the Dialog Club Rugby League in the past two seasons and the SLRFU's verdict on the foreign player involvement is nothing different to that of the masses. If the financial situation in the clubs turns fruitful, the possibilities of a return of the big names is well within reach.