Two-time champions Uruguay makes their 12th appearance while Saudi Arabia enters after missing out on the last two FIFA World Cups.
The FIFA World Cup needs no introduction. It is the pinnacle..
Uruguay (FIFA Ranking – 17th)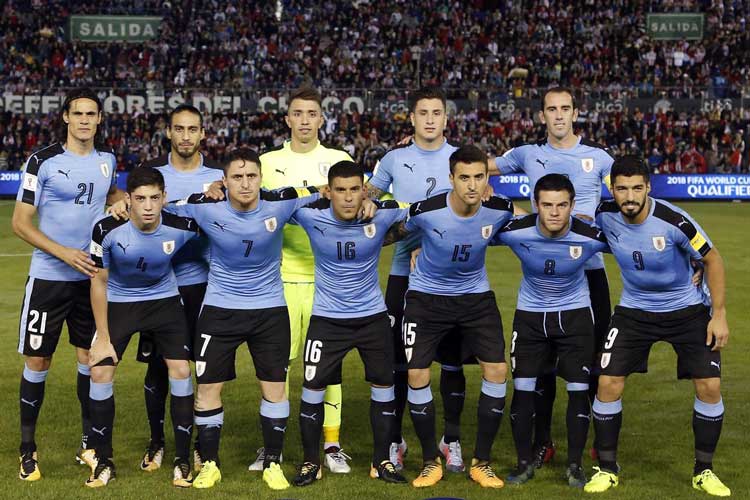 World Cup History
Uruguay hosted the first ever World Cup back in 1930 when only 13 teams took part. They dominated the tournament and beat Argentina 4-2 in the Finals to win the first ever FIFA World Cup.
Then in 1950, after refusing to participate in the 1934 & 1938 editions, Uruguay once again was part of the FIFA World Cup, this time in Brazil in a competition where many teams, including India, withdrew from participating.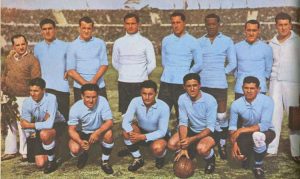 However, Uruguay yet again dominated and following the popular match against Brazil now known as the 'Maracanazo' Uruguay were once again crowned World Champions, and were the second nation following Italy to win the competition twice.
Uruguay who took part in the 2014 World Cup in Brazil reached the Round of 16 stage before being knocked out by Colombia in a 2-0 loss.
1954 – 4th Place
1962 – Group Stage
1966 – Quarter Final
1970 – 4th Place
1974 – Group Stage
1986 – Round of 16
1990 – Round of 16
2002 – Group Stage
2010 – 4th Place
2014 – Round of 16
How they qualified
Uruguay started their qualifying campaign in strong fashion, beating Bolivia & Colombia 2-0 & 3-0 respectively.  This was followed by a surprise 2-1 loss to Ecuador, however the La Celeste's bounced back strong with a 3-0 win over Chile.
After a 2-1 win over Ecuador on match day 11, Uruguay's next 6 matches produced only a single win which came against Paraguay and saw them lose 3 of the 6, 3-1 against Chile, 4-1 against Brazil and 2-1 against Peru.
However, wins in their final two games against Paraguay and Bolivia saw them qualify in second place behind leaders Brazil.
Manager & Playing Style
Oscar Tabarez has been Uruguay's manager since 2006 and saw them qualify for both the 2010 and 2014 World Cups after he took over a side that failed to qualify in the 2006 World Cup. This will be his fourth World Cup as manager and third in a row. Uruguay as of late has favored a 4-4-2 formation, which allows for their two-star strikers Luis Suarez and Edison Cavani to start together.
Strengths & Weaknesses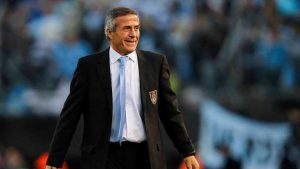 Uruguay have some great stars who play in big international leagues and possess major international experience.  
A possible weakness that exists in the Uruguay team could be that they lack pace in the defense with Diego Godin, who should be considered one of the best defenders in the world in the last few seasons yet lacks pace, leading the backline.
Key Players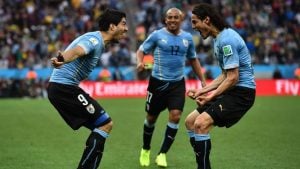 The two major stars Uruguay will be depending on will be their two forwards, Luis Suarez and Edison Cavani. Cavani was the leading goal scorer from South America in the qualifiers as he led the line in the absence of Suarez and even scored playing alongside him, managing 10 goals in 18 matches.
Cavani has also scored 39 goals in 50 appearances this season for PSG with 7 assists. Luis Suarez meanwhile has scored 30 goals in 45 appearances for Barcelona this season. Both will be expected to provide goals to carry Uruguay as far as possible in Russia.
One to Watch
Federico Valverde a good all-round midfielder, who was promoted from the U-20 side and currently plays at Deportivo La Coruña on loan from Real Madrid.
Probable Squad
Goalkeepers – Martin Campana, Fernando Muslera, Martin Silva

Defenders – Martin Caceres, Sebastian Coates, Jose Maria Gimenez, Diego Godin, Maxi Pereira, Gaston Silva, Guillermo Varela

Midfielders – Rodrigo Bentancur, Giorgian De Arrascaeta, Diego Laxalt, Nahitan Nandez, Cristian Rodriguez, Carlos Sanchez, Lucas Torreira, Federico Valverde, Matias Vecino

Strikers – Edinson Cavani, Maxi Gomez, Cristhian Stuani, Luis Suarez
Saudi Arabia (FIFA Ranking – 70th)

World Cup History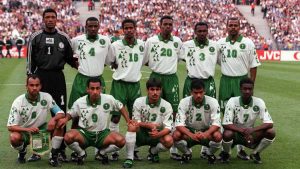 Saudi Arabia first qualified for the World Cup back in 1994, following which they qualified consecutively 3 more times in 1998, 2002 & 2006, from which their best performance came in the 1994 edition where they won the only 2 matches they have ever won at a World cup, beating Morocco 2-1 & Belgium 1-0 and reached the Round of 16.
How they qualified
After failing to qualify for South Africa 2010 and Brazil 2014, the Saudi FA and fans alike would have been desperate to qualify for the 2018 edition. The FA appointed Bert Van Marwijk, the man who led Netherlands to the 2010 World cup Final in a bid to do just that.
Saudi Arabia was automatically placed into the second round of the AFC qualifiers based on their rankings. They were placed into Group A along with UAE, Palestine, Malaysia & Timor-Leste. Saudi Arabia topped their group, winning 6 of the 8 matches and qualified for the third and final round of the AFC qualifications.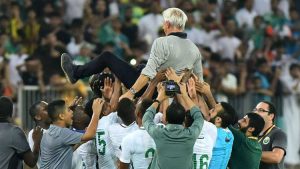 In the third round, the Green Falcons were placed in Group B along with Japan, Australia, UAE, Iraq & Thailand. The boys from Saudi fought hard and pulled off narrow wins in their first two matches against Thailand and Iraq, before battling out a hard fought 2-2 draw against Australia, followed by two 3-0 victories over Thailand and UAE.
The odds seemed against them in their final match against Japan but they pulled off a 1-0 win and secured the second automatic qualifying spot 1 point behind Japan and ahead of Australia on goal difference.
Manager & Playing Style
Bert Van Marwijk who had been with the team for 2 years and successfully led them to qualifying for the World Cup, left the post just days after Saudi qualified, following an alleged dispute with the Saudi FA. Being with the team for 2 years, he would have been the best option to lead them in the World cup as he would have known the squad better than any incoming manager could.
However, following Van Marwijk's resignation the Saudi FA hired Edargo Bauza who lasted only 2 months and 5 friendlies, winning just one of the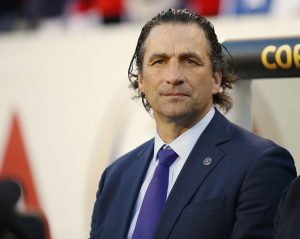 m against Jamaica. Juan Antonio Pizzi who led Chile to the Copa America in 2016 but failed to lead them to World Cup qualification was then appointed as the new manager.
The common formation used during their qualification campaign was 4-3-3; however now with the change of manager it is unknown whether this will continue to be the favoured formation or whether he will try something new.
Strengths & Weaknesses
One of the major weaknesses of the current Saudi team is said to be the extreme lack of international experience for a majority of the players. However, to combat this issue the Saudi FA sent several players on loan to the La Liga to gain international exposure & experience.
Key Player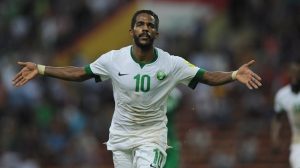 28-year-old Nawaf Al Abed who plays for Al-Hilal is considered the key player for his country. He has scored 21 times in 117 appearances for his club and scored 5 goals in Saudi's World Cup qualifying campaign.
Probable Squad
Goalkeepers – Waleed Abdullah, Yasser Al Mosailem, Mohamed Al Owais

Defenders – Mansoor Al Harbi, Saeed Al Mowalad, Yasser Al Shahrani, Motaz Hawsawi, Omar Hawsawi, Osama Hawsawi, Mohamed Jahfali, Hassan Muath

Midfielders – Nawaf Al Abed, Salem Al Dawsari, Salman Al Faraj, Taisir Al Jassim, Abdumalek Al Khaibri, Salman Al Moasher, Housain Al Mogahwi, Fahad Al Muwallad, Yahya Al Shehri, Abdulfattah Asiri

Forwards – Mohammad Al Sahlawi, Muhannad Assiri
>> For more World Cup News Click Here <<