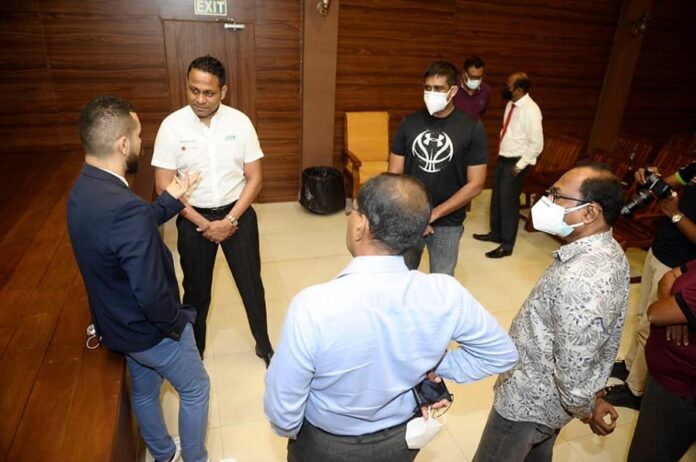 Basketball's parent body, FIBA conducted a Digital Communication and Media Workshop in Colombo over the weekend. Hovsep Seraydarian, Communications Manager, Asia conducted the workshop.
Several aspects of promoting the sport through social and mainstream media were discussed during the workshop.
Under the leadership of Sri Lanka Basketball Federation's new President Aelian Gunawardene, the game is reaching new heights and the workshop will help SLBF promote the game among players, fans and the general public.
Three years ago, FIBA's domain id changed from fiba.com to fiba.basketball. The parent body has encouraged national federations to obtain this unique identity. Sri Lanka has now secured this unique domain name. This is an online unification of basketball under a common domain. www.srilanka.basketball is under construction and traffic will be diverted into the new web.
As an immediate step, SLBF could now be contacted via [email protected] and key office bearers and functions are given. basketball mailing addresses for better communication.
 "It was a pleasure to sit in on a Strategic Session on Marketing Sri Lanka basketball conducted by Hovsep Seraydarian," SLBF President Aelian Gunawardene said.
 "We are proud to be the first sporting body in Sri Lanka to have its own online identity as @srilanka.basketball and to have a better understanding of the latest marketing concepts in International Sports marketing. The new SLBF Committee and I are very keen to make Sri Lanka Basketball all about the players and not about the administration. We hope to convey this clearly too," Gunawardene added.
 "It was indeed a very successful workshop with lot of case studies and interactive sessions," SLBF General Secretary Chandana Liyanage said.
"More importantly we learned how to organize the SLBF digital marketing and communication for future activities. We are going to apply these learning into practice in the upcoming events such as SABA Men's Championship in Dhaka, Junior Nationals Championship and the 53rd Senior National Championship over the next three months"