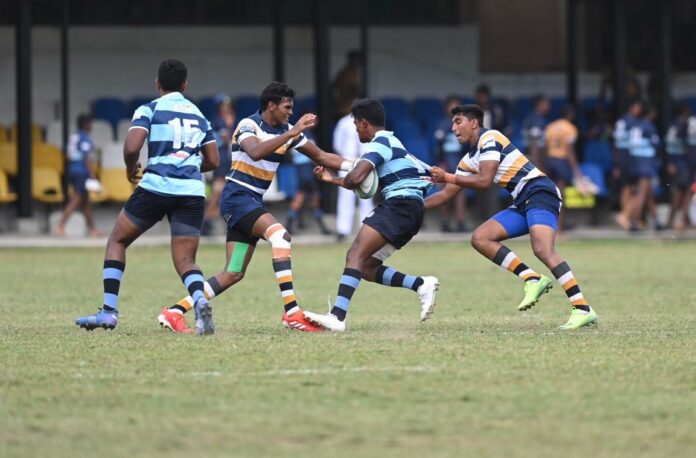 Emith Jayaweera failed to convert the final try of the game as St. Peter's College had to settle for a share of the spoils — 17-all — in the Dialog Schools Rugby League game against Weslye College at Bambalapitiya.

Both teams squandered early opportunities as indiscipline and unforced handling errors snuck in following the kick-off at Bambalapitiya.
Wesley College lost winger Maleesha Thirangama to the bin for a high tackle. This paved the way for the Petes, as they worked their line from the resulting penalty to score the opener of the game through their own winger, Vishenka Silva.
Emith Jayaweera added the extras from the far touch line to make it a perfect-7 for the hosts who had a man to the good. (SPC 07-00 WC)
Moments later, the Wesley lads struck twice like lightning, to shock the home faithful.
First, scrum-half Rigesh Muralidaran snuck through a hole from close range to score the visitors' first. The second was scored by Wesley skipper Tharusha Jayaweera as he pounced on a lackluster cross kick to run clear – not a finger was laid on him as he scored to double the visitors try tally.
Jayaweera converted both tries as Wesley went into the half time break with a surprise lead.
Half-time: St. Peter's College 07 (1T 1C) trail Wesley College 14 (2T 2C)
The second half started in similar fashion to the first, with both teams not doing justice to the chances they received to make the scoreboard tick.
Chance after chance went abegging as the game headed towards the final quarter.
Wesley College failed to clear their lines, as the hosts took full advantage as Ashene Madugasge pounced on the ball which popped out of a ruck to dive over to make it a two point ball game with the conversion to come. Emith Jayaweera failed with the extras as the game remained a 2-point ball game. (SPC 12-14 WC)
Points via a penalty was added, moments later by skipper Tharushan Jayaweera who added 3-points from infront to extend the visitors led with minutes left in the game. (SPC 12-17 WC)
Wesley College were almost there, sealing their fate of entering the second round, but the Peterites had other ideas with time running out.
The Wesley Skipper made a horrific error by kicking the ball out on the full. This yielded one final opportunity, of which the hosts worked their backline and found winger Chathumina Nethsara to dot down in the far corner.
The conversion was taken by Emith Jayaweera with the chance to win the game, he however, failed with the extras from the far touchline as the spoils were shared in the game.
Full Time: St. Peter's College 17 (3T 1C) – Wesley College 17 (2T 2C 1P)
NDB Player of the Match : Chanupa Cooray (SPC Lock forward)
Points Breakdown:
St. Peter's College –

Vishenka Silva 1T, Ashene Madugasge 1T, Chathumina Nethsara 1T, Emith Jayaweera 1C

Wesley College –

Rigesh Muralidaran 1T, Tharusha Jayaweera 1T 2C 1P