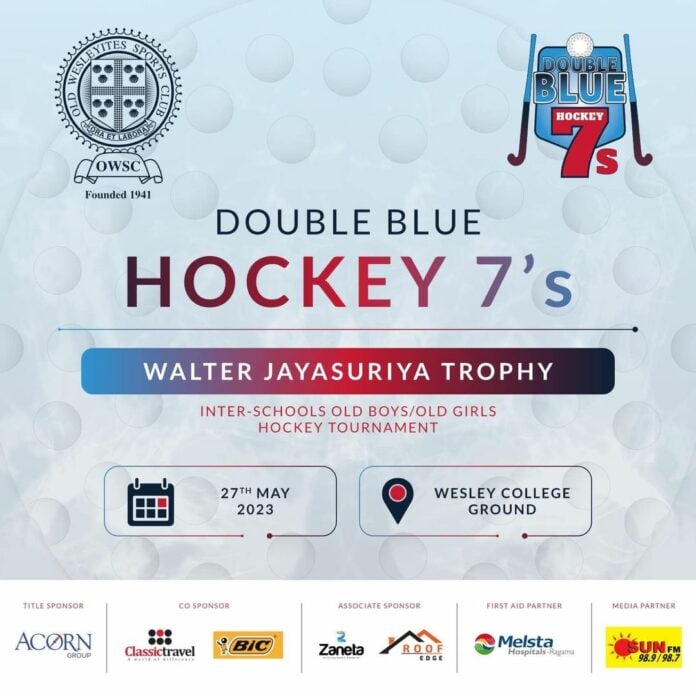 The Old Wesleyites Sports Club (OWSC) proudly announces the upcoming 'Double Blue Hockey 7s' tournament, which is set to take place on the 27th of May 2023 at the Wesley College Grounds in Colombo.
This highly-anticipated event will feature both men's and women's teams competing for the prestigious Walter Jayasuriya Trophy.
Walter Jayasuriya, fondly known as the "Father of Ceylon/Sri Lanka Hockey," played a pivotal role in shaping the hockey landscape of the country.
This tournament, named in his honour, pays tribute to his remarkable contributions and the enduring legacy he left behind.
The tournament will showcase the exceptional talent and competitive spirit of the participating teams. With the rich history of the Old Wesleyites Sports Club, which has nurtured numerous hockey players over the past 80 years, the event promises to be a celebration of the sport and the legacy of the Wesleyite hockey community.
In the men's competition, top old boys teams including the hosts, Old Wesleyites Sports Club, Old Kingswoodians Hockey Club, Old Bens Sports Club, Royal College Hockey Club, Old Thomian Hockey Union, Old Zahira Hockey Club, Old Nalandian Hockey Club, and Old Ananda Hockey Wing will battle it out for the coveted title.
Meanwhile in the women's segment, there will b fierce competition between old girls teams of Visakhians Hockey, Bishopian Hockey, Janadhipathi Hockey Wing, and Old Musaeites Hockey Club.
The Double Blue Hockey 7s tournament is made possible by the generous support of the sponsors such as the Title Sponsor – Acorn Group, Co Sponsors – BIC Sri Lanka and Classic Travels.
Hockey enthusiasts, supporters, and the community at large are invited to come on the Wesley College Grounds on 27th May 2023 to witness the thrilling matches, experience the passion of the players, and be part of the rich hockey heritage that Walter Jayasuriya has bestowed upon us.
Stay updated on match schedules, team information, and other exciting news by following the official Facebook page: Double Blue Hockey 7s and Instagram page: Double.blue.hockey.7s. Join the conversation and share your enthusiasm using the hashtag #DoubleBlueHockey7s.