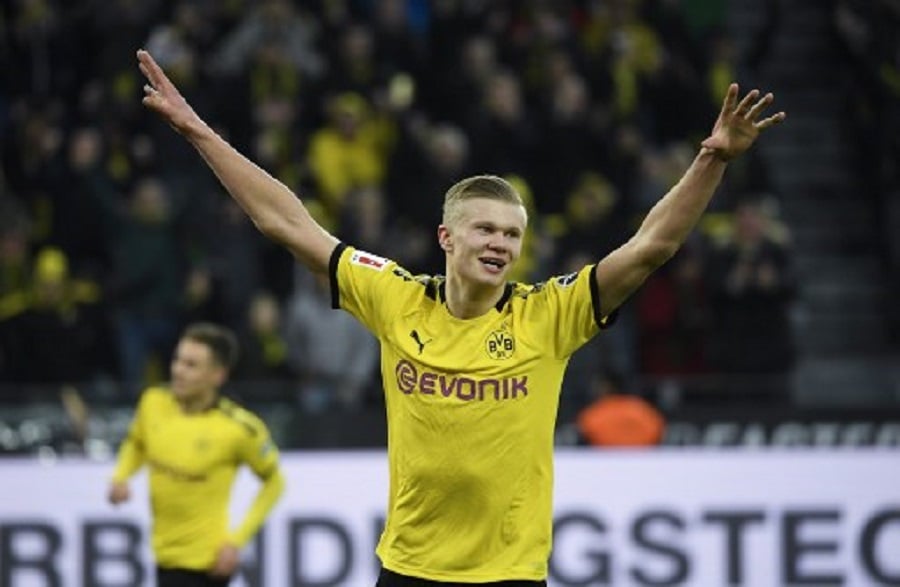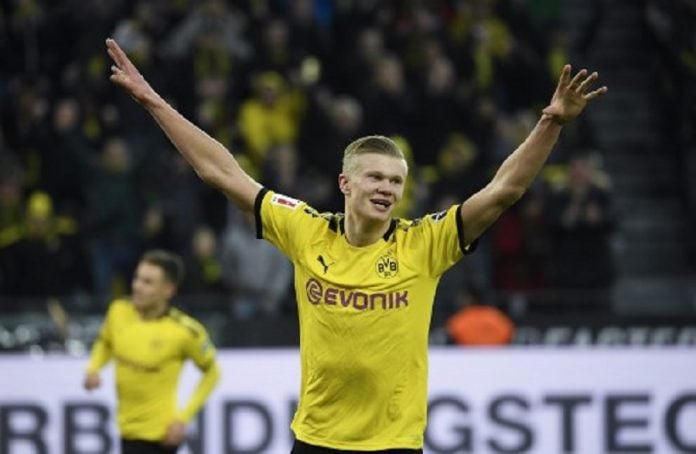 A particular Norwegian teenage striker has been making waves in Europe this season and everyone is buzzing… except for opposition defenders. 
Football is tied in with being ahead of your rivals and looking for the next great thing and at 6'4″ they don't come a lot greater than Erling Braut Haaland. The 19-year old has already kicked eight balls over the goal line in around 180 minutes for Borussia Dortmund in the Bundesliga since joining in January from RB Salzburg. He's also made history by becoming the first player to score seven goals in three games in the German top-flight. 
Goal Machine Moulded 
Born in July, 2000 in Leeds, U.K., he is the son of Alf-Hinge Haaland who played for both Leeds United and Manchester City. Young Erling started his career in Norway where he played for his hometown club Bryne FK in 2016 and later moved to Molde FK in the following year where he was coached by the present Manchester United coach, Ole Gunnar Solskjaer.
Football fans share a love for celebrating one particular thing – goals. Ever since putting NINE past Honduras in the under-20 World Cup in 2019, he's come a long way. Prior to a move to RB Salzburg, he scored 16 goals in 30 appearances under Solskjaer. Haaland took the Austrian top-tier by storm where he racked up 28 goals in 22 games including four hat-tricks in the 2019/20 season alone.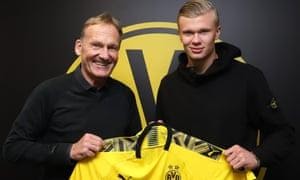 Haaland has six girlfriends…. for now. The forward joked that he sleeps with the match balls from his three-goal performances and calls them his girlfriends. He just might need more space to accommodate them given that he already has one Bundesliga 'girlfriend'. The teenage hotshot was soon announcing himself on Europe's biggest stage, the UEFA Champions League (UCL) and broke a record in the process as he became the first player to score eight goals in as few as five games. Surely, he wouldn't have possibly dreamed of scoring a hat-trick in his first UCL match against Genk? The boy whose favourite song is the UCL theme song, went on to score four goals in 21 minutes, matching Wayne Rooney's achievement in 2004. Staggering. 
Phenomenal forward
The art of goal scoring cannot be underestimated. As enduring as it may seem, it may be the only role to distinguish a runner-up from a winner. The job of a striker is one which accompanies getting totally fixated on scoring for your team. You need to be obsessed with bagging goals. This type of obsession is what young Erling has shown in getting to where he is right now. 
For a man whose favourite footballer is Zlatan Ibrahimovic, the Norwegian doesn't necessarily score the spectacular, acrobatic, 30-yard bicycle kick type goals like what we've almost gotten accustomed to seeing from the big Swede. Instead, he has settled as more of a poacher-type striker. The youngster's movement in the opposition half is such that he gets himself into positions where that extra bit of space is created, to slot a goal in. 
For example, if we analyse his goal against Liverpool in the away fixture in the UCL at Anfield earlier this season, Haaland positioned himself behind the shoulder of Joe Gomez to ensure he wasn't seen while Minamino attempted to cross the ball  bypassing the other Reds' defender, Van Dijk. It's because of this pinpoint positioning that he could comfortably tap the ball in to level the game at 3-3. 
Haaland doesn't really have to do much to get his name on the scoresheet. One thing to take away from his style of play is that you don't have to work hard to earn yourself a goal, just play smart. Being at the right place at the right time is what sets him apart from many strikers at the top level.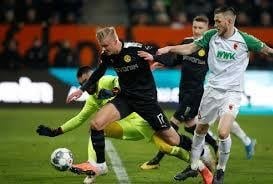 The nickname 'Man-Child' was given to him by his Molde teammates for obvious reasons as the 'Baby-Faced Assassin' moniker was already taken by Solskjaer. With a massive frame and the great work rate, he sure has shown he can be physical when he wants to but as long as he finds himself where the opposition wouldn't want him to be, he can be a menace. 
Speaking of work rate, his pace cannot be overlooked. He might not mirror the speed of the likes of Kylian Mbappe but his runs are intelligent, like his positioning. To bag his debut hat-trick goal in Dortmund colours against Augsburg, Haaland tried to run in behind the defender by running sideways in order to gain forward momentum to beat the offside trap. In the event he ran straight before the ball was played, he would have been flagged. The understanding of the game Haaland has is quite impressive, considering that he doesn't have many years of professional football under his belt.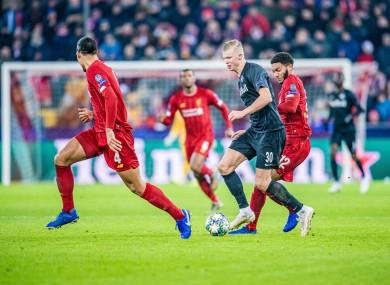 Options, options, options!
Borussia Dortmund have done a great deal of business, acquiring Haaland for a mere €22.5 million from Austria. The Norwegian international was on the radar of many clubs including Manchester United in January but the move did not materialise due to agent and family complications. To be fair, United could have done with him as well considering their current form. Ole was the one who discovered Haaland initially and it would only be right if he secured the talent's signature once again.
Many have praised the youngster for moving to the Black & Yellows given it has proved to be a great fuelling stop for the next generation of emerging talents like that of Aubameyang and Lewandowski. Dortmund coach Lucien Favre has since used him well, giving him four wins bar the unlucky 4-3 loss to Bayer Leverkusen where Haaland played the full 90 minutes. Looking to win the Bundesliga after nine years, Dortmund will be looking to keep the 'Man-Child' for a few more years given that his contract runs till 2024.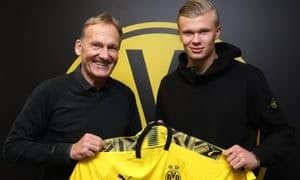 Things look pretty good for Erling Haaland on the international front as well. With Norway heading into their first international tournament in 20 years, there's more to see from this gifted player in the summer in the Euros. 
Haaland has alternatives in his grasp in terms of which nation he could vow devotion to as he is also eligible to play for England since he was born in West Yorkshire. Nevertheless, we could only see his heart and mind belonging to Norway in the short term. 
As for the individual himself, who knows what lies before him? Will Man United come knocking again? Will he fly to Spain? Or even somewhere else we don't expect? For now, one would only hope for a blistering career ahead at Dortmund for the young striker. 
Would he be a reincarnation of his idol, Zlatan? Considering Ibra has around 535+ goals and counting, those are quite some shoes to fill. For now, one thing is for sure – he is the only Erling Haaland.