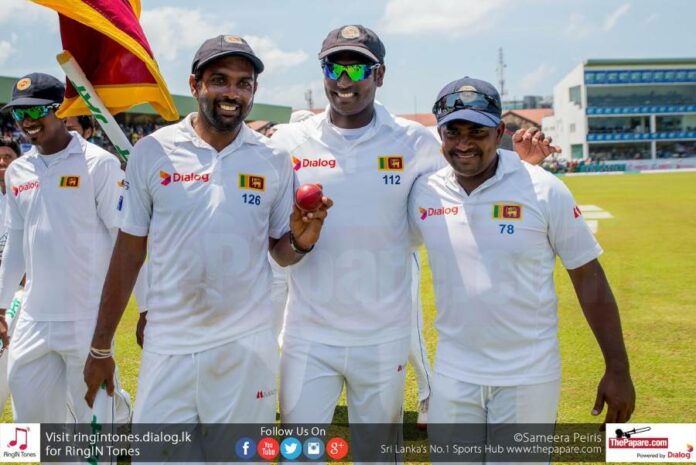 One of key figures in Sri Lanka's 3-0 triumph over the Aussies has called it a day, retiring from International Cricket after 43 Test matches.
You barely noticed that Dilruwan Perera played in that many games and yes he is our fifth highest wicket taker in Test match cricket, having accounted for 161 victims.
Dilruwan has always maintained a low profile. Even when he outfoxes David Warner and dismisses Steve Smith in the same spell, you will not see any wild celebrations. The old fox is firmly focused. So it wasn't surprising that his retirement caught the attention through a simple social media post.
Talking of whitewashing Australia in 2016, everyone remembers Rangana Herath's hat-trick, Kusal Mendis stunning counterattack, Dinesh Chandimal's back to the wall century and Dhananjaya de Silva's hundred in his maiden series. But Dilruwan hardly gets a mention. He took 15 wickets in that series, including a match bag of ten wickets in Galle.
The selectors were quick to appreciate his efforts although Herath was cynosure of all eyes. Having two bowlers on the wrong side of 30s did give them a few headaches as they had to look at the future. But wisely decided to back Dilruwan, giving him the green light to succeed Herath as the team's main spinner.
There were other highlights in Dilruwan's career like in Galle in 2018 when South Africa were bundled out for 73 runs. He took six wickets in the innings and ten in the game in a spin dominated game where Suranga Lakmal sent down just four overs.
His best overseas performance was in 2017 when Sri Lanka became the first team to beat Pakistan in the UAE. Dilruwan took 12 wickets in two Tests and bowled superbly against a team that played spin well.
Dilruwan would have gone onto play beyond 40 and taken his tally pass 200 wickets. But the prominence given to fitness after the disastrous tour of South Africa in January last year made him ineligible. He may have kept the skinfolds below 80 but there's no way that he could have finished two kilometers in eight minutes and 35 seconds. Again, is it fair to ask
26-year-old Ramesh Mendis and Dilruwan Perera, who is 13 years older than the other offie to finish a fitness run in the same time?
To his credit, Dilruwan did not make a hue and cry of the fitness regime. He did try to meet fitness standards and after failing repeatedly threw in the towel. Good on him. That's the way it should be. Players like Dilruwan are rare. In a team sport it is very important to have those who keep the common good in mind and Dilruwan was the perfect example of bonding the team together.
Do you ever feel that Dilruwan underachieved? Of course yes. For someone who scored 95 on his Test debut against a quality Pakistan attack to finish with a batting average of 18 is bitterly disappointing. Now if you think the debut 95 was a fluke, mind you he scored 43 half-centuries in First Class cricket.
In a moment of crisis, every coach from Graham Ford to Mickey Arthur looked to Dilruwan. Whether it was as a night-watchman in Galle when Wahab Riaz and Junaid Khan were reverse swinging the ball to deadly effect or as an opening batsman when Mitchell Starc and Josh Hazlewood were breathing fire at SSC or in the Delhi fog a year later when several players were unwell. He rose to the challenge remarkably and did a damn good job although he hardly did justice to his batting skills overall.
A few things Dilruwan never rectified. It would cost him and the team dearly. One was overstepping. He would have got at least 15 Test wickets off no-balls. It was painful to watch and unimpressive.
The other issue with Dilruwan was his fielding. He never seemed to commit himself to fielding and some of those dropped catches have been too costly. Sri Lanka team management didn't cover themselves in glory when they sent Dilruwan in as substitute fielder in the Asia Cup in Dubai in 2018. He dropped a sitter off Mushfiqur Rahim when the batsman was on ten and he went onto make 144, at that point the highest individual score by a Bangladeshi.
Dilruwan is also known for his classic press conferences. He wouldn't say much but the little would make you read between the lines and wonder the gravity of his statement. Once a reporter asked him why he wouldn't try the doosra, he responded that if he tried the doosra
that would be the end of his cricket. Dilruwan will be missed. He was one of Sri Lanka's silent heroes; contributed much to the team but hardly got the accolades he deserved.