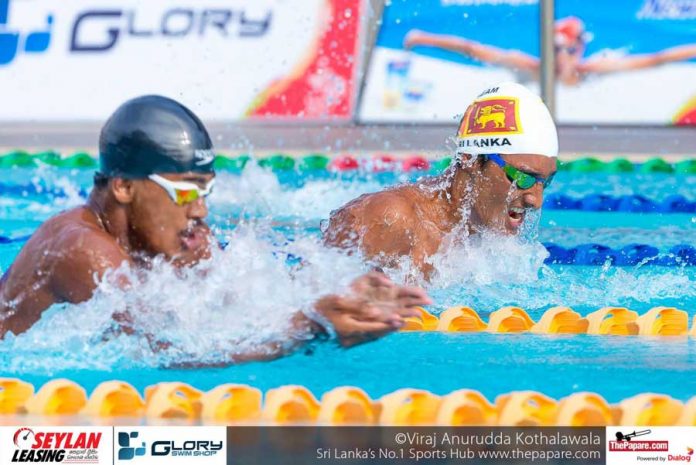 Dilanka Shehan of Nalanda College has recorded five championship titles under his belt at the recently concluded National and Junior National short course Swimming Championships 2018. Fellow Nalandian Amodya Dulshan mirrored his medal count in the Junior Nationals, setting one games record to his name. The annual meet was held from the 5th – 8th April at the Isipathana College Swimming Complex.
The 4-man swim team representation in the Gold..
Of the five events Shehan competed in, he has triumphed in all five including two individual medleys. He finished the Boys' 200m Individual Medley in 2.14.58 minutes beating Revan Senaratne who was close behind at 2.15.89 minutes. Senaratne lost to Shehan a second time in the 400m IM when Shehan finished at 4.47.24 minutes to Senaratne's 4.49.21 minutes. Matthew Abeysinghe holds the National record at both these events since 2016 and 2008 respectively.
Shehan's other three titles came in the 200m, 400m and 1500m Freestyle events. He swam the 200m free in 1.54.59 minutes beating Stephan Perera who finished a whole 3 seconds behind him (1.57.29). He finished the 400m free in 4.14.59 minutes while Amrith Perera of Gateway College Colombo finished second clocking 4.20.96. The longest swim, 1500m, was swum in 17.00.50 minutes by Shehan while Amjad Hasan came in at 17.25.44 minutes.
Matthew Abeysinghe and Akalanka Peiris missed out..
A Kalyanasundaram dominated the girls' age groups in the U15 category, winning titles in the 100m, 200m and 400m Freestyle events as well as the 400m Individual medley; her timing of 5.00.63 in the 400m Freestyle was a new games record. Also in the U15 category, Nabashie Perera won two medleys and 3 more events while getting 2 records under her belt. She won the 50m, 100m, 200m Butterfly events as well as the 100m and 200m Individual Medleys. Nabashie finished the 50m Butterfly with a record timing 31.11 seconds. Her other record came in the 100m Individual Medley when she clocked in 1.13.44 to finish the race on top.
In the Junior Boy's U15 category it was Amodya Dulshan who stood out with 5 Gold medals with one games record to his name. The record came to him in the 100m Butterfly event with a timing of 1:01:03. He also won gold in the 200m Fly in 2.19.63 minutes. The 50m and 100m Backstroke also went to the hands of Dulshan finishing 29.28 seconds and 1.03.75 minutes in the events respectively. His 5th and final gold medal came in the 400m Individual Medley when he finished at an impressive timing of 5.10.44 minutes beating out Naveesha Chama who finished the race far behind at 5.28.43 minutes.
Ishani Senanayake and Sandu Savidi conquered the senior age group. Senanayake went on to win the 400m and 800m Freestyle events beating Ramudi Samarakoon in both instances. Senanayake also grabbed second place in the 200m Free style in a narrow battle, losing out to Thimali Bandara by a matter of 18 milliseconds.
The Sri Lanka Men's 4x100m Freestyle team were…
Sandu Savidi claimed ownership to four titles herself, with one individual medley win in the mix. Savidi clocked in at 1.00.91 in the 100m Freestyle event ensuring her gold. With 29.87 seconds in the 50m Butterfly and 27.33 seconds in the 50m Freestyle she grabbed her second and third titles. Her last golden swim came in the 100m Individual Medley when she beat Thilmali Bandara by 31 milliseconds, finishing with a time of 1.09.14.