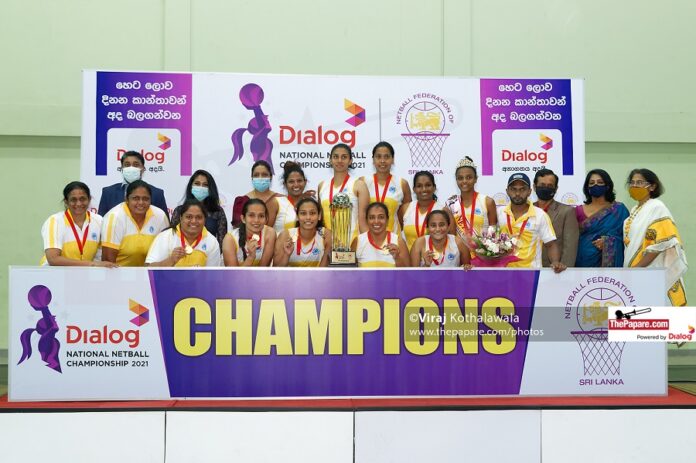 Hatton National Bank, representing the Mercantile Services, were crowned champions at the Dialog National Netball Championships held at the Digana Sports Complex over this weekend (22nd & 23rd).
The HNB team featured a number of well-known national netball players, including Gayani Dissanayake, Dulangi Wannithilake, Gayanjali Amarawansa and Dharshika Abeywickrama and were heavy favourites coming into the tournament. However, coming up against a seasoned Air Force team, they nearly let things slip, with game going into extra time.
Air Force started strongly, despite having had a semi-final that also went into extra time, taking a narrow 10-9 lead in the 1st quarter. However, HNB were dominant in the 2nd quarter, taking a 3-goal lead into half-time.
At one point during the 3rd quarter, HNB looked to be running away with the game, leading by 10 goals, with the scores reading 31-21, but Air Force did not give up and rallied to pull things back in the last quarter, full-time scores reading 39 all.
The two 7-minute halves of extra time were no different, with the lead swinging between the sides thanks to some tired passes and good defensive work. The teams ended 14 minutes of extra-time level on 47 all and so the game continued with whoever was to establish a 2-goal lead to be declared winners, according to the International Netball Federation rulebook.
HNB managed to scrape through the next two goals after a number of attempts and so took home the coveted title.
Score Breakdown
| | | | | | | |
| --- | --- | --- | --- | --- | --- | --- |
| | Q1 | Q2 | Q3 | Q4 | ET1 | ET2 |
| HNB | 9 | 13 | 12 | 6 | 5 | 5 |
| Air Force | 10 | 9 | 9 | 11 | 2 | 6 |
Road to the Final – HNB
Group Stage
Beat Puttalam DNA 32/1
Beat Anuradhapura DNA 26/7
Beat Jaffna DNA 28/2
Quarterfinals
Walkover vs Port Authority
Semi-finals
Beat Kurunegala DNA 45/17
Road to the Final – Air Force
Group Stage
Beat Vavuniya DNA 34/4
Beat Youth Team 15/4
Beat Campbell Playground 21/8
Quarterfinals
Beat Colombo DNA 47/22
Semi-finals
Beat SL Army 41/36
Third Place playoff
A spirited Kurunegala District Netball Association came up against the experienced Sri Lanka Army team in the third place play-off. The youngsters from Kurunegala put up a fight, but were no match for the experienced former champions Army, who won the game comfortably by 68 goals to 44, in the end.
Awards
Champions – HNB
Runners Up – Air Force
3rd Place – SL Army
Best Shooter – Dharshika Abeywickrama (HNB)
Best Defender – Chathurangi Jayasooriya (Air Force)
Best Center Court Player – Gayanjali Amarawansa (HNB)
Netball Queen (Most Valuable Player) – Malmi Hettiarachchi (HNB)