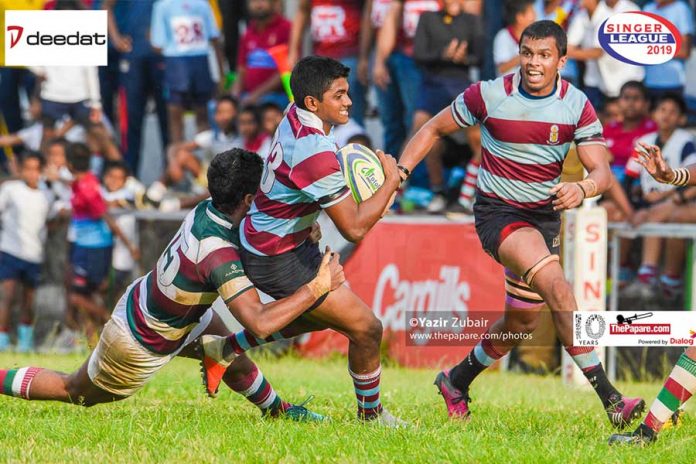 Zahira College overcame Dharmaraja College 13-12 in a ding-dong battle at Nittawela Stadium in their Singer Schools Rugby League Plate Championship encounter that saw just 2 tries scored.
The visiting Zahirians started out the better of the two sides, putting their forwards to great use and scored in the twelfth minute with a well-worked Dilshan Maneperuma try in a move that went through six phases before the score to make it 5-0.
Zahira showed their intentions from the kick off, by giving the ball to their hefty forwards and the approach paid off as they had the opposition backpedaling. They won a penalty right in front of the posts as Mohommed Rauf extended the lead by another three points. (ZC 8-0 DRCK)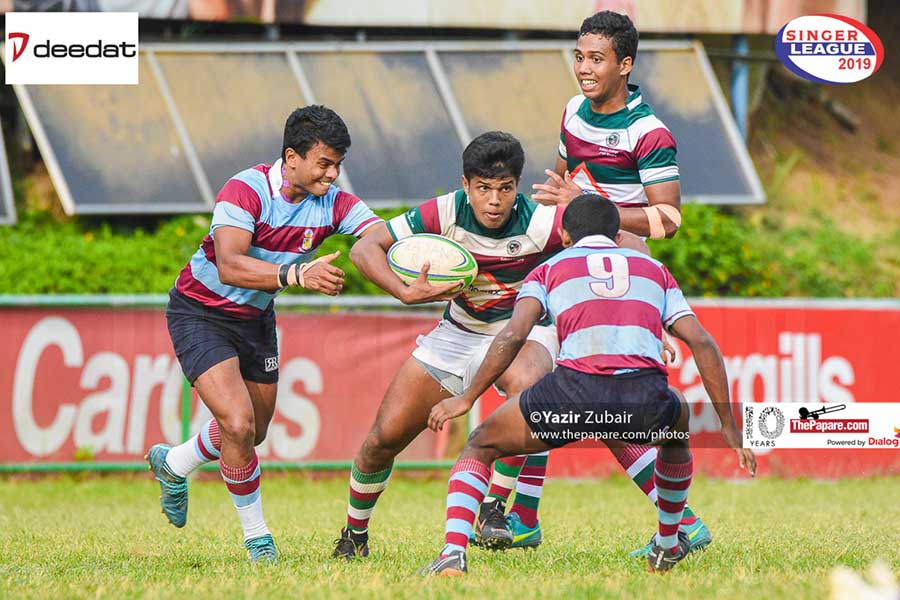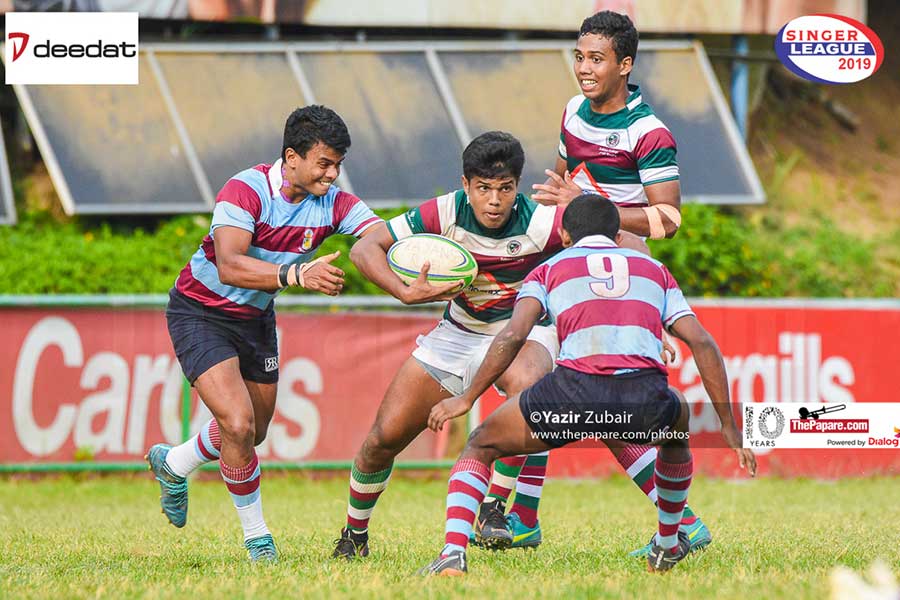 It took a while for the hosts to find a way into the game, but they did just that in the 30th minute after a patient eight-phase move of their own. They had more space to move around thanks to some poor defense from Zahira. They eventually threw it wide for Gauraw Pannila to slip, quite literally, over the line for the Rajans' first try. Sauyma Wijesiri missed the conversion. (ZC 8-5 DRCK) 
Even though it was an error strewn half from both teams, the crowd was kept in suspense with the amount of defending they had to do. Dharamaraja were guilty of not getting points off the kicking tee as they missed two regulation penalties. The final try from the Rajans however gave Zahira a 8-5 lead at half-time.
Half Time: Zahira 8(1T 1P)-5 (1T) Dharmaraja 
After sustained pressure inside Zahira' half at the beginning of the second half, the Rajans eventually found themselves in front for the first time in the game with a loose pass finding Thenuka Wickramasinghe who went under the posts to score. In the build-up Zahira messed up a set-piece move to let the ball fall safely onto the boot of Wickramasinghe. Sauyma Wijesiri had no issues with this conversion. (ZC 08-12 DRCK) 
The see-saw nature of the match continued, and it was in the final minute of the game until Dilshan Manneperuma ripped open the Rajans' defense through the fringes for the second time to score, coming back after being sin binned for a high tackle. The conversion went astray as the referee blew the long whistle to end the game, much delight of the travelling fans. (ZC 13-12 DRCK)
Full Time: Zahira 13(2T 1P) – 12(2T 1C) Dharmaraja 
ThePapare.com Player of the Match: Mohommed Alawdeen
Zahira 
Dilshan Maneperuma (2T) 
Mohommed Rauf (1P) 

Dharmaraja 
Thenuka Wickramasinghe (1T) 
Gauraw Pannila (1T) 
Sauyma Wijesiri (1C) 

Yellow cards – Dilshan Menperuma (ZC) and Chanidu Abeyrathne (DRCK)