The home side Zahira College managed to tip the victory scale by beating Dharmaraja College 26(4T 3C ) 08 (1T 1P). At lemons Zahira led 19-03. With this victory, Zahira College will cruise through and play in the Cup segment of the Singer schools rugby round 2 fixtures.

Stepping in as favorites Zahira was given a hard time in the first quarter of the game by the sturdy Rajans backline. Dharmaraja who played fast-paced rugby managed to gain territorial advantage and play the ball in the opposite territory for the first quarter. Despite them being unable to make the finishes and score they were rewarded with a penalty in the 14th minute and skipper Udangamuwa sliced in an easy kick to put his team on the lead. (Dharmaraja 03 – Zahira – 00)
The hefty Zahira forwards took time to settle in to the game, having missed some tackles and fumbled the ball a couple of instances. This had Zahira on the back foot. However, as the Rajans forward Vinul Ekanayake was sent to detention with a yellow card and this gave Zahira the numerical advantage which they capitalized on fully to cross over the line through Amjad Fawmy for their first try. Minhaj Samsudeen who oversaw the kicking duties added the extras with ease. (Dharmaraja 03 – Zahira – 07)
This momentum boosted the home side to further add up points to the chart, as their number 2 Shameem Nassar touched down for a converted try after playing multiple phases in the Rajans red zone. (Dharmaraja 03 – Zahira – 14)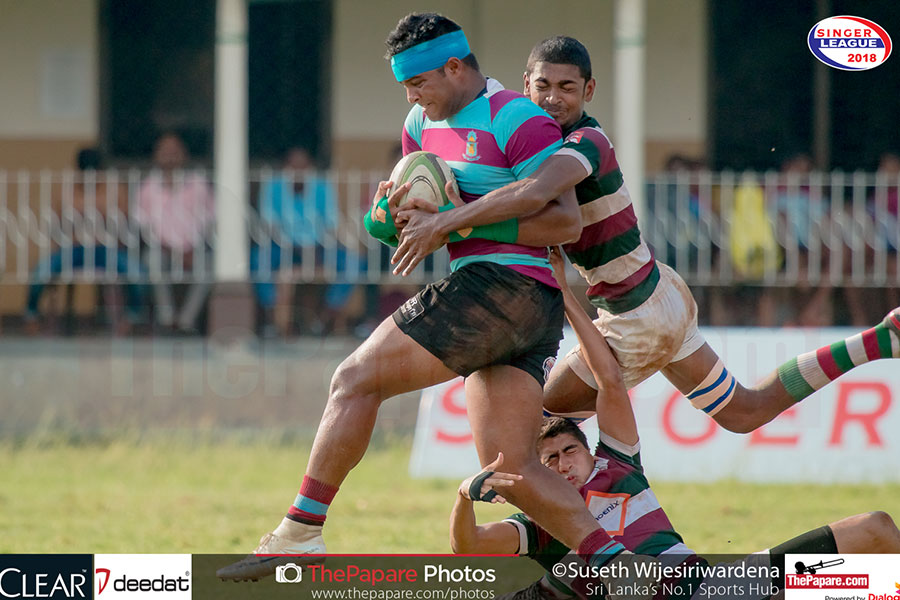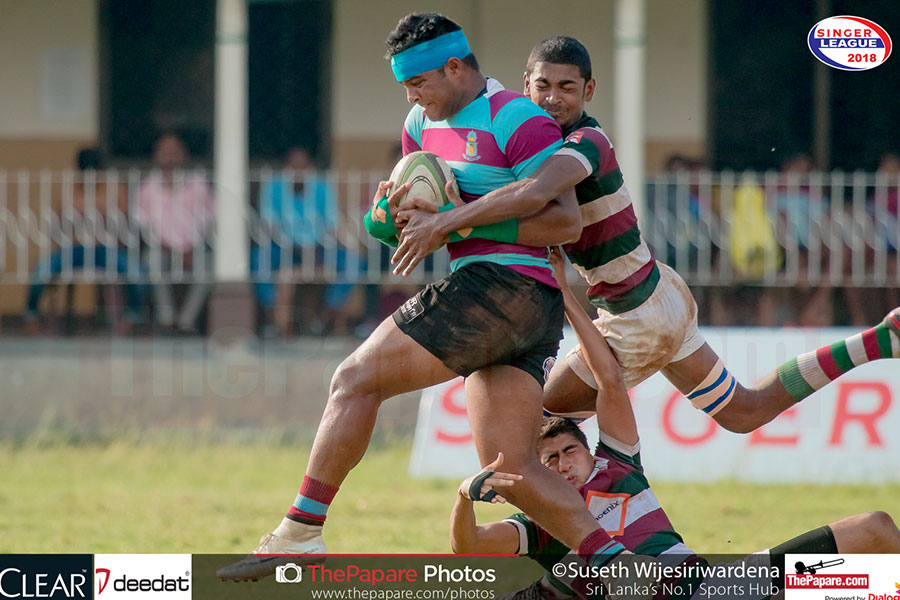 In the final stages of the first half, the sturdy forward Amjad barged is way through two defenders to get his second try and give his team a comfortable lead. This time Samsudeen failed to add in the extras of a fairly easy kick. (Dharmaraja 03 – Zahira 19)


Half Time – Dharmaraja 03 – Zahira 19
The Rajans took things a bit too rocky at the start of the second half which cost their playmaker skipper Udangamuwa a yellow card. With a player lacking, the Rajans conceded an ample number of penalties inside their red zone which forced referee Jamaldeen to award a penalty try to Zahira. (Dharmaraja 03 – Zahira – 26)
This gave Zahira a bonus point and kept them on a higher seat in the battle. The Rajans lacked composure and finish to their stances. They showed a few promising skills in the second half but somehow lost possession and failed to finish. Zahira, on the other hand, had quite a few opportunities to add up points to their bag but their line out throw-ins let them down. This cost the home side to achieve only 7 points in the second half.
Dharmaraja fought hard in the final quarter but managed to only get an unconverted try through Kasun Madhushanka. (Dharmaraja 08 – Zahira 26)
Referee Jamaldeen blew his long whistle which gave Zahira College an entry ticket to remain in the Cup segment of the 2018 school's rugby league.
Full Time – Zahira (4T, 3C) 26 – 08 (1T, 1P,) Dharmaraja
ThePapare.com  Player of the match – Amjad Fawmy (Zahira College)

Score breakdown

Zahira College 26 (19) 4T, 3C
Tries: Amjad Fawmy (2) Shameem Nassar (1), Penalty Try (1)
Conversion: Minhaj Samsudeen (2C), Penalty Try Conversion (1)

Dharmajara College Kandy 08 (03) 1T, 1P
Tries: Kasun Madushanka 
Penalty : Bawantha Udangamuwa
Send offs – Bawantha Udangamuwa , Vinul Ekanayake