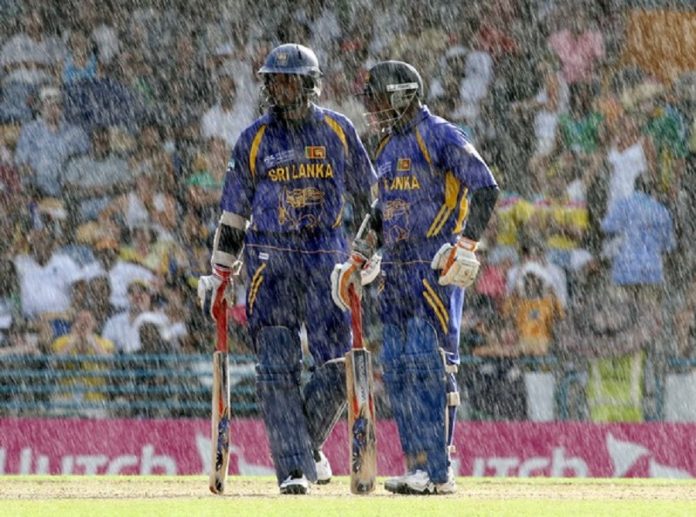 Last week we commemorated the 13-year anniversary of Sri Lanka finishing as runners-up at the 2007 Cricket World Cup in the Caribbean. It is not a day that many Sri Lankan fans look back on fondly as not only were Sri Lanka comfortably beaten in the final, but Colombo too had to endure a failed air attack by the LTTE on the same night.
After 13 years, you would think that the dust has settled and we would be able to see things for what they were, however, there are still some fans who believe that Sri Lanka were somehow unfairly robbed of a title on that night, an opinion I disagree on. If you read the on, you will see why.
When Sri Lanka was cheated out of a World Cup title
Adam Gilchrist and the squash ball in his glove
There are many who believe that Australia's wicket-keeper batsman Adam Gilchrist gained an unfair advantage by using a squash ball inside his glove to better his grip. It is obvious that Gilchrist himself did not think so, if not would he have pointed at his glove in his celebration of his whirlwind 100? However, regardless of whether he thought he was cheating or not, did the ball give him an undue advantage? Initially, I'll admit, I also had my doubts about this. It was a foreign object and let's be honest, it really hurt to see Sri Lanka lose. But reading up on the subject over the years changed my mind. The theory behind Gilchrist's unusual ploy was that having the squash ball in his bottom hand glove (his left hand) would ensure that he did not grip the bat too tightly with his left hand, allowing his top hand (his right hand) have more control over his shots. You cricket fanatics know, a player who controls the bat with his top hand often tends to play straighter whereas a bottom hand dominant batter played a cross the line more. So, in short, Gilchrist wanted to play a bit straighter and the squash ball helped him do so. BUT, we come back to the point, was it unfair? Was he cheating? The answer is no. The use of the squash ball has been likened by many players as similar to wearing an inner glove, and you know who wears inner gloves? Pretty much every batsman in the world. The MCC, the final authority on the matter had this to say to ESPNCricinfo "It is no different to wearing inners, etc." – Case closed.
2. Reserve days and playing in the dark
If you watched the game, you would know that it ended in near darkness. The image of Chaminda Vaas playing a forward defense to Andrew Symonds, who was gently lobbing the ball in, will forever be etched in my memory. There are a few things to consider here.
a.  Why did the match continue in such conditions? Well… the word is that the umpires had informed the captains that if they did want to come off the field because of the bad light etc, they'd have to come back on the next day to complete the match – which of course there was no point doing as the game was more or less gone. Of course this could've been avoided if the ICC had picked a ground with floodlights for the final of the World Cup….. but that's a rant for another day.
b. Was there a reserve day? Yes, there was a reserve day, which was alluded to in the 1st question too. But the existence of a reserve day would not have meant that the game started from scratch but that it would have continued from where it left off. When the game was stopped for bad light at the end of the 33rd over, Sri Lanka needed nearly 70 to win (if my calculations are correct)… a near impossible task with the wickets that had fallen.
c. Did the umpires mess up? Yes, they did. The umpires and match referee have admitted that they completely misread the regulations. With 20 overs having been bowled in Sri Lanka's innings, it was technically a completed game when the umpires took the players off for bad light. They did not need to come back the next day, they did not need to play out the game in the dark, the game could have been ended at that point, with Sri Lanka still behind by 37 runs (D/Ls). You may remember the Australian players celebrating when the players were taken off… They thought the match was done and they'd won, they had, but the umpires didn't see it that way.
d. So, did all this result in Sri Lanka losing? No. Fortunately, the officials' decision almost certainly didn't have a bearing on the result, imagine if it was a much closer game?
Sri Lanka's best bowling attack in World Cups 
In conclusion, Sri Lanka didn't lose because of the squash ball or having to play in the dark. They lost because on the day, Australia just played a better game. Would Gilchrist have scored a 149 if not for the squash ball in his glove? Who knows, he's made 5 hundreds against Sri Lanka apart from this one, 4 of them before 2007, so it might have just been his day – anyone who has actually watched the game knows what he's capable of. Would Sri Lanka have lost if the weather didn't intervene? I'm going to go out on a limb and say that if a full ODI had been played, Sri Lanka would have been tough to beat. Even if we hadn't had the constant interruptions, maybe Sanga and Sana would have pulled off the improbable. Sadly, it wasn't to be for one of the best ODI teams Sri Lanka has ever featured in a World Cup.
So, my fellow Sri Lankan cricket fans, let's stop whining about squash balls and supposedly 'fixed' matches (remember the aftermath of the 2011 final?) and learn to acknowledge it when the opposition is just too good for us. 
*Disclaimer: The views and opinions expressed in this article are those of the author's and do not necessarily reflect the official policy or position of ThePapare.com.
If you have an opinion on Cricket – you get a Free Hit here. Write to [email protected] to be featured!