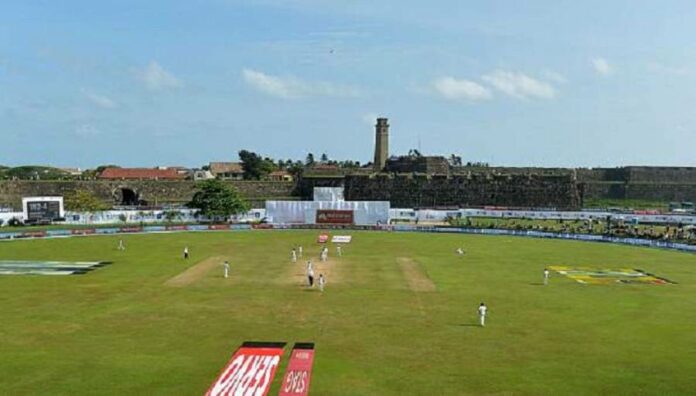 There are a whole lot of reasons for not missing a Galle Test match. One of the World's most picturesque grounds along with Newlands in South Africa and Queenstown in New Zealand, Galle provides more than just quality cricket. 
It is even so special when England are in the coastal town. The Barmy Army simply love the venue. Just for the record sake, a survey done in the UK last year rated Galle as the best cricket ground in the world. It beat Lord's, the Home of Cricket, by a healthy margin.
This time however, the Test match involving England lacks charm and character.  Part of the reason for this is that Barmy Army has not turned up due to the pandemic. 
There's never a dull moment during the Test match when England's supporters are in town. They chant songs, cheer every run, wicket and milestone and it's all happening when England are involved.  
Video – Sri Lanka batting 'the worst I've seen' – Grant Flower
Some of the songs they come up with are very funny and etched in memories. Even Murali enjoyed this one and he would entertain the crowd at the boundary rope dancing with them to the tune of;  
'Throw, throw, throw the ball, gently down the stream, 

Murali, Murali, Murali, Murali chucks it like a dream.'
Even the locals, leave alone entering the ground, they can't even watch the game from the Ramparts. SLC is walking on a tightrope here and you can understand their predicament. This series was supposed to take place last year.  It was postponed as the pandemic was breaking out. SLC also had three other series postponed in 2020 for the same reason. 
The board is already feeling the pinch as there was no international cricket played last year. It was supposed to be a bumper year with both England and India scheduled to tour. Those two tours are the biggest money spinners for SLC.  
The board is obviously worried that another withdrawal from England will hit them badly. They are also aware that the England team withdrew from their tour of South Africa after the bio bubble was breached. SLC does not want a similar situation and has taken all necessary precautions. Hence the series is being played behind closed doors.
However, the board could have made some exceptions. In other parts of the world, like New Zealand and Australia some stands are opened for fans. It could have been easily done in Galle with the grass bank on the Fort side being made available to the public. Or at least, the Fort should have been untouched. Fans in the Fort are not a threat to the health of players. That is proper social distancing. 
The sport will not thrive without its fans. Already people are not showing the same enthusiasm as they used to for the simple reason that the team is not doing as well. So you need to keep them involved. While the LPL was a superb addition to our cricket calendar, when Test cricket returned home after a 'no show' in 2020, the fans should have got a glimpse of it.
Not that our team has come out with flying colours at the end of day one. Their batting performance was shocking and lacked character to say the least. Now that they have conceded a huge advantage to England, they will not only have to play catch up but bat on a crumbling wicket.  But Test cricket is a funny game. True that this was the lowest first innings score in Galle and England are firm favourites.  But all that could change in a session or two. Which is exactly what happened against India in 2015. 
But the important point here is that you have got to respect the basic principles of the game or it will come to haunt you. Suranga Lakmal and Oshada Fernando were picked to tour South Africa more than a month ago when they were still recovering from injuries. The golden rule for elite sportsman is that not to pick a player if he is not 100 percent fit. For one full month now, Lakmal and Fernando have been sitting in the dressing room not doing much. 
Highlights – England tour of Sri Lanka 2021 – 1st Test | Day 01
Kusal Mendis clearly has some issues to work on. But he was played saying that he's one of our best players of spin. But in doing so, you forget that he has had troubles over seam bowling and when you back him to bat at number three; he will have to walk in and probably face the second ball of the game. That's not so clever thinking. You have little choice now but to leave Mendis out of the side for the second Test and perhaps for the tour of West Indies as well, unless he bats big in the second dig.
The dropping of Vishwa Fernando also defies logic. He has emerged as our best seam bowler over the last two years and you drop him straight after a five wicket haul for someone who has played a lone Test match. Whatever the reasons for that maybe, this is a story that is hard to buy.
*Disclaimer: The views and opinions expressed in this article are those of the author's and do not necessarily reflect the official policy or position of ThePapare.com.