What happened next:
Then, with the parking lights on,
he did his number in no uncertain terms in the middle of the narrow road. It gathered momentum, and the intensity of his gyrations became faster than the beat of the music, transforming himself into a contortionist of sorts. Sporadically, a car would drive past, and Derrick, without stopping, would step onto the side of the road. It was awe-inspiring and non-stop for over thirty minutes. My mind raced back to those exhilarating baila sessions back home in the wee hours of the morning.
Adrian subsequently lost his camera, which, among others, had recorded this wonderful session.
Grenada, a small island with a population of around 110,000 has a fairly quiet nightlife compared to the other Caribbean islands. Into our fourth night, Adrian and I went to explore the happening spot – Bananas Restaurant, Sports Bar & Night Club. I was struck by its large open-air space to hang out, with good music in the background. The vibrant atmosphere makes Bananas a great place for a night out, for the young and the young at heart. The spot seemed a popular den for medical students from the nearby St George's University, and quite a few Sri Lankan faces were seen among them. After a quick scan, it was time for us to get in the World Cup party mood with a 'Bananas Rum Punch'.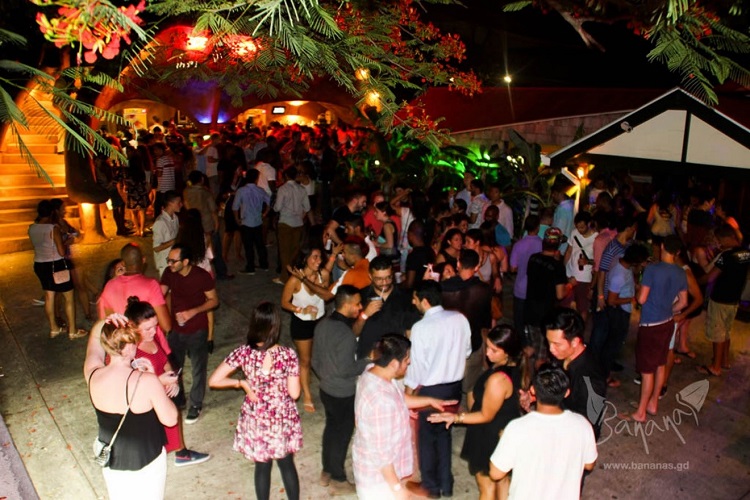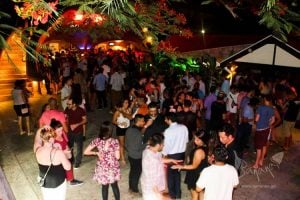 Meanwhile, a few South African cricketers turned up to drown their sorrows after they were beaten by New Zealand on the previous day. Not being fleet of foot myself, I enjoyed watching the fervent dancing by locals, tourists, and medical students. Afterward, while we were waiting for a taxi, South African wicketkeeper Mark Boucher was seen being stretchered out by his teammates.
A visit to Bananas became an indispensable part of our daily schedule in Grenada. Occasionally, Adrian got lost in the crowd, but I never bothered to look for him. I was more concerned about saving my legs for the return journey. Meanwhile, offering some food and beverage support, Jeevaka got chummy with the Australians Kyle and Lisa. Staying in the same apartment, they were holidaying in Grenada and, by and large, clueless about the game of cricket. With them in tow, this time the entire gang literally went 'Bananas'.
Just as we entered, I spotted New Zealand captain Stephen Fleming in the crowd, and we went up to him for a chat. Fleming, with a cigarette stuck behind his ear, warmly greeted us. He was friendly and frank. We spent quite a bit of time with him, talking cricket.
When I asked his opinion about which team would win the cup, Fleming said, 'Sri Lanka all the way, because they have a varied attack and some good batsmen.'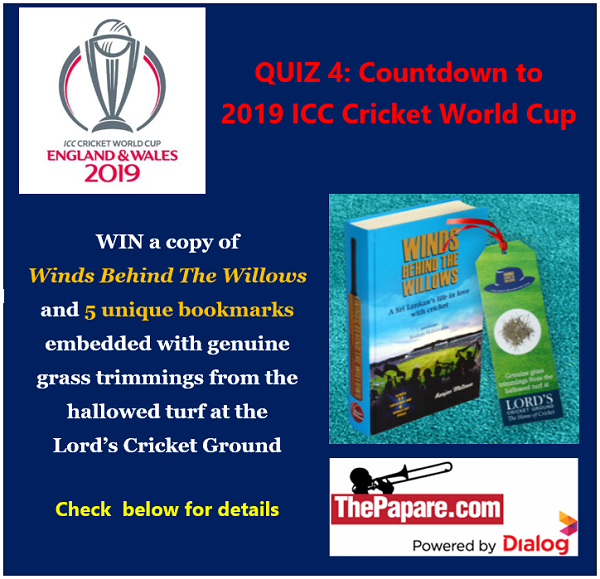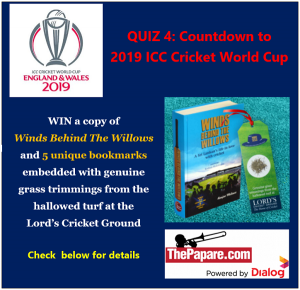 Our chat was interrupted several times with requests for Fleming to pose for photographs with other guests. I was really impressed by the way he responded. He didn't say no to anyone and posed with great enthusiasm by putting his arm around the shoulders of the person posing with him. Humility is an admirable quality of great men, and after seeing what he did, I can vouch that Stephen Fleming is right up there. When our turn came, Kyle and Lisa posed with him first, and Adrian and I followed.
The next minute, Lisa called me aside and asked, 'Who is he?'
We thanked Fleming and dispersed to indulge in the fabulous atmosphere on our own.
While wandering around, I came across Mahela Jayawardena, Sanath Jayasuriya, and a few other Sri Lankan cricketers. I reminded Jayawardena about the events leading up to his joining Seylan Bank, but he had a slightly different take on that. In between, a Sri Lankan fan pleadingly asked Jayasuriya whether he could pose for a photograph with him.
Jayasuriya looked annoyed, and asked, 'Do you want it now?'
While the photo was being taken, an uninterested Jayasuriya looked elsewhere and dialled a number on his mobile.
After eight nights, the bags were ready. Adrian and I headed to St Lucia. The cricket board group – Jeevaka, Shibly and B. S. – to the USA, and Basil back to Sri Lanka.
When we were about to leave, a concerned seventy-year-old Neville pulled me aside. With knitted eyebrows, he removed his glasses and said, 'One of your friends from the cricket board wanted me to inflate the bill.'
He continued, 'I told him that I have never done such things in my life.'
I cleared my throat, speechless.
Sri Lankan weekly The Sunday Leader, of 13 May 2007, gave details of the cricket board's expenses to send some of its members and other VIPs to the Caribbean World Cup. Besides the cost, the very least they could have done was to have waited and supported their team in the semi-final and final. It confirmed the paper's assertion that the colossal sum spent on these joyrides could have been put to much better use – as in developing the country's cricket.
 (Adapted from 'Winds Behind The Willows'.)
QUIZ 4: Countdown to 2019 ICC Cricket World Cup
Win a copy of 'Winds Behind The Willows' and 5 unique bookmarks embedded with genuine grass trimmings from the hallowed turf at the Lord's Cricket Ground.
All you have to do to is to answer the question below correctly, the winners to be selected from the correct entries received up to 1200 GMT on 31 October 2018.
Only one answer per email address is permitted. Winners will be notified by email.