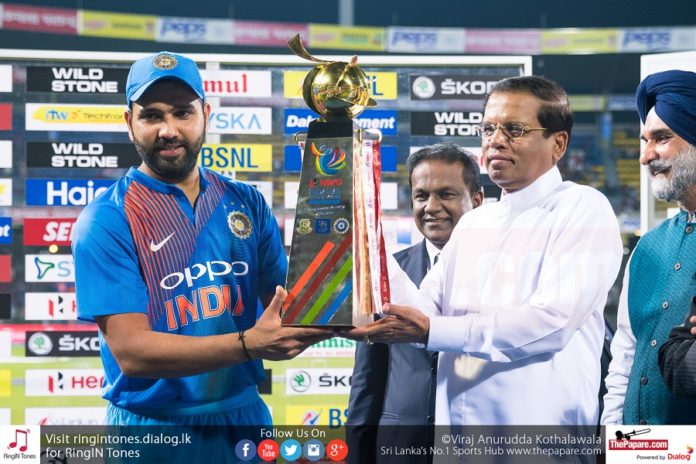 Cricket is one brand in Sri Lanka that has been marketed well. The sport brings in millions of foreign exchange through sponsorships and media rights. Yet, there are untapped areas that can make the sport's finances secure and stronger.  Men like Kerry Packer and Lalith Modi over the years have made the sport a lucrative product. Someone of similar ilk is the need of the hour for Sri Lanka. 
No doubt the sport in Sri Lanka has made giant strides in the past quarter of a century – a period in which the game became totally professional. Twenty-five years ago when Sri Lanka toured Australia, the players had no money for laundry and food was brought to their hotel rooms by generous Sri Lankan expatriates living down under.  Currently, a player's fee for a single Test match is far greater than what a bank executive earns having toiled an entire year! Plus, there are other incentives – annual retainers, tour fees and so on.
The efforts of our administrators need to be commended for marketing the sport. They have been able to attract international brands, products and companies to our game. Some of them have been brilliant. Like when they created an event called Nidahas Trophy to mark the 70th independence a couple of years ago and outsourced the marketing rights to a French based company and then made a kill.
SLC at the moment has lost a bit of bargaining power not being able to attract big television companies after their cricket team hit new lows since 2016. This is despite having some 'attractive' in bound tours from teams like England and India. Part of the problem is that when India toured Sri Lanka the last two times for limited over competitions, they left their captain and a few key players at home giving them a well-earned rest. Even a depleted Indian side beat Sri Lanka handsomely and hence Sri Lankan cricket has lost its marketing value. Television companies argue that the fans want to see the Kohlis and Dhonis and events without them are less attractive. This obviously is a serious issue and unless our cricketing woes are fixed, the future generations are going to suffer.
Kerry Packer's novel ideas like day-night games, coloured clothing and white balls suited television. The world has relied on television for nearly half a century to bring in mega bucks for the sport.  We need to move with the times and the next major source of income in the sport could be digital platforms as people tend to be comfortable using their mobile devices while on the move  to interact with the game. This remains an area that countries like Sri Lanka have not made most use of.
Women's cricket is another area that has huge potential moving ahead. India women were set to visit Sri Lanka in December for a limited overs series and there was an expression of interest from India to live stream these games.  SLC had sold Sony the rights of men's cricket but they have the media rights of women's cricket and this is an area that can bring them more revenue.
Whether there is marketing value or not, authorities should have invested more on women's cricket. Sadly, this has not been done. Cricket undoubtedly remains the most popular sport in the country, but cricket is not an option for girls at schools. The most popular sports choices at school are netball and basketball.  There is also athletics and for the affluent swimming is an option. Cricket is virtually non-existent at school level.  It's a sad reflection despite the sport's popularity.
Now that at least SLC sees a marketing value, they will address the issue and take necessary steps to take the sport to schools. A few years ago, there was an effort to conduct big matches among girls' schools. But much more needs to be done. At least by next year let's have an inter-school competition for girls.
For so long, England and Australia set the benchmark for women's cricket but teams like West Indies and more importantly India are making significant progress and the improvement the latter has made has opened a whole new platform through television.
The ongoing Women's T-20 challenge in the UAE – where a couple of Sri Lankans have got a break is an indication about the potential of women's cricket.
It's good to see that a significant number of women women's cricketers being centrally contracted. But rather than giving them six months contracts, annual contracts bring in much more stability and that's the way forward – sooner the better.
Another area that we need to look at seriously is a steady franchise-based competition. The dates for the inaugural Lanka Premier League tournament have been delayed a number of times now and all indications are that the event is unlikely to take place this year. Apart from the US$ 10 million bonanza that SLC is set to earn over a period of five years having outsourced the event, a franchise based event is very much the need of the hour for Sri Lanka to remain relevant in international cricket.