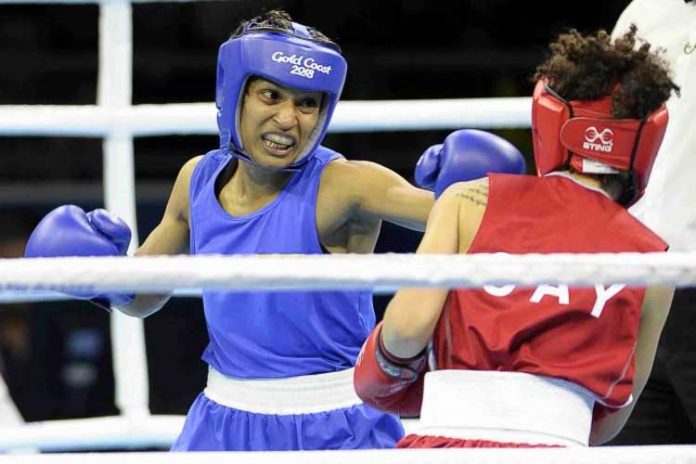 At the 21st Commonwealth Games in Gold Coast Australia, Anusha Kodithuwakku became the 1st female boxer to win a medal for Sri Lanka in the event's history, despite losing out to India's Mary Kom by unanimous decision in the semi-final.
A win in the 45-48 Kg category semi-final would have guaranteed Anusha a Silver or Gold, after Anusha stormed into the semi-final round with a very convincing first round victory against the 21-year-old Barnes from Cayman Islands.
In the opening round of the Semi-finals, both Anusha and Mary showed off their experience, seemingly playing it safe as they studied each other without going for any quick punches, and it was difficult to pinpoint a winner from the first round.
In the beginning of the second round, Anusha got some good punches in and seemed to be building her confidence as she went on the attack, however towards the end of the round Mary Kom retaliated aggressively bringing the fight right back to Anusha showing exactly why she is a world champion.
In the third and final round, both fighters started off on the attack, however towards the closing stages Mary Kom was able to increase her pace and seemingly impressed the judges who went onto unanimously award the fight to her.
Kom, a five-time World Amateur Boxing Champion and Olympic Bronze medalist from 2012, will now move onto the finals and fight Kristina O'Hara of Northern Ireland for the Gold medal, while Sri Lanka's Anusha takes the Bronze along with Tamsyn Benny of New Zealand.
Anusha is the only Sri Lankan boxer to reach 6th in the World Rankings and the first boxer, either male or female, to win a Commonwealth medal for Sri Lanka since Albert Perera's Bantamweight Silver in the 1950 Commonwealth Games which was held in Auckland New Zealand.
Log onto www.ThePapare.com, Sri Lanka's #1 Sports hub to stay updated on Sri Lanka's progress at the Commonwealth Games.