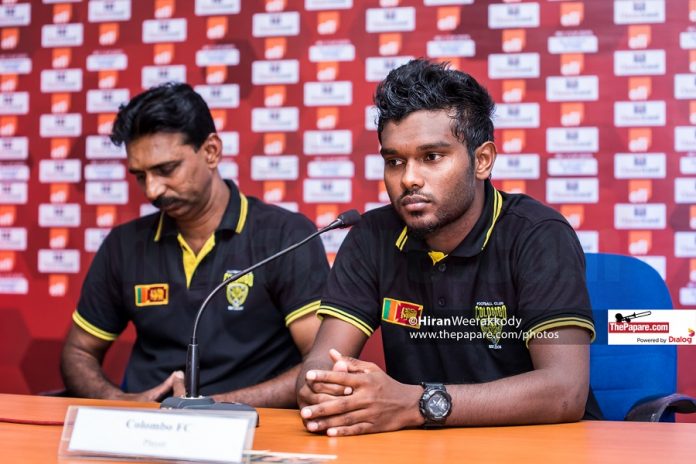 The pre-match press conference for Asian Football Confederation (AFC)Cup 2019 1st leg play-off match between Colombo FC and Chennaiyin FC took place today at the Football House in Colombo with the Management of both teams at the helm.
Colombo FC triumphed 9-2 on aggregate after a superb 2-1 win in the 2nd leg of the AFC Cup 2019 Preliminary Stage match against
Colombo FC despite coming in with a huge 9-2 aggregate win over Transport United of Bhutan will have their work cut out in the play-off round against a strong Chennaiyin FC, the Indian Super League (ISL) champions of 2018. The winner of the two-legged tie will progress to the group stage of the AFC Cup 2019.
Speaking to the media first, Colombo FC was represented by Head Coach Ruwan Kumara and Captain Charitha Rathnayake. Head Coach Ruwan Kumara addressing the media first shared his thoughts for tomorrow's game."We have prepared well. We have not made too many changes to our plan and we have continued with the same. Our opponents are very strong and we have trained to 90 minutes"
"We have some niggling injuries after the travels to Bhutan due to the weather conditions. We are hoping to give a good fight in tomorrow's match. We know our opponents are a very good side in the ISL"
"We have made only 1 change to the squad from Bhutan due to an injury so not too many changes in the team."
Colombo FC Captain for the AFC Cup Charitha Rathnayake was confident ahead of the game "we are ready for the match and we hope to perform well. Our players are in good mind"
Mohamed Aakib and Bodric Dimitri scored hat-trick's as Colombo FC demolished Transport United 7-1 in the Preliminary Stage 1st Leg
Chennaiyin FC led by Head Coach John Gregory and Jeje Lalpekhlua speaking to the media stated "We had good preparation from last couple of week. Players are geared up and we are grateful to qualify as the 1st team from ISL in the AFC Cup. We are hoping to give a good performance in tomorrow's game."
"Not too many changes and we are in good condition. The players know how important it is for the Club and country taking part in the tournament"
"Mental preparation is good as we have good performances from the ISL despite the results. Generally, the confidence level and motivation is good and positive. The opportunity to qualify for later stages is an important factor. We have a lot to play for and we are starting from scratch in Cup competition"
"3.30pm is an unusual kick-off time but we know it is advantage for Colombo since they will be at home and playing in front of a huge crowd. We will try to win the game, we have huge respect for our opponents. They played particularly well and we are aware of the ability of Colombo FC. We hoping to take a lead back."
Jeje Lalpekhlua – "still remember the weather last time I played here, struggled in the first half. The game is not going to be easy they are good side and champions of Sri Lanka. We want to make a good way and win tomorrow"
The South Indian team boast 03 Brazilians, 01 Australian and 08 Indian national players in their squad and will give a very stiff challenge to the team from Colombo.
ThePapare.com will extensively cover the game via photos, articles etc and will also webcast the match live. 
>>Live: Colombo FC v Chennaiyin FC | 1st Leg | Preliminary Stage | AFC Cup 2019<<
>>for more Dialog Champions League News Click Here<<