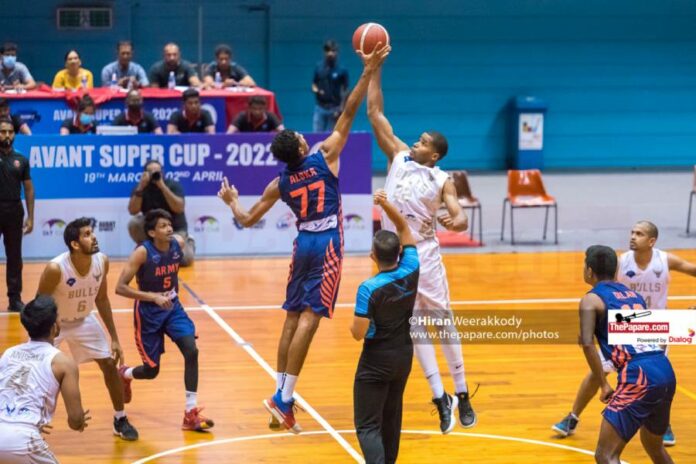 Having been in the doldrums for several years, Colombo Bulls have regrouped finally and they will be looking forward to claiming their first basketball title in 21 years when they take on Kaunas Basketball Club from Lithuania in the grand final of the Avant Super Cup 2022 at the Sugathadasa Stadium on Saturday.
In a bid to reverse their fortunes, Bulls made up some smart signings and bringing in Praneeth Udumalagala has done wonders for them. A beast in offence and deadly in defence, Praneeth offers the team much more than the scoring he does. He handles the team's set plays smartly and Bulls have maintained an unbeaten run in this competition.
A few overseas players have been on show during the tournament and no one has done a better job than Bull's Tony Townsend, a US national who resides in Qatar. He has been the Player of the Match on four out of Bulls five games. Tony has featured heavily in the score sheet and would be hoping to sign off in style. Shehan Udayanga may not have got much credit like Praneeth or Tony but has done a fabulous job for his team as well.
More than anything, Bulls are a well managed side.
Bulls already beat Kaunas in a group stage game and their defence has been impregnable. On paper, Avant BC had a better team than any other in the competition but their
defence was found wanting in the semi having stormed into the knockout stage.
The women's final will be between Track Masters and Lithuania University. The touring team has hardly been tested in the competition and they are expected to have it easy in the final. If Track Masters are to make an impact, their leading player Anjalee Ekanayake needs to fire.
The 'B' Division final will be played between Nugegoda Cagers and Buffaloes. The Cagers have been unbeaten having won all five of their encounters including against Buffaloes.
The Women's 'B' Division final will be between Pelicans and Contenders. Former Sri Lanka players Inoka Sandamali and Shalika Gomes feature for Pelicans.
The tournament organized by Colombo District Basketball Association with the sponsorship of Avant Group attracted all leading basketball playing clubs in the country.
This is the first basketball tournament in a while after the pandemic put a hold to all sporting activities.