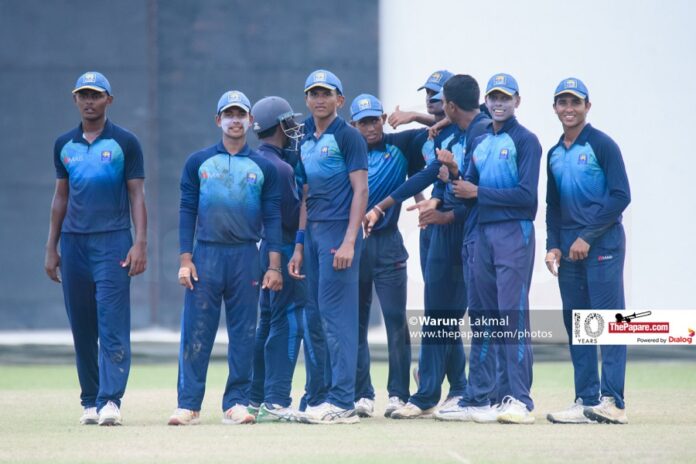 The initiatives taken by Sri Lanka Cricket to address the woes of Sri Lanka Under-19 team competing at the ICC Youth World Cup are commendable. After an island-wide talent search, 75 players attended a residential training camp in Kandy and later it was pruned to 26. 

The chosen players who will form Sri Lanka's World Cup squad have just finished a three week residential camp in Colombo. They will re-enter a bubble shortly to prepare for the bilateral series against defending champions Bangladesh. They will also have a series against England at home before taking part in the Asia Cup, the venue for which is not confirmed. That will be followed by the World Cup in the Caribbean next year.
This exposure will stand the players in good stead and never before has SLC has placed so much emphasis on lifting the standards of the Under-19 team.
India Under-19 are the most successful side in Youth World Cups having won multiple crowns. There are various factors for their success and one of the main reasons has been the presence of Rahul Dravid. The former Test captain and at one point world's best batsman could have picked any job in cricket that he wanted. But he opted to groom his nation's up and coming players and Dravid has been a godsend to Indian cricket in his second innings.
Not only has Dravid developed some fine young players, he has also ensured that these players remain grounded, much like him. Indian cricket as a result has reached new heights. It's been a beautiful story.
Can Sri Lanka too write a beautiful story on these lines with the arrival of former captain Mahela Jayawardene as a mentor for the Under-19 side? Tactically there aren't brighter brains than his in world cricket. MJ also has a knack to pick raw talent out of the blues and groom them well.
It remains to be seen how good Sri Lanka's campaign is going to be in the Caribbean next year when they play in the World Cup. Since reaching the finals in 2000 under Malintha Gajanayaka when Sri Lanka hosted the event, the team has never reached the finals and usually has struggled to go beyond the first round.
Not that there has been less emphasis placed by the authorities over the years. SLC has given regular exposure for teams and brought the best in the business to help the young players. Even Aravinda de Silva functioned as a mentor ten years back while there were other resource persons added to the set up. For the last World Cup too SLC planned well and put former Test captain Hashan Tillekeratne, one of their finest coaches, in charge. Also brought into the set up were Hashan's World Cup winning team mates – Chaminda Vaas and Upul Chandana.
Nowhere else in the world Under-19 cricket or school cricket gets so much prominence as much as in Sri Lanka. We have a structured system that is close to a century old. These organized cricket matches is the cradle of our cricket and it has been hailed by Wisden, the Bible of Cricket.
There is some concern that the structure is outdated and needs to be revamped. Time was when authorities tried to prevent school cricketers from playing T-20 cricket but now it has become the norm and we have got to move with the times or else will be left stranded.
Our school cricketers were good enough to walk into the national team straight from their A/L classes. Sudath Pasqual and Ranjan Madugalle were part of Sri Lanka's 1979 World Cup squad while still being schoolboys at Royal. Arjuna Ranatunga posted the nation's first half-century in Test cricket while still being a schoolboy at Ananda.
However, the steady production of solid schoolboys to the national team ended three decades ago and we need to find why. One salient feature is that the quality of coaches in school cricket. While there are many superb coaches who are dedicated to develop their players and not entirely worried about financial returns, the ever increasing demands of school cricket is not met by the number of quality coaches.
To put it simply, the number of schools that are playing cricket have increased by many folds in the last 30 years but the number of quality coaches has not gone up proportionately. That is why you need to have a system that educates your coaches constantly and keep them on track.
It is not just SLC's fault that we have not made an impact at ICC Youth World Cups. School cricket associations, old boy unions, school authorities and coaches are all should be on the same boat for us to achieve excellence in this area. Bangladesh with no system won a World Cup. Sri Lanka with an organized structure should fare much better.
*Disclaimer: The views and opinions expressed in this article are those of the author's and do not necessarily reflect the official policy or position of ThePapare.com.