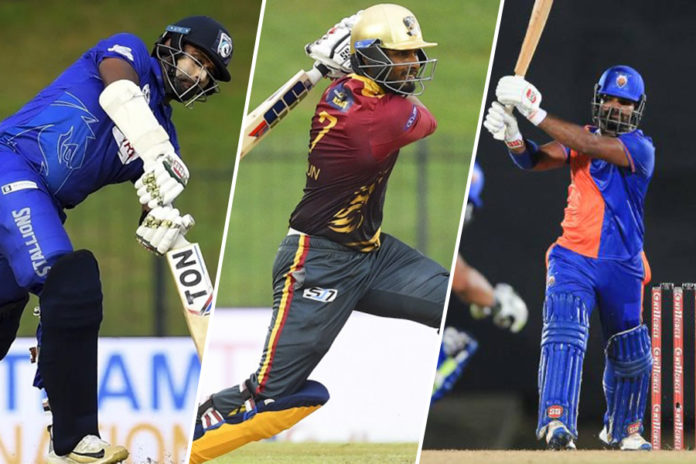 One of the good things about the Lanka Premier League is that the tournament has brought out leadership skills in several players and it augurs well for Sri Lankan cricket moving forward. 
Take the case of KJP – a man of few words who usually keeps to himself when he is in Sri Lankan colours – but here being thrown into the deep end as the captain of Kandy Tuskers, you see him pleading with erring bowlers and urging the fielders to double up. That is what we see outside and apparently off the field the initiatives that he has taken to ensure the wellbeing of his players are truly remarkable.  
Having seen KJP in Sri Lankan colours for close to a decade now, what we are seeing at the moment is a totally different facet to the individual who generally throws caution to the wind when he has the bat in hand. Now that he is the captain, he seems a lot more calculated with the risks he takes. 
Video – "අලුත් ක්‍රීඩකයින්ටත් අවස්ථාවක් දෙන්න දැන් පුළුවන්" – තිසර පෙරේරා
It reminds you of Sanath Jayasuriya days in the new millennium when he had big boots to fill. As captain, he delegated most of his responsibilities to his seniors and as batsmen – rather than going helter-skelter – he was more sedate with his approach to batting. 
Jayasuriya surprised quite a few people and that included the Ex-Co of Board of Control to whom he sent a memo requiring the services of a Batting Coach. He insisted on having someone who could work on the technical aspects of the batsmen. Hemaka Amarasuriya, then Board Chairman put the ball back into Jayasuriya's court asking him to pick his own choice and he opted for Barry Richards, the former South African great known for his technical brilliance. 
Tactically, however, Mahela Jayawardene was sensational. The best thing about MJ was that he created opportunities and didn't fancy draws even when he was playing warm-up games. There was this practice match in Bulawayo against Zimbabwe President's XI which Jayasuriya skipped and MJ stepped up. The hosts needed less than ten runs with two wickets in hand in the last over and many captains would have spread the field and stopped the boundaries to save the game. But MJ crowded the batsmen and cast doubt in them and in the end claimed both wickets with one ball to spare. 
Dambulla Viikings took considerable time before naming their captain and they were weighing in between Upul Tharanga, Niroshan Dickwella and Dasun Shanaka before eventually settling for the latter. Shanaka has captained the Sri Lankan side with charisma and on Thursday night his decision to promote Angelo Perera at number three ahead of many other clean strikers of the ball proved to be a masterstroke. 
It wasn't the easiest wicket to bat on and it needed a grafter in the mode of Perera and he made the run chase look so easy playing the anchor role. Dasun's decision was inspiring but it remains to be seen whether he is going to do anything extraordinary in stopping the high riding Jaffna Stallions who are yet to lose a game. 
That a captain is as good as his team is a quote that we often hear in cricket. But history has proven that some captains bring the best out of their teams. 
There was Mike Brearley, who was an average Test cricketer and never made a hundred. But he received an extended run as captain because he was too brilliant. The Cambridge educated Brearley read people well and he was a practical man and handled some difficult characters like Ian Botham and Geoffrey Boycott so well. 
Video – Kandy Tuksers පරාජය කරපු රහස දසුන් ශානක කියයි
Ian Chappell was another outstanding cricket captain and modern day cricketers owe him much for the riches they enjoy for he took the administration head on and ensured fair pay for his players. He stepped down as Australia captain in 1975 and brother Greg took over. But when Kerry Packer launched World Series cricket in 1977, it is to the older Chappell that he turned to in picking his captain. Ian declined but Packer persuaded him. 'What do you think this is f***ing democracy son. I pay the bills and you are the f***ing captain.' 
There was also Imran Khan without doubt the best captain produced by Pakistan. Players in Pakistan are often at loggerheads with their captain but not with Imran. Apart from his inspirational leadership, Imran also broke protocol and convention in his search for players with x factor and we ended up with the likes of Inzamam-ul-Haq, who was first spotted in the streets of Multan by Imran. 
M.S. Dhoni of course is the special one. Under him India won every major trophy – the World T-20 in 2007 and the World Cup in 2011. Into the bargain, India went onto become world's number one ranked team under him. 
The Indian team under Virat Kohli has done so well too, but Kohli's leadership skills are nowhere near that of Dhoni. Often, Kohli runs out of ideas in Test matches when a partnership is building and he just goes with the flow rather than making things happen. Rohit Sharma is quite the contrary and he is willing to take risks. 
Jaffna Stallions in the LPL have done many things right including their choice of captain. Apart from producing match winning knocks, Thisara Perera has also taken crucial wickets and some stunning catches. When he plays for Sri Lanka, he is often slotted in at number seven or eight where he comes and plays those cameos.  But the other day it was good to see him promoting himself and although it didn't pay off, now that Jaffna are more or less through to the semis, it gives him another opportunity or two to try the same formula again. 
Thisara has got hell of a job too as Jaffna Stallions have some remarkable overseas signings and it remains to be seen how well he handles them.