In a short time, T20I has become the most competitive, popular and entertaining format of cricket for many spectators.
Among the bowlers who played in this batter's game which has a history of more than 17 years, the spinners have been more dominant than the fast bowlers. So when it comes to an all-time XI in this shortest format, which two of the four main types of spinners would fit best as a pair, taking into account both player quality and combination versatility?
Let us first look at who I think are the best spinners of each type in T20I history based on a number of criteria.
Right arm leg spin – Shahid Afridi
Right arm off break – Ajantha Mendis
Left arm orthodox – Mitchell Santner
Left arm Chinaman – Tabriaz Shamsi
* Saeed Ajmal and Sunil Narine who have been officially banned by the ICC at least once due to illegal bowling actions have not been considered.
It is not mandatory for two spinners of two different types to play as a pair. But two spinners of the same type do not usually play together as it does not create variety. So among these four I would go with the Afridi-Santner duo, considering many reasons.
Team selection
As an all-time great, Shahid Afridi's supremacy in this format makes him an automatic choice here. But the argument is why we should include the left-arm spinner Santner as his spin partner for this composition.
Although there are 3 more spin types to assist a right arm leg spinner, giving more consideration to the quality of the spinner, I choose Santner here without any hesitation, considering all the points explained in detail below.
Apart from that, the fact that left arm spin is becoming an indispensable weapon especially in this particular form of the game, adds more value to Santner's selection here. So this is how I line up my all-time T20I XI with that spin duo.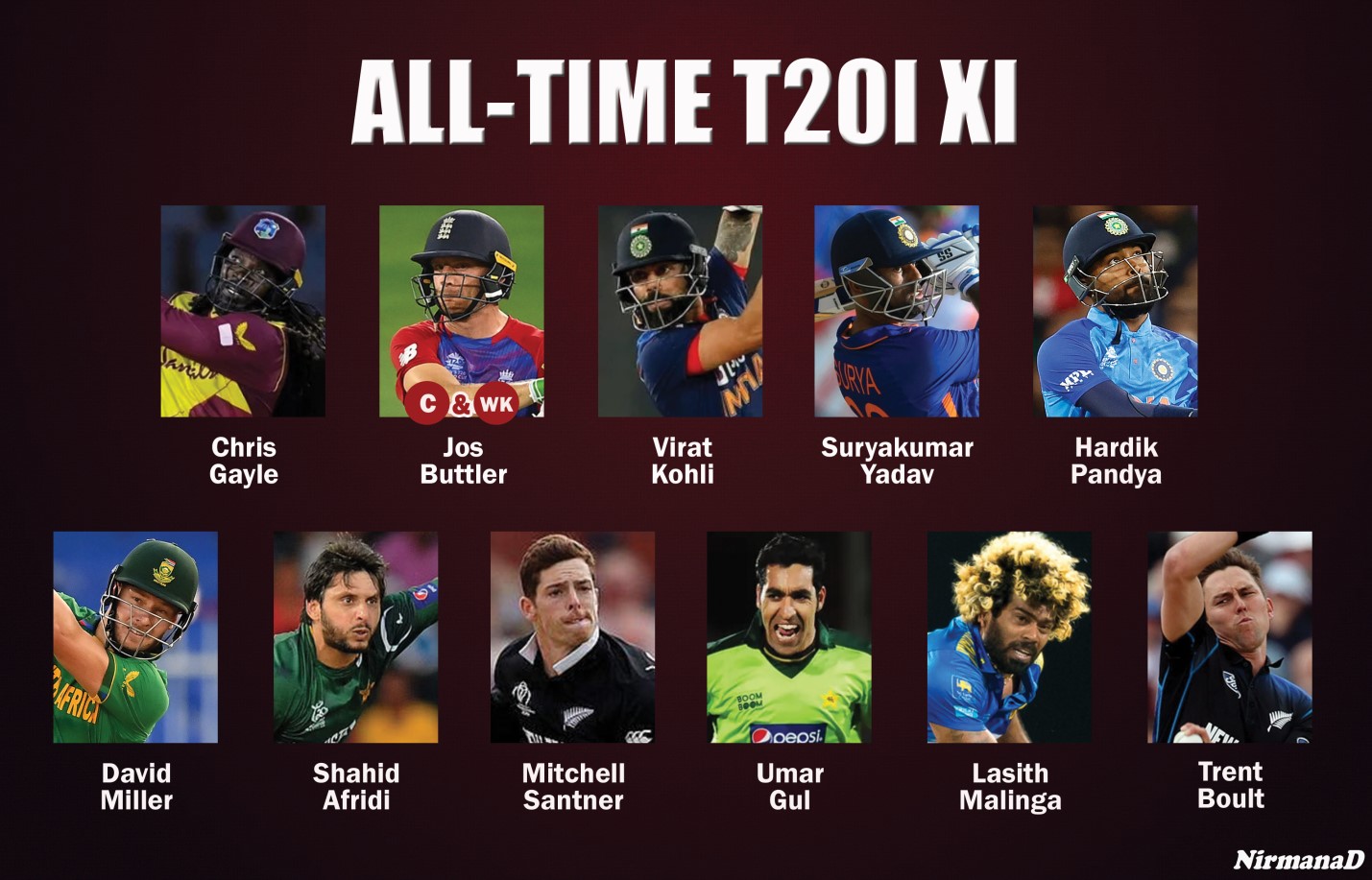 All these selections are made on the basis of both statistical criteria and non-statistical factors, taking into account the performance of the particular period in which they played.(Career record, Impact, consistency, match winning ability, game changing ability, reliability, varieties, longevity, ability to adapt to different conditions and game situations, ability to succeed against many opposition teams, performance in their particular batting position, performance in T20 World Cups, etc.)
Nevertheless, Mitchell Santner's inclusion in this all-time T20I XI would be more controversial selection than the other 10 players in the line-up due to some reasons and factors that are overlooked by many. Considering all that, I have explained below with many points why I pick Santner as the best fit spinner for that composition.
Read More – Is Sanga the best No. 3 to have played Tests?
Santner's inclusion
As a promising Kiwi bowling all-rounder, Mitchell Santner is always a valuable asset to his team as a frontline spinner who can also contribute with the bat.
Showcasing the arm ball and a big-turning stock ball that spins away from right handers as a genuine left arm orthodox bowler, he also developed a 'wrong-un' by controlling a consistent line and length and the ability to bowl to a set field.
Despite playing all 3 formats, Santner is a T20I specialist. Having the experience of 78 T20Is so far, he is already the third highest wicket-taker among Kiwi bowlers in this format with 89 scalps, only behind Tim Southee and Ish Sodhi. Currently, the underrated Kiwi is the second-highest wicket-taker among left-arm spinners in T20I cricket history, with Shakib Al Hasan leading the pack.
Even though the 30-year-old is still halfway through his international career, he has already proven a lot in all aspects.
When it comes to the selection of a frontline spinner, it is important to give priority to his bowling, even though he has some batting skills. Therefore, I have taken into consideration only his bowling in each aspect in this analysis.
Career Statistics
Here are the overall statistics of his T20I career. (All statistics below are as of 14 November 2022)
Let's take a detailed look at his numbers in each aspect.
1.1. Home record
In terms of the difference between conditions, New Zealand pitches are generally more favorable for batting with short boundaries in small grounds.
So this is the comparison between Santner's individual record at home and New Zealand's record in the games he was involved in at home. (2016-2022)
New Zealand's record in the games Santner was involved in at home

Santner's individual record at home

Now look at the statistical difference between
New Zealand's average runs per wicket (29.24) and Santner's bowling average (22.37)
New Zealand's runs per over (9.18) and Santner's economy rate (7.61)
Santner's excellence is evident from the fact that he has played the most number of T20I matches of his career with these staggering numbers in batting-friendly home conditions.
1.2. Outside home
Adapting to all kinds of different conditions is another factor that shows his capability as a versatile bowler and, that comes to the fore when it comes to performances away from the comforts of home conditions, in unfamiliar situations.

Let us go deeper and check how he performed in each continent.
Figures by each continent
This clearly shows that Santner was able to succeed in all the different conditions he played in.
1.3. Performance against top 7 opponents
The numbers below indicate Santner's performance against the top 7 cricketing nations. (Australia, England, India, Pakistan, South Africa, Sri Lanka, West Indies)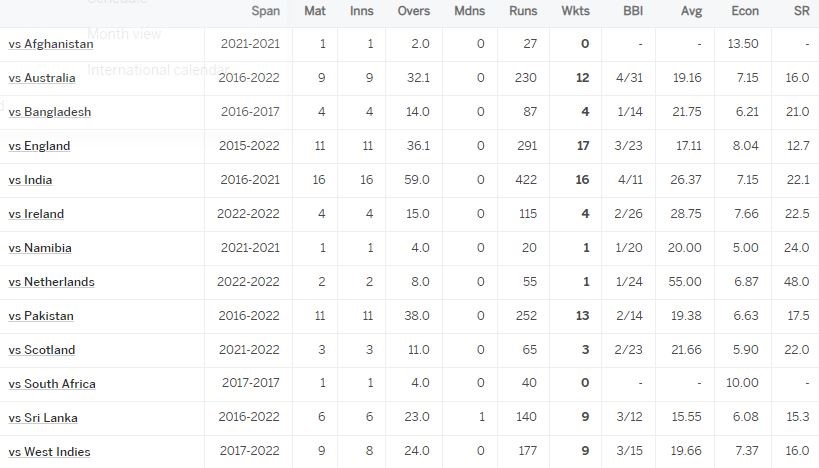 1.4. Contribution in wins
A huge factor that helps in categorizing a player purely as a match winner. Below is his overall statistical record so far in wins.

Let us now go deeper into it and compare him with other spinners.
Best bowling averages of spinners against top 7 opponents in winning causes.(Minimum 40 wickets)

Till date there are only 7 spinners who have taken a minimum of 40 wickets against the top 7 opponents in T20I history in winning causes. So having the best average (15.87) and strike rate (13.9) among them shows Santner's brilliance as a genuine match winner.
1.5. World Cup record
Let's take a look at his impressive World Cup record from all the three T20 World Cups he has played so far. (2016, 2021 and 2022)

Let us now check his bowling average in T20 World Cups against top opponents compared to other spinners.
Best bowling averages of spinners against top 7 opponents in T20 World Cups (Minimum 15 wickets)

Apart from the average (16.47), he also has the best strike rate (15.2) and the second best economy rate (6.48) among the 12 spinners on this list. So this clearly reveals to us his ability to play under the circumstances on the big stage with these astonishing performances.
The most notable among these wickets was his bowling figures of 4/11 against India in the 2016 T20 World Cup played in the early stages of his career.
Read More : Does Sanath Jayasuriya deserve a place in the all-time ODI XI?
Game changing ability
This is another important criterion regarding a player's ability to change a result of a game. The underrated Kiwi is capable of making breakthroughs at crucial points of the match As a frontline bowler who bowls in the powerplay, middle overs and even at the death, he has been able to succeed in every such important game situation.
For instance at the 2022 T20 World Cup, when England scored 81/0 in their first 10 overs and Ireland scored 68/0 in their first 8 overs against New Zealand, he broke both those big partnerships by taking the first wicket in each game. As a result, it completely changed the momentum provided by the opponents and turned the pressure towards them on both occasions. That set the stage for the rest of the New Zealand bowlers to reenter into the game with a positive mindset.
3. Longevity
The fact that Santner is someone with longevity of more than 7 years so far is something that needs to be taken into account as it is not an easy task to perform consistently over a long period of time. In this regard we have to keep in mind that considering that the T20I format has a short history of 17 years, 7 years is a considerable period of longevity for someone playing in this format.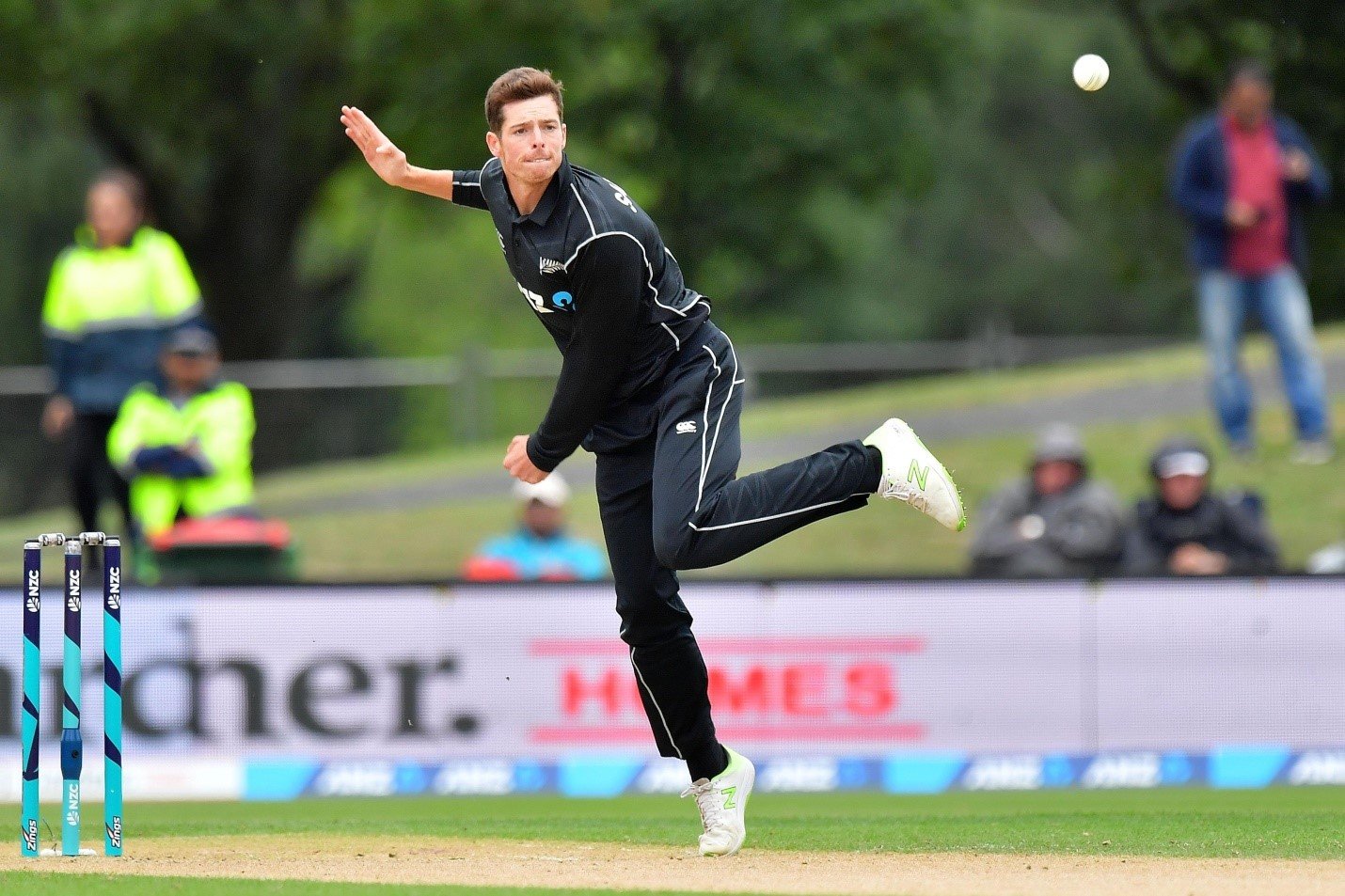 Moreover, comparing Santner here with all the other spinners who have played in T20I history by all criteria is quite a complicated task. But one thing that should not be overlooked here is that the statistics of many spinners who played before 2015 were relatively good because they played more in bowling-friendly conditions during that time, unlike Santner.
When it comes to comparing him with current spinners, we need to realize that it is not appropriate to compare his numbers directly with spinners who have bowled more in the spin-friendly subcontinent.
Instead it is more ideal to compare him to some extent with other spinners who played more in SENA countries. So while other such spinners who bowled more in those batting-friendly conditions have been quite expensive, Santner was able to consistently perform as an economical and wicket-taking bowler throughout his career. Hence, he stands out among all the other 3 types of spinners to assist a right arm leg spinner considering every criterion.
In light of that, from every point explained in detail above reflects this underrated Kiwi spinner has been just prolific in aspect and that is simply why he deserves a place in the all-time T20I XI.