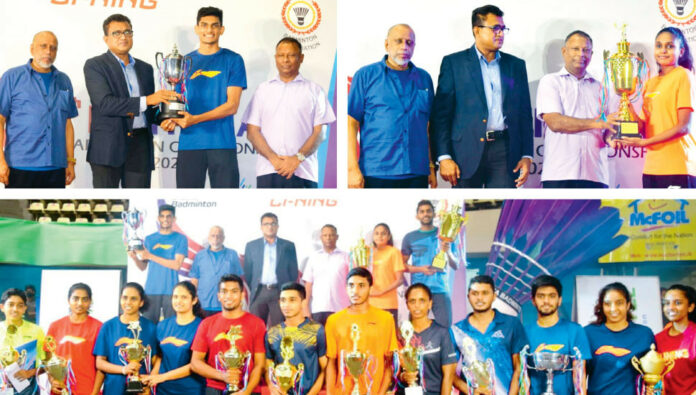 Buwaneka Goonetileke won his maiden Men's singles title during the recently concluded 69th National Badminton Championship at the Sugathadasa Indoor Stadium.
Goonetilake defeated Viren Neththasinghe in the first set of the final (21/17), lost the second (21/9), but  bounced back to win the third (21/16).
He defeated former champion Dinuka Karunaratne by 21/18, 23/21 in the men's singles semi-finals, while Neththasinghe booked his place in the final defeating Dumindu Abeywickrama 21/19, 21/6 in the semis.
Buwaneka and Thilini smash their way to Gold
In addition to the singles title, he also teamed up with Sachin Dias to take home the men's doubles championship defeating Viren Neththasinghe and Rasindu Hendahewa 21/16, 21/17 in final.
Meanwhile, the women's singles final, between Kavindi Sirimannage and Dilmi Dias, ended during the first round, as the former had to withdraw from the game due to a leg injury handing a walk-over to Dilmi Dias, who was deservedly crowned women's singles winner.
Sirimannage had to withdraw from the entire tournament due to the injury, even though she qualified for the women's doubles and mixed doubles finals. Both matches ended in walk overs.
Thulith Palliyaguru and Buthmi Galagamage received a walk-over from Sachin Dias and Sirimannege in the mixed doubles final, while Tiana Vidanachchi and Buthmi Galagamage also received a walk-over from Thilini Hendahewa and Kavidi Sirimannage to clinch the women's doubles title.