The best of the pictures captured in the FA Cup 2017 Final between defending champions Army SC and first time finalist Java Lane SC.

1

  A prayer before battle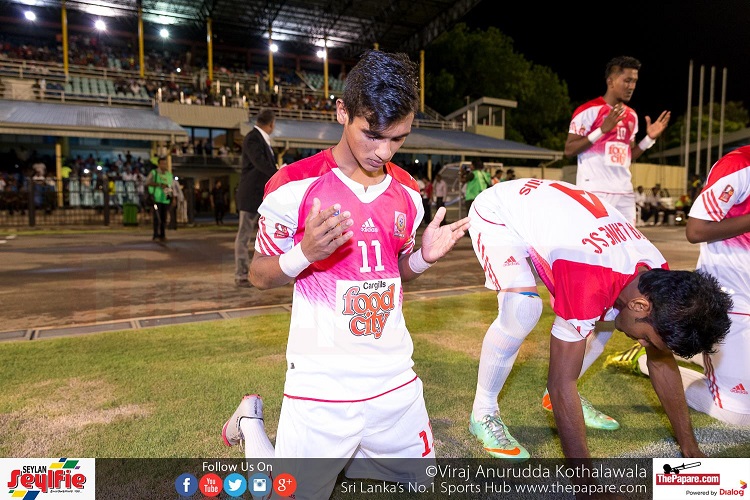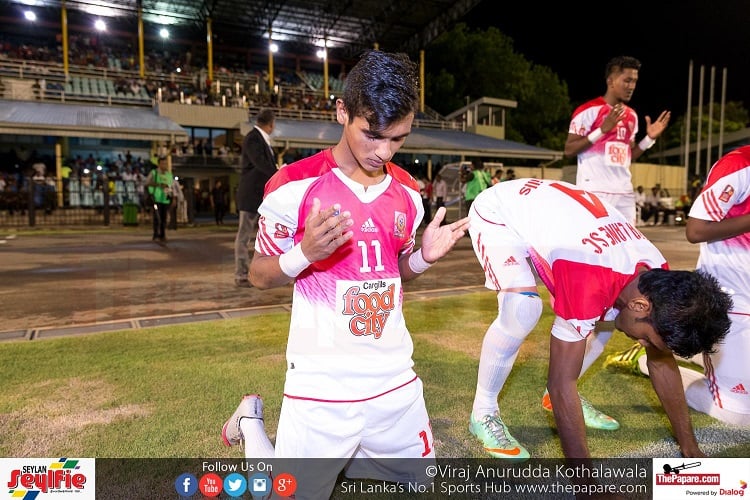 Naveen Jude (No.11), Fahim Nizamdeen (No.4) & Mohamed Rizkhan (background) are seen making a final prayer before entering the ground.
---
2

  In sync
Bandara Warakagoda (L) of Army SC and Janaka Chaminda (R) of Java Lane SC running after the ball.
---
3

  The Issadeen!
Mohamed Issadeen produces his signature celebration after scoring the first goal for Army SC.
---
4

  Kung-Fu Football
Punsara Thiruna, Lakshitha Jayathunga and Muneer Sally battling to get hold of the ball in unorthodox fashion.
---
5

  From defender to forward
Army SC center-back Asikur Rahuman celebrating his first of two goals in a memorable FA Cup Final performance.
---
6

  Do the Ronaldo!
Asikur Rahuman (L) and Roshan Appuhamy (R) bring out the 'Ronaldo Pose' to celebrate the 2
nd
goal.
---
7

  Not over me!
Army SC's goalkeeper and skipper Kumara Sirisena punches out a ball to deny Java Lane a goal scoring chance.
---
8

  What's happening?
Referee Prashanth Rajakrishna is at a loss to explain Janaka Chaminda the nightmare Java Lane was going through.
---
9

  No way through!
Bandara Warakagoda puts in a crunching tackle to stop Janaka Chaminda from getting through as the Army defence kept a tight leash on the Java Lane forwards.
---
10

  Let the celebrations begin!
Army SC celebrates defeating Java Lane 5-1 in the 2017 FA Cup Final.
---
11

  Joy & pain
Java Lane's Naveen Jude walks away dejected as Army SC players are seen celebrating in the background.
---
12

  We did it again!
Army SC Head Coach Mohamed Fawmy (L) and Goalkeeping Coach Mohamed illiyas (R) share a hug after guiding the side to another championship.
---
13

  'Api Wenuwen api'
Army players thanking the unwavering and vociferous support of their fans throughout the 90 minutes.
---
14

  Golden Boot
Army SC's Mohamed Issadeen once again became the highest goal scorer of the FA Cup as he has done in the past tournaments.
---
15

  The star with the future stars
Issadeen posing for a photograph with the trophy with a few of his young fans.
---
16

  Champions!
Army SC celebrates becoming back to back FA Cup Champions!