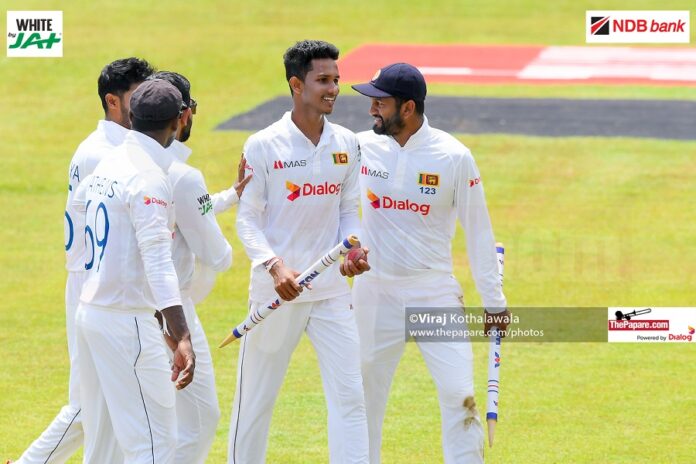 Praveen Jayawickrama bagged 3 more wickets on day 5 of the 2nd Test to see off the Bangladeshi resistance and give Sri Lanka their 1st series win in the World Test Championship.
Records for the debutant
Jayawickrama ended up with match figures of 11/178, the best for a Sri Lankan on debut. The youngster also become just the 2nd left-arm spinner to get 10+ wickets on debut and the 16th bowler overall to achieve the feat.
The previous best figures for Sri Lanka on debut were by Akila Dananjaya, who picked up a match bag of 8/44 against the same opposition in Dhaka.
Easy clean-up of the tail
With just 5 wickets in hand coming into day 5, the onus was on Liton Das and Mehidy Hassan to give the visitors some hope of drawing the test. However, that partnership did not last long as Jayawickrama claimed another wicket with a delivery that went on with the arm, trapping Das lbw. 
Hassan frustrated the Sri Lankans with some good, attacking batting, but could not find sufficient support from the other end. Taijul Islam put up some resistance, but once he was dismissed, it was just a matter of if Bangladesh could survive till lunch or not.
It proved to be too much for the Tigers in the end as Sri Lanka wrapped up the innings for 227, winning by 209 runs.
Jayawickrama-Mendis combo
With just 1 Test between them before this game, there were a few eyebrows raised when Jayawickrama and Ramesh Mendis were preferred over the more experienced spinners Sri Lanka had in the squad also others who didn't make the cut.
But the decision by the Sri Lankan management proved to be right, with the pair picking up 9 of the wickets to fall in the 2nd innings and 17 overall in the Test. 
Mendis was wayward at the beginning of his spell, but learned quickly from his mistakes and bowled exceptionally well throughout the latter half of the innings. He also paved the way for Bangladesh's quick downfall, claiming the 3 biggest wickets of Tamim Iqbal, Mominul Haque and Mushfiqur Rahim.
Sri Lanka's torrid WTC cycle ends with a win
The win was just the 2nd for Sri Lanka in the World Test Championship, their 1st coming against New Zealand back in 2019. This is also the 1st series win for Sri Lanka in the Championship, while Bangladesh finished the cycle win-less.
493/7 (159.2) & 194/9 (42.2)
251/10 (51) & 227/10 (71)
Batsmen
R
B
4s
6s
SR
Dimuth Karunarathne
c Liton Das b Shaiful Islam
118
190
15
0
62.11
Lahiru Thirimanne
c Liton Das b Taskin Ahamed
140
253
15
0
55.34
Oshada Fernando
c Liton Das b Mehidy Hasan Miraz
81
221
8
0
36.65
Angelo Mathews
c Liton Das b Taskin Ahamed
5
15
1
0
33.33
Dhananjaya de Silva
c Najmul Hossain Shanto b Taijul Islam
2
9
0
0
22.22
Pathum Nissanka
b Taskin Ahamed
30
84
3
0
35.71
Niroshan Dickwella
not out
77
72
8
1
106.94
Ramesh Mendis
c Mushfiqur Rahim b Taskin Ahamed
33
68
2
0
48.53
| | |
| --- | --- |
| Extras | 7 (b 3 , lb 2 , nb 1, w 1, pen 0) |
| Total | 493/7 (159.2 Overs, RR: 3.09) |
| Fall of Wickets | 1-209 (63.1) Dimuth Karunarathne, 2-313 (104.1) Lahiru Thirimanne, 3-319 (108.1) Angelo Mathews, 4-328 (111.5) Dhananjaya de Silva, 5-382 (135.4) Pathum Nissanka, 6-382 (136.2) Oshada Fernando, |
| Bowling | O | M | R | W | Econ |
| --- | --- | --- | --- | --- | --- |
| Abu Jayed | 22 | 4 | 69 | 0 | 3.14 |
| Taskin Ahamed | 34.2 | 7 | 127 | 4 | 3.71 |
| Mehidy Hasan Miraz | 36 | 7 | 118 | 1 | 3.28 |
| Shaiful Islam | 29 | 6 | 91 | 1 | 3.14 |
| Taijul Islam | 38 | 7 | 83 | 1 | 2.18 |
Batsmen
R
B
4s
6s
SR
Tamim Iqbal
c Lahiru Thirimanne b
92
15
12
0
613.33
Saif Hassan
c Dhananjaya de Silva b
25
62
4
1
40.32
Najmul Hossain Shanto
c Lahiru Thirimanne b Ramesh Mendis
0
4
0
0
0.00
Mominul Haque
lbw b Ramesh Mendis
49
104
7
0
47.12
Mushfiqur Rahim
lbw b
40
62
7
0
64.52
Liton Das
c Lahiru Thirimanne b
8
11
2
0
72.73
Mehidy Hasan Miraz
lbw b Suranga Lakmal
16
33
1
0
48.48
Taijul Islam
hit-wicket b
9
50
1
0
18.00
Taskin Ahamed
lbw b
0
11
0
0
0.00
Shaiful Islam
b Suranga Lakmal
0
8
0
0
0.00
Abu Jayed
not out
0
4
0
0
0.00
| | |
| --- | --- |
| Extras | 12 (b 2 , lb 9 , nb 1, w 0, pen 0) |
| Total | 251/10 (51 Overs, RR: 4.92) |
| Fall of Wickets | 1-98 (25.4) Saif Hassan, 2-151 (43.2) Tamim Iqbal, |
| Bowling | O | M | R | W | Econ |
| --- | --- | --- | --- | --- | --- |
| Suranga Lakmal | 10 | 0 | 30 | 2 | 3.00 |
| Vishwa Fernando | 7 | 1 | 19 | 0 | 2.71 |
| Angelo Mathews | 2 | 0 | 7 | 0 | 3.50 |
| Ramesh Mendis | 31 | 7 | 86 | 2 | 2.77 |
| Dhananjaya de Silva | 1 | 0 | 6 | 0 | 6.00 |
Batsmen
R
B
4s
6s
SR
Lahiru Thirimanne
c Najmul Hossain Shanto b Mehidy Hasan Miraz
2
6
0
0
33.33
Dimuth Karunarathne
c Tamim Iqbal b Saif Hassan
66
78
7
1
84.62
Oshada Fernando
st Liton Das b Taijul Islam
1
5
0
0
20.00
Angelo Mathews
c Saif Hassan b Taijul Islam
12
35
0
1
34.29
Dhananjaya de Silva
c Najmul Hossain Shanto b Mehidy Hasan Miraz
41
52
4
1
78.85
Pathum Nissanka
c Shaiful Islam b Taijul Islam
24
31
2
0
77.42
Niroshan Dickwella
c Taijul Islam b Taskin Ahamed
24
25
2
0
96.00
Ramesh Mendis
c Tamim Iqbal b Taijul Islam
8
12
1
1
66.67
Suranga Lakmal
b Taijul Islam
12
6
0
0
200.00
Praveen Jayawickrama
not out
3
5
0
0
60.00
| | |
| --- | --- |
| Extras | 1 (b 0 , lb 0 , nb 1, w 0, pen 0) |
| Total | 194/9 (42.2 Overs, RR: 4.58) |
| Bowling | O | M | R | W | Econ |
| --- | --- | --- | --- | --- | --- |
| Mehidy Hasan Miraz | 14 | 3 | 66 | 2 | 4.71 |
| Shaiful Islam | 1 | 0 | 8 | 0 | 8.00 |
| Taijul Islam | 19.2 | 2 | 72 | 5 | 3.75 |
| Taskin Ahamed | 4 | 0 | 26 | 1 | 6.50 |
| Saif Hassan | 4 | 0 | 22 | 1 | 5.50 |
Batsmen
R
B
4s
6s
SR
Tamim Iqbal
c Niroshan Dickwella b Ramesh Mendis
24
26
3
1
92.31
Saif Hassan
c Suranga Lakmal b Praveen Jayawickrama
34
46
5
1
73.91
Najmul Hossain Shanto
b Praveen Jayawickrama
26
44
4
0
59.09
Mominul Haque
b Ramesh Mendis
32
48
4
0
66.67
Mushfiqur Rahim
c Dhananjaya de Silva b Ramesh Mendis
40
63
5
0
63.49
Liton Das
lbw b Praveen Jayawickrama
17
46
1
0
36.96
Mehidy Hasan Miraz
c Pathum Nissanka b Praveen Jayawickrama
39
89
4
0
43.82
Taijul Islam
c Niroshan Dickwella b Dhananjaya de Silva
2
30
0
0
6.67
Taskin Ahamed
c Dimuth Karunarathne b Ramesh Mendis
7
33
0
0
21.21
Shaiful Islam
not out
0
2
0
0
0.00
Abu Jayed
lbw b Praveen Jayawickrama
0
3
0
0
0.00
| | |
| --- | --- |
| Extras | 6 (b 3 , lb 2 , nb 1, w 0, pen 0) |
| Total | 227/10 (71 Overs, RR: 3.2) |
| Fall of Wickets | 1-31 (7.1) Tamim Iqbal, 2-73 (16.4) Saif Hassan, 3-104 (22.5) Najmul Hossain Shanto, 4-134 (31.6) Mominul Haque, 5-171 (41.4) Mushfiqur Rahim, 6-183 (50.2) Liton Das, 7-206 (61.2) Taijul Islam, 8-227 (69.4) Taskin Ahamed, 9-227 (70.3) Mehidy Hasan Miraz, 10-227 (70.6) Abu Jayed, |
| Bowling | O | M | R | W | Econ |
| --- | --- | --- | --- | --- | --- |
| Suranga Lakmal | 4 | 2 | 14 | 0 | 3.50 |
| Ramesh Mendis | 28 | 2 | 103 | 4 | 3.68 |
| Praveen Jayawickrama | 32 | 10 | 86 | 5 | 2.69 |
| Dhananjaya de Silva | 7 | 1 | 19 | 1 | 2.71 |