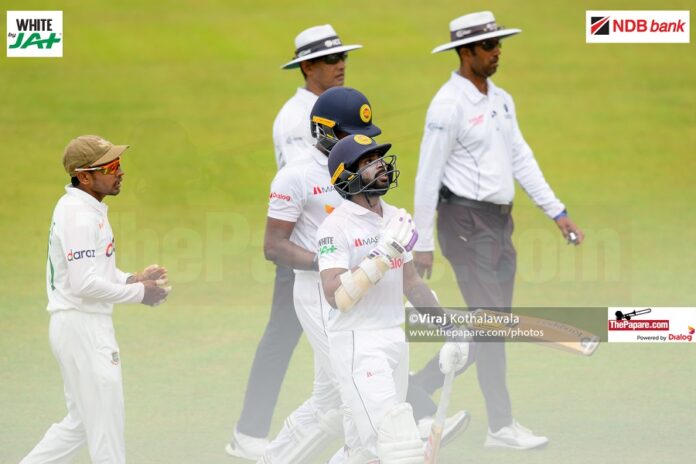 Niroshan Dickwella and Ramesh Mendis made 87 for the 7th wicket to rescue Sri Lanka from a bit of trouble as the hosts lost 5 wickets for 69 runs midway through day 2.
Dickwella continues good form
While the batsmen ahead of him seemed to have prioritized occupying the crease ahead of getting runs on the board, Dickwella showed clear intent to swing momentum back in Sri Lanka's favour, coming in at the fall of the 5th wicket.
The left-hander was not afraid to take a few risks and brought out a few upper cuts and sweeps as he scored a brisk half-century, adding 87 alongside all-rounder Mendis. The wicket-keeper batsman has had a good year with the bat, with 426 runs to his name in 2021, including two near-misses on a maiden Test Century.
Slow start and middle order collapse
Oshada Fernando and Lahiru Thirimanne started off cautiously against some good bowling from the Bangladeshi quicks, showing little intent to push the run-rate up and gain some momentum early in the day. The ploy didn't really work for the pair as Thirimanne fell for 140. 
It was much deserved breakthrough for Taskin Ahamed and the lanky right armer could have had a wicket soon after but everyone on-field seemed to miss Angelo Mathews' nick behind to the keeper in the same over. If the dismissal had stood, it would have been just the 3rd duck in Mathews' career.
Taskin got his revenge a couple of overs later however and when Tailjul Islam got rid of Dhananjaya de Silva with some extra bounce, Sri Lanka really began to sweat.
Pathum Nissanka and Fernando dug in for the next 24 overs before Nissanka fell to a ball that seemed to keep low off a good length. Fernando soon followed, putting Sri Lanka in some trouble at 382/6. Nissanka's dismissal seemed to indicate that there was some variable bounce in the surface, which could make for interesting viewing as the Test goes on.
Bangladesh's discipline
The Bangladesh bowlers had perhaps one of their best sessions in overseas Tests this morning, picking up 3 wickets for just 43 runs to wrest the initiative from Sri Lanka somewhat. The fast bowlers, Ahamed in particular, was impressive, bowling a disciplined line and length which eventually paid dividends. 
Ahamed should have had a 5 wicket haul, with two catches going down off his bowling (Karunaratne on day 1, Mendis before the close of play on day 2), but was certainly the one to lead the attack on a track that seemed to have suddenly come to life for the bowlers.
At stumps on day 2, Sri Lanka still held the upper hand, with 469 runs on the board for the loss of 6 wickets, with Dickwella (64*) and Mendis (22*) well set. With bad light and rain expected to continue to play a part in the game, it would be interesting to see what Sri Lanka's tactics would be, going into day 3.
493/7 (159.2) & 194/9 (42.2)
251/10 (51) & 227/10 (71)


Batsmen
R
B
4s
6s
SR
Dimuth Karunarathne
c Liton Das b Shaiful Islam
118
190
15
0
62.11
Lahiru Thirimanne
c Liton Das b Taskin Ahamed
140
253
15
0
55.34
Oshada Fernando
c Liton Das b Mehidy Hasan Miraz
81
221
8
0
36.65
Angelo Mathews
c Liton Das b Taskin Ahamed
5
15
1
0
33.33
Dhananjaya de Silva
c Najmul Hossain Shanto b Taijul Islam
2
9
0
0
22.22
Pathum Nissanka
b Taskin Ahamed
30
84
3
0
35.71
Niroshan Dickwella
not out
77
72
8
1
106.94
Ramesh Mendis
c Mushfiqur Rahim b Taskin Ahamed
33
68
2
0
48.53
| | |
| --- | --- |
| Extras | 7 (b 3 , lb 2 , nb 1, w 1, pen 0) |
| Total | 493/7 (159.2 Overs, RR: 3.09) |
| Fall of Wickets | 1-209 (63.1) Dimuth Karunarathne, 2-313 (104.1) Lahiru Thirimanne, 3-319 (108.1) Angelo Mathews, 4-328 (111.5) Dhananjaya de Silva, 5-382 (135.4) Pathum Nissanka, 6-382 (136.2) Oshada Fernando, |
| Bowling | O | M | R | W | Econ |
| --- | --- | --- | --- | --- | --- |
| Abu Jayed | 22 | 4 | 69 | 0 | 3.14 |
| Taskin Ahamed | 34.2 | 7 | 127 | 4 | 3.71 |
| Mehidy Hasan Miraz | 36 | 7 | 118 | 1 | 3.28 |
| Shaiful Islam | 29 | 6 | 91 | 1 | 3.14 |
| Taijul Islam | 38 | 7 | 83 | 1 | 2.18 |


Batsmen
R
B
4s
6s
SR
Tamim Iqbal
c Lahiru Thirimanne b
92
15
12
0
613.33
Saif Hassan
c Dhananjaya de Silva b
25
62
4
1
40.32
Najmul Hossain Shanto
c Lahiru Thirimanne b Ramesh Mendis
0
4
0
0
0.00
Mominul Haque
lbw b Ramesh Mendis
49
104
7
0
47.12
Mushfiqur Rahim
lbw b
40
62
7
0
64.52
Liton Das
c Lahiru Thirimanne b
8
11
2
0
72.73
Mehidy Hasan Miraz
lbw b Suranga Lakmal
16
33
1
0
48.48
Taijul Islam
hit-wicket b
9
50
1
0
18.00
Taskin Ahamed
lbw b
0
11
0
0
0.00
Shaiful Islam
b Suranga Lakmal
0
8
0
0
0.00
Abu Jayed
not out
0
4
0
0
0.00
| | |
| --- | --- |
| Extras | 12 (b 2 , lb 9 , nb 1, w 0, pen 0) |
| Total | 251/10 (51 Overs, RR: 4.92) |
| Fall of Wickets | 1-98 (25.4) Saif Hassan, 2-151 (43.2) Tamim Iqbal, |
| Bowling | O | M | R | W | Econ |
| --- | --- | --- | --- | --- | --- |
| Suranga Lakmal | 10 | 0 | 30 | 2 | 3.00 |
| Vishwa Fernando | 7 | 1 | 19 | 0 | 2.71 |
| Angelo Mathews | 2 | 0 | 7 | 0 | 3.50 |
| Ramesh Mendis | 31 | 7 | 86 | 2 | 2.77 |
| Dhananjaya de Silva | 1 | 0 | 6 | 0 | 6.00 |


Batsmen
R
B
4s
6s
SR
Lahiru Thirimanne
c Najmul Hossain Shanto b Mehidy Hasan Miraz
2
6
0
0
33.33
Dimuth Karunarathne
c Tamim Iqbal b Saif Hassan
66
78
7
1
84.62
Oshada Fernando
st Liton Das b Taijul Islam
1
5
0
0
20.00
Angelo Mathews
c Saif Hassan b Taijul Islam
12
35
0
1
34.29
Dhananjaya de Silva
c Najmul Hossain Shanto b Mehidy Hasan Miraz
41
52
4
1
78.85
Pathum Nissanka
c Shaiful Islam b Taijul Islam
24
31
2
0
77.42
Niroshan Dickwella
c Taijul Islam b Taskin Ahamed
24
25
2
0
96.00
Ramesh Mendis
c Tamim Iqbal b Taijul Islam
8
12
1
1
66.67
Suranga Lakmal
b Taijul Islam
12
6
0
0
200.00
Praveen Jayawickrama
not out
3
5
0
0
60.00
| | |
| --- | --- |
| Extras | 1 (b 0 , lb 0 , nb 1, w 0, pen 0) |
| Total | 194/9 (42.2 Overs, RR: 4.58) |
| Bowling | O | M | R | W | Econ |
| --- | --- | --- | --- | --- | --- |
| Mehidy Hasan Miraz | 14 | 3 | 66 | 2 | 4.71 |
| Shaiful Islam | 1 | 0 | 8 | 0 | 8.00 |
| Taijul Islam | 19.2 | 2 | 72 | 5 | 3.75 |
| Taskin Ahamed | 4 | 0 | 26 | 1 | 6.50 |
| Saif Hassan | 4 | 0 | 22 | 1 | 5.50 |


Batsmen
R
B
4s
6s
SR
Tamim Iqbal
c Niroshan Dickwella b Ramesh Mendis
24
26
3
1
92.31
Saif Hassan
c Suranga Lakmal b Praveen Jayawickrama
34
46
5
1
73.91
Najmul Hossain Shanto
b Praveen Jayawickrama
26
44
4
0
59.09
Mominul Haque
b Ramesh Mendis
32
48
4
0
66.67
Mushfiqur Rahim
c Dhananjaya de Silva b Ramesh Mendis
40
63
5
0
63.49
Liton Das
lbw b Praveen Jayawickrama
17
46
1
0
36.96
Mehidy Hasan Miraz
c Pathum Nissanka b Praveen Jayawickrama
39
89
4
0
43.82
Taijul Islam
c Niroshan Dickwella b Dhananjaya de Silva
2
30
0
0
6.67
Taskin Ahamed
c Dimuth Karunarathne b Ramesh Mendis
7
33
0
0
21.21
Shaiful Islam
not out
0
2
0
0
0.00
Abu Jayed
lbw b Praveen Jayawickrama
0
3
0
0
0.00
| | |
| --- | --- |
| Extras | 6 (b 3 , lb 2 , nb 1, w 0, pen 0) |
| Total | 227/10 (71 Overs, RR: 3.2) |
| Fall of Wickets | 1-31 (7.1) Tamim Iqbal, 2-73 (16.4) Saif Hassan, 3-104 (22.5) Najmul Hossain Shanto, 4-134 (31.6) Mominul Haque, 5-171 (41.4) Mushfiqur Rahim, 6-183 (50.2) Liton Das, 7-206 (61.2) Taijul Islam, 8-227 (69.4) Taskin Ahamed, 9-227 (70.3) Mehidy Hasan Miraz, 10-227 (70.6) Abu Jayed, |
| Bowling | O | M | R | W | Econ |
| --- | --- | --- | --- | --- | --- |
| Suranga Lakmal | 4 | 2 | 14 | 0 | 3.50 |
| Ramesh Mendis | 28 | 2 | 103 | 4 | 3.68 |
| Praveen Jayawickrama | 32 | 10 | 86 | 5 | 2.69 |
| Dhananjaya de Silva | 7 | 1 | 19 | 1 | 2.71 |