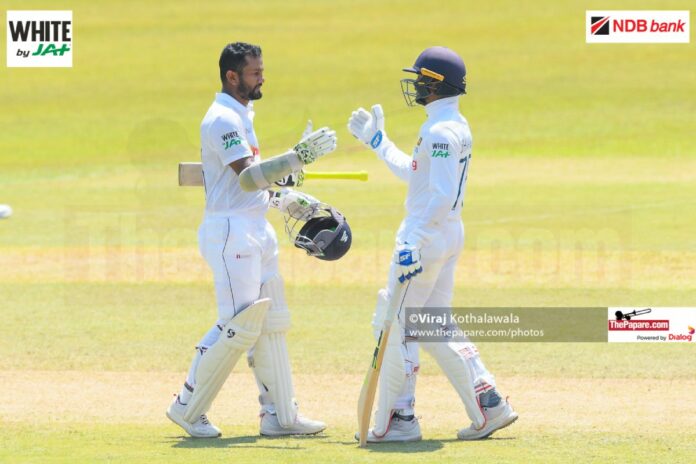 Dimuth Karunaratne made his maiden Test double hundred as his partnership with Dhananjaya de Silva grew to 322* before bad light brought an end to day 4 of the 1st Test between Sri Lanka and Bangladesh in Pallekelle.
Karunaratne was nervy as he neared his 11th test hundred but managed to survive some tight bowling from the Tigers to reach the milestone off 247 deliveries. He looked less fazed in the 190s (he has been dismissed once before for 196) and looked to get runs more freely but was fortunate that his nick for 4 to go past the 200-mark evaded the wicket-keeper and slip.
De Silva, on the other hand, looked as elegant as ever, making the most of the loose deliveries on offer as the Bangladeshi bowlers grew steadily desperate to make a breakthrough. The right-hander pushed towards his highest Test score of 173, which incidentally came against the same opposition.
The left-right hand combination worked well for Sri Lanka, particularly as the 2nd New Ball was taken, with Taskin Ahamed and Abu Jayed managing to get a little bit of movement off the track. The pair managed to keep the pacies at bat and then had little trouble against Taijul Islam and Mehedi Hassan, who, try as they might, could not get anything out of the track.
This is the 2nd instance where a Sri Lankan pair have batted through a day's play since 2018, when Angelo Mathews and Kusal Mendis did so in New Zealand.
The hosts did look to up the ante during the latter part of the day, perhaps in a bid to get ahead of the Bangladeshi total and perhaps give them a bat sometime tomorrow. With bad light denying the teams of 22 of the 98 overs due for the day, it looks unlikely that either team will be able to force a decision out of the game.
At stumps on day 4, Sri Lanka are 512/3, still trailing Bangladesh by 29 runs with Karunaratne on 234* and de Silva on 154*. 
*Despite the Pallekelle International Stadium possessing floodlights, they cannot be used to extend play in the case of bad light, as a result of the playing conditions agreed upon by the two teams prior to the series.
A PHP Error was encountered
Severity: Warning
Message: Invalid argument supplied for foreach()
Filename: controllers/Embed.php
Line Number: 86
Backtrace:
File: /var/www/stats.thepapare.com/htdocs/cricket/application/controllers/Embed.php
Line: 86
Function: _error_handler
File: /var/www/stats.thepapare.com/htdocs/cricket/index.php
Line: 315
Function: require_once
A PHP Error was encountered
Severity: Warning
Message: Invalid argument supplied for foreach()
Filename: embed/match_result.php
Line Number: 115
Backtrace:
File: /var/www/stats.thepapare.com/htdocs/cricket/application/views/embed/match_result.php
Line: 115
Function: _error_handler
File: /var/www/stats.thepapare.com/htdocs/cricket/application/controllers/Embed.php
Line: 92
Function: view
File: /var/www/stats.thepapare.com/htdocs/cricket/index.php
Line: 315
Function: require_once