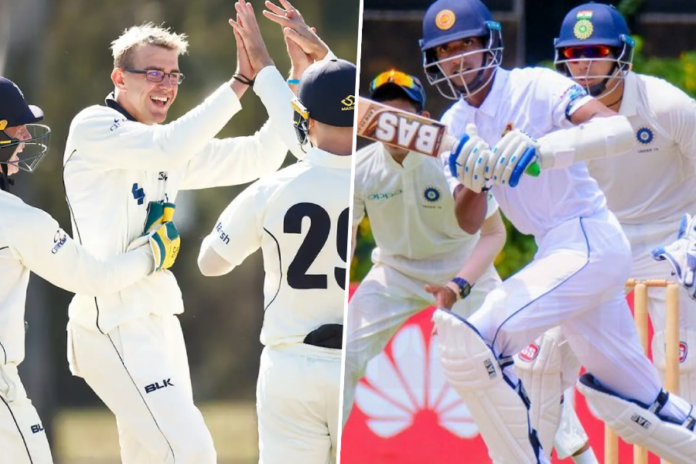 After dismissing Australia A for 379 on Day 1, Sri Lanka A began their first innings hoping to get a sizable lead to put the visitors under pressure. However, the Australia A spinners Todd Murphy and Matthew Kuhnemann shared 6 wickets between them to end Day 2 with more honors.
Nuwanidu Fernando who continued his rich form from the Emerging Tour of England scored a brilliant 86, which included 11 fours and a six. On his way to 86, Nuwanidu constructed a well-made 93-run stand for the 5th wicket with Lahiru Udara, who also scored a 50.
The rest of the Sri Lankan batters got starts but failed to capitalize as none were able to pass the 30 run mark. Todd Murphy, who was the pick of the bowlers for the visitors, took 4 for 52, while Matthew Kuhnemann, who earned a call-up to the Australian ODI side in place of Ashton Agar who got injured, supported him very well by taking 2 for 41.
With all the regular batters back in the pavilion Sri Lanka A were on 250 for the loss of 8 wickets when bad light interrupted the match and no play was possible after the 71st over. With the last 2 wickets remaining Sri Lanka A will be hoping that the tail would wag and minimize the current deficit of 129.
The third day of the encounter is scheduled to begin tomorrow at 10.00AM.
274/10 (79.1) & 249/10 (72)
379/10 (88.1) & 212/5 (46)


Batsmen
R
B
4s
6s
SR
Matt Renshaw
b Dilshan Madusanka
2
11
0
0
18.18
Marcus Harris
b Dilshan Madusanka
0
3
0
0
0.00
Henry Hunt
b Dilshan Madusanka
0
8
0
0
0.00
travis head
b Lakshitha Manasinghe
39
29
5
0
134.48
Nic Maddinson
st Lahiru Udara b Lakshitha Manasinghe
14
37
3
0
37.84
Josh Philippe
c Lahiru Udara b Suminda Lakshan
94
102
7
3
92.16
Aaron Hardie
b Suminda Lakshan
62
83
5
0
74.70
Nathan McAndrew
b Dilshan Madusanka
92
132
5
0
69.70
Mark Steketee
b Suminda Lakshan
47
83
4
0
56.63
Todd Murphy
b Lakshitha Manasinghe
1
12
0
0
8.33
Matthew Kuhnemann
not out
11
33
1
0
33.33
| | |
| --- | --- |
| Extras | 17 (b 11 , lb 2 , nb 4, w 0, pen 0) |
| Total | 379/10 (88.1 Overs, RR: 4.3) |
| Bowling | O | M | R | W | Econ |
| --- | --- | --- | --- | --- | --- |
| Dilshan Madusanka | 14.1 | 2 | 62 | 4 | 4.40 |
| Nisala Tharaka | 12 | 1 | 61 | 0 | 5.08 |
| Lakshitha Manasinghe | 28 | 2 | 115 | 3 | 4.11 |
| Pramod Madushan | 18 | 1 | 69 | 0 | 3.83 |
| Suminda Lakshan | 16 | 1 | 59 | 3 | 3.69 |


Batsmen
R
B
4s
6s
SR
Pabasara Waduge
c travis head b Nathan McAndrew
30
57
3
0
52.63
Minod Bhanuka
lbw b Todd Murphy
11
27
1
0
40.74
Kamindu Mendis
b Todd Murphy
0
8
0
0
0.00
Nuwanidu Fernando
c Matt Renshaw b Matthew Kuhnemann
86
140
11
1
61.43
Sadeera Samarawickrama
lbw b Mark Steketee
29
53
2
0
54.72
Lahiru Udara
c Matt Renshaw b Matthew Kuhnemann
50
62
5
0
80.65
Suminda Lakshan
c Josh Philippe b Todd Murphy
12
31
1
0
38.71
Lakshitha Manasinghe
c Josh Philippe b Mark Steketee
35
61
6
0
57.38
Nisala Tharaka
c & b Todd Murphy
0
3
0
0
0.00
prabath jayasuriya
c Henry Hunt b Mark Steketee
10
26
1
0
38.46
Dilshan Madusanka
not out
1
7
0
0
14.29
| | |
| --- | --- |
| Extras | 10 (b 7 , lb 3 , nb 0, w 0, pen 0) |
| Total | 274/10 (79.1 Overs, RR: 3.46) |
| Bowling | O | M | R | W | Econ |
| --- | --- | --- | --- | --- | --- |
| Mark Steketee | 15.1 | 5 | 51 | 3 | 3.38 |
| Aaron Hardie | 8 | 2 | 29 | 0 | 3.62 |
| Nathan McAndrew | 13 | 4 | 38 | 1 | 2.92 |
| Todd Murphy | 23 | 7 | 67 | 4 | 2.91 |
| Matthew Kuhnemann | 14 | 2 | 41 | 2 | 2.93 |
| travis head | 6 | 0 | 38 | 0 | 6.33 |


Batsmen
R
B
4s
6s
SR
Marcus Harris
lbw b Lakshitha Manasinghe
32
39
5
0
82.05
Matt Renshaw
lbw b prabath jayasuriya
32
36
1
0
88.89
Henry Hunt
c Oshada Ferenado b Lakshitha Manasinghe
0
5
0
0
0.00
Nic Maddinson
c b Suminda Lakshan
59
95
8
0
62.11
Josh Philippe
b Dilshan Madusanka
69
70
10
0
98.57
jimmy peirson
not out
13
23
1
0
56.52
Aaron Hardie
not out
4
9
1
0
44.44
| | |
| --- | --- |
| Extras | 3 (b 2 , lb 0 , nb 1, w 0, pen 0) |
| Total | 212/5 (46 Overs, RR: 4.61) |
| Bowling | O | M | R | W | Econ |
| --- | --- | --- | --- | --- | --- |
| Dilshan Madusanka | 8 | 1 | 43 | 1 | 5.38 |
| Nisala Tharaka | 2 | 0 | 17 | 0 | 8.50 |
| Lakshitha Manasinghe | 17 | 0 | 83 | 2 | 4.88 |
| prabath jayasuriya | 13 | 4 | 45 | 1 | 3.46 |
| Suminda Lakshan | 5 | 1 | 16 | 1 | 3.20 |
| Nuwanidu Fernando | 1 | 0 | 6 | 0 | 6.00 |


Batsmen
R
B
4s
6s
SR
Minod Bhanuka
c Josh Philippe b Aaron Hardie
87
142
11
1
61.27
Pabasara Waduge
lbw b Aaron Hardie
2
13
0
0
15.38
Kamindu Mendis
c jimmy peirson b Nathan McAndrew
5
11
0
0
45.45
Nuwanidu Fernando
c Aaron Hardie b Nathan McAndrew
3
18
0
0
16.67
Sadeera Samarawickrama
c Nic Maddinson b Tanveer Sangha
105
145
9
0
72.41
Lahiru Udara
c Josh Philippe b Aaron Hardie
2
15
0
0
13.33
Suminda Lakshan
c Josh Philippe b Tanveer Sangha
23
39
3
0
58.97
Lakshitha Manasinghe
b Tanveer Sangha
5
9
0
0
55.56
Nisala Tharaka
c Todd Murphy b Nathan McAndrew
0
4
0
0
0.00
prabath jayasuriya
c Aaron Hardie b Tanveer Sangha
9
18
1
0
50.00
Dilshan Madusanka
not out
4
17
0
0
23.53
| | |
| --- | --- |
| Extras | 4 (b 4 , lb 0 , nb 0, w 0, pen 0) |
| Total | 249/10 (72 Overs, RR: 3.46) |
| Bowling | O | M | R | W | Econ |
| --- | --- | --- | --- | --- | --- |
| Mark Steketee | 12 | 1 | 50 | 0 | 4.17 |
| Aaron Hardie | 12 | 3 | 35 | 3 | 2.92 |
| Nathan McAndrew | 15 | 4 | 31 | 3 | 2.07 |
| Todd Murphy | 18 | 0 | 62 | 0 | 3.44 |
| Tanveer Sangha | 13 | 0 | 56 | 4 | 4.31 |
| Nic Maddinson | 2 | 0 | 11 | 0 | 5.50 |