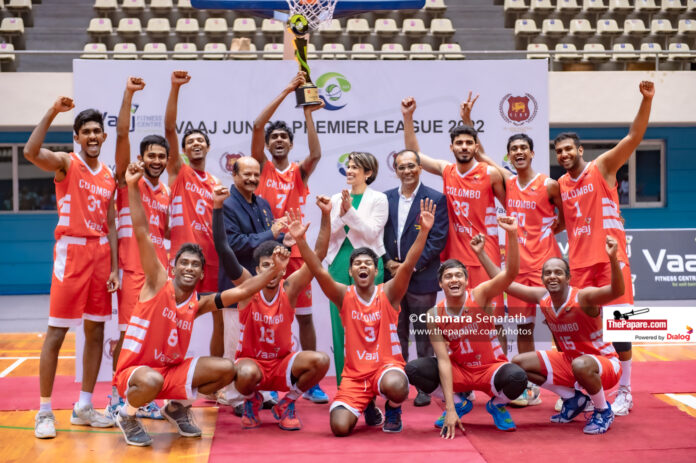 Sugathadasa Indoor Stadium hosted the Vaaj Junior Premier League 2023 Men's Finale last night (16th January), with Colombo District Association dominating and having a massive win against Jaffna District Association with a final score line of 109;78.
The match started with a dominant performance from Colombo, securing almost all the possession in the entire maiden quarter. Although Colombo had the first possession in the game, they were unable to count it in to tick the scoreboard. Sajintharam Balakumaran attempted to give them the advantage by taking the opening shot in the championship game.
Arnold Brent opened the score sheet for team Colombo and the boys were unstoppable from there onwards. Jaffna had trouble completing its offensive possessions, as a lot of its attempts struck the rim and missed.
In the maiden quarter, the Colombo lads deployed a half court man-to- man defense, whilst Jaffna used a similar strategy in defending the Colombo players. Interestingly, the two key players of the two teams, Simron Yoganathan and Rukshan Athapaththu, defended each other. However, Skipper Athpaththu was always one step ahead in reading the defensive and the offensive strategies of the opponent. The two points guards, Janith Gamage (Colombo) and Vipushan Konesarasa (Jaffna), did an excellent job in controlling the game.
Colombo managed to maintain their early advantage during the game's first few minutes right up until the very end.
Coming into the second quarter, Colombo held on to their momentum as they kept on making the buckets. They were exceptional in both their offensive and defensive rebounds. Whenever there was a second attempt, Colombo made sure to count it in.
Colombo adopted a fast-paced game which Jaffna could not keep up with towards the latter part of the quarter. Colombo went on to add 33 points, while Jaffna only replied with 9 points.
Half Time Score – Colombo District Association 65, Jaffna District Association 30.
Jaffna appeared more formidable after the ten-minute break than they had in the first half. They still had to make hasty attacking plays because they had no hope of getting past the Colombo Defense.
Colombo executed their plays well with set offenses that involved all five players that played in the final 20 minutes. Rukshan Athapaththu, Arnold Brent and Chenura De Alwis all made behind-the-arc shots, which had a significant effect on their opponent's mentality.
By the end of the third quarter, Jaffna was ambushed and demolished. The Jaffna offense was drained by the Colombo lads and were kept silent.
There was not much difference in the fourth quarter as well. The dominant performance by Colombo District Association sealed the deal as they secured the title of the Vaaj Junior Premier League 2022.
Most Valuable Player in the Tournament – Simron Yoganathan

Best Player in the Grand Finale – Rukshan Athapaththu