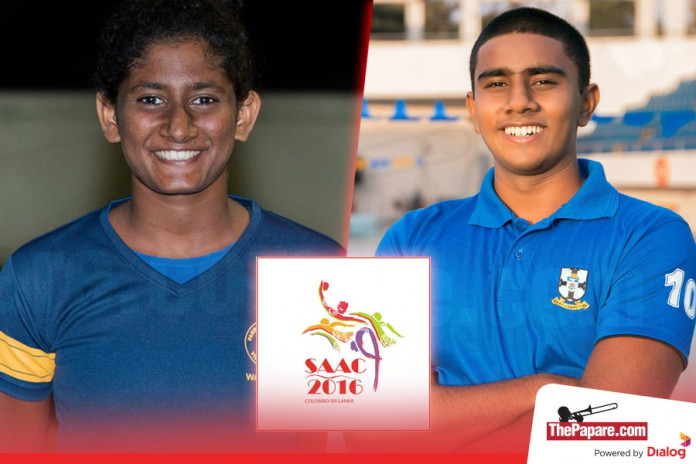 S. Thomas' College Mount Lavinia Water polo captain Ashane Francis and Visakha Vidyalaya Water polo skipper Shaleena Peiris will be leading the Sri Lankan Junior Water polo team for the South Asia Aquatic Championship that will kick off at the Sugathadasa Indoor Swimming Pool Complex on the 18th of October 2016.
The fourth year coloursman from S. Thomas' College, who recently went on to lift the Dr. R. L. Hayman trophy for the annual water polo encounter between Royal College and S. Thomas' College for the fourth consecutive time, will be leading the Sri Lankan boys' team. Francis has also represented the Sri Lankan under 17 team two years back.
The Sri Lankan Boys' team will comprise of eight players from Royal College and S. Thomas' College and a single representative from Nalanda College. The destructive prop who earned top honours at the recently concluded Hayman trophy series, Sachitha Jayatilake will be the vice-captain of the national side. Jayatilake who was the key architect for S. Thomas' Hayman win will be looking to continue his success story in Sri Lankan colours.
The two goalkeepers of  S. Thomas' College & Royal College, Dilitha Kumarasinghe and Kalindu Hettiarachchi have been drafted into the squad along with the Royal College skipper Kisal Assalarachchi. Thomians Shannon Ebenezer and Isuru Kahandawala have also been included in the team and are expected to showcase their talent and later graduate to the senior outfit. The only non-Hayman representation will be the Nalanda College captain Nimnaka Rathnayake who played an integral role in last year's Nalanda victory against Ananda College in the Wasantha Karannagoda trophy.
In the Girls' section, Senior-player and Visakha Vidyalaya Water polo skipper Shaleena Peiris will take the reins while Tusari Ekanayake also from Visakha will be her deputy. The girls' team comprises of players from the three strongholds, Visakha Vidyalaya, Ladies' College and Bishop's College. Ashmeetha Cooray of Ladies' College and Thavisha Attanayake of Bishop's College will be on the priority list for Goalkeeper duties.
Other key players in the team are Shenara David and Sashi Weerawarana from Ladies College who will be expected to take important roles in the team.
Since only Sri Lanka and India participate in water polo in the South Asian region, the two teams will play each other in a five match Test series starting from the 19th of October. The water polo matches will commence after the completion of the swimming events at 7.00 p.m.
Boys' Team:
1. Nimnaka Rathnayake – Nalanda College
2. Kalindu Hettiarachchi (GK) – Royal College
3. Basith Yakoob – Royal College
4. Senith Samaranayake – Royal College
5. Sawinda Dissanayake – Royal College
6. Kisal Assalaarachchi – Royal College
7. Daishika Dias – Royal College
8. Thamindu Ranasinghe – Royal College
9. Anthony Wijewardahana – Royal College
10. Dilith Kumarasinghe (GK) – S. Thomas' College, Mount Lavinia
11. Ashane Francis (Captain) – S. Thomas' College, Mount Lavinia
12. Isura Kahadawala – S. Thomas' College, Mount Lavinia
13. Sachitha Jayathilaka (V.C) – S. Thomas' College, Mount Lavinia
14. Shakya Gunathilake – S. Thomas' College, Mount Lavinia
15. Duvinda Wijewardana – S. Thomas' College, Mount Lavinia
16. Sanaka Molligoda – S. Thomas' College, Mount Lavinia
17. Shanon Ebenezer – S. Thomas' College, Mount Lavinia
Girls' Team:
1. Thavisha Attanayake (GK) – Bishop's College
2. Asini Molligoda – Bishop's College
3. Avasha Borham – Bishop's College
4. Ashmeetha Cooray (GK) – Ladies College
5. Shenara David – Ladies College
6. Sashi Weerawarana – Ladies College
7. Anieka Varia – Ladies College
8. Nimashi De Silva – Ladies College
9. Rheanna David – Ladies College
10. Dunyasha Hewagama – Ladies College
11. Kavee Perera (GK) – Visakha Vidyalaya
12. Tusari Ekanayake (Vice Captain) – Visakha Vidyalaya
13. Shaleena Peiris (Captain) – Visakha Vidyalaya
14. Nadishka Senanayake – Visakha Vidyalaya
15. Yenushka Senanyake – Visakha Vidyalaya
16. Janisha Katuwepitiya – Visakha Vidyalaya
17. Nuravi Assaarchchi – Visakha Vidyalaya