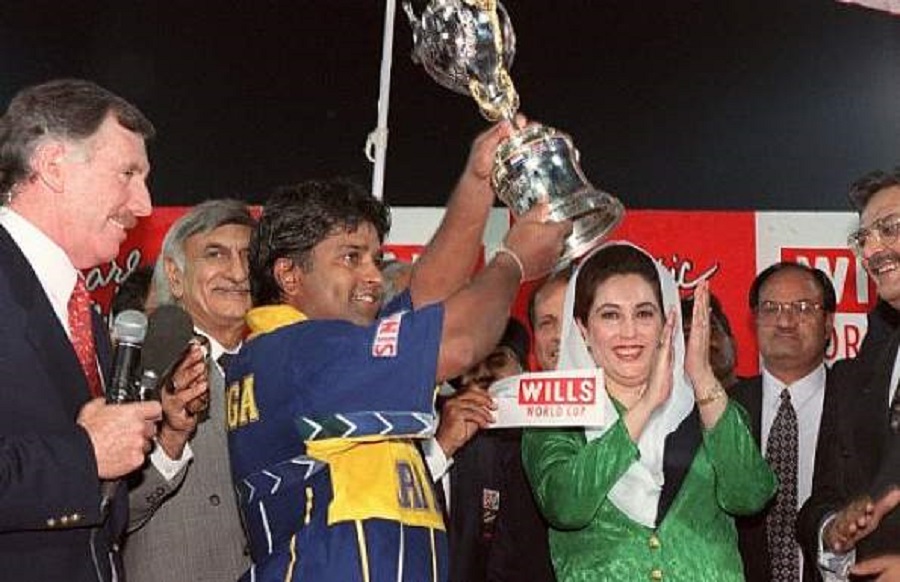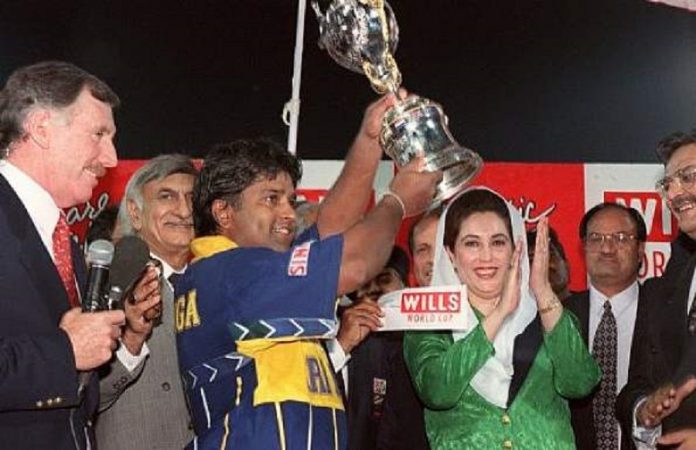 Sunday, the 17th March marks the finest moment in Sri Lankan cricket history. It has been 23 years since the country won the World Cup and the lives of men involved in that campaign changed dramatically.
How Sri Lanka achieved it has been well documented but today we are discussing a point that has not received much detail– Arjuna giving a cold shoulder to one of the finest cricket brains that ever was.
As Arjuna walked off for the toss in the 96 Final, he saw the greatest – Imran Khan. Captain of the defending champion side, Imran was also a local boy having grown up in Lahore and played cricket at the Gaddafi Stadium for three decades. No one knew the conditions there better than Imran.
"What are you going to do if you win the toss?" Imran asked Arjuna.
"We have decided to bowl first," said Arjuna.
"Oh! Don't be silly. This pitch is tailor-made for batting. Take my word. You bat first, you put runs on the board and that's it. No team has won a World Cup final chasing."
Arjuna was taken aback.  Here's one of his role models, one of the true greats of the game and a local –  who knew the conditions like the back of his hand – asking him to reconsider his options, he could not say no. Arjuna would have changed his mind but what he had seen the previous night cast a doubt in his mind.
Arjuna and Manager of the team Duleep Mendis, who was also the Chairman of Selectors, had paid a visit to the ground the previous night to check how the conditions were when the lights came on. They found that there was dew.
Sri Lanka depended heavily on their four spinners – Murali, Kumar Dharmasena, Aravinda de Silva and Sanath Jayasuriya. The spin quartet was supposed to do the lion's share of the bowling. It was crystal clear that the spinners would struggle to grip the ball when there was dew. So, a decision was made to bowl first.
Having heard Imran's reservations about bowling first, Arjuna had second thoughts and proceeded towards Duleep. The two were in a quandary.
"We don't do that and the press is going to have a field day. Imagine headlines in newspapers like 'Sri Lankans snub Imran,' Mendis said.
The duo were in further predicament as the team's vice-captain and premier batsman Aravinda de Silva reached them and expressed his reservations. It was a flat deck and from the moment landing in Lahore, Aravinda wanted to bat first.  "See, even Imran feels we should bat first."
Duleep and Arjuna further deliberated about what to do. Sanity prevailed and they opted to stick with the original decision.  
Leaders in all fields of life need to make unpopular decisions at times. Imran, during his playing days, didn't have many friends for the unpopular decisions he took.
Inzamam-ul-Haq for example was picked out of the blues in 1992, above several other established players. In the end, it was Inzi who provided the much needed impetus to Pakistan's batting during the knockout stages of the 1992 campaign.
Similarly, when the squad was selected for the 1996 campaign, Sri Lanka's selectors did have reservations. Unlike today, the World Cup squad on that occasion comprised only 14 players. The selectors felt that there was a liability in picking Murali. The off-spinner had been called for throwing only eight weeks ago and a similar incident would unsettle the team, the selectors felt. More importantly, what if they were left to play the competition with just 13 players?
It was Arjuna who insisted on having Murali in the team. Unlike these days, the selectors at that point were willing to give their captain full authority. Knowing that the captain would back them to the hilt, the players in return would give all they had to win a cricket contest.
The players in that squad also cared for each other. Every cricketer would want to play a World Cup game. Upul Chandana's chance was going to come in the quarter-final fixture against England in Faisalabad. Given England's weakness against leg-spin, it was decided to leave out one batsman and play Chandana.
Chandana then approached his captain and requested him to not to do so. He reasoned that the winning combination needed to be persevered with and more importantly reminded Arjuna that he has four spin options which was more than adequate.
Arjuna admitted that Chandana's thoughts were sensible and refrained from making any changes. It turned out to be the right call as Sri Lanka needed batting depth in that game after an electrifying start as there was a middle order collapse.
Imran was so happy that Sri Lanka went onto win the World Cup and went onto commend Arjuna's conviction in his beliefs and trusting his instincts no matter how scary the odds were.
A leader of that caliber is badly needed today.