Rio Olympics 2016 is fast approaching and the 30 man squad for Team USA has just been announced. Here's the list of players who I believe will make it to the final 12 member team.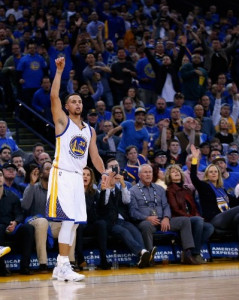 Steph Curry
One of the more obvious choices, Steph Curry's shooting in the last couple of season's has just been unreal. What makes Curry so impossible to guard is the speed of his release. He's been shattering records in the last 2 seasons and Sports Science observes that dribbling at a speed of 10mps, Curry could shoot the ball in less than 0.33 seconds. Off the dribble he can release the ball for a shot in less than 0.4 seconds. According to Sports Science, it is the quickest release they have ever analyzed. All this culminates to make him pretty much a shoe in for the final squad.
Points per game – 30.1, Assists per game – 6.6, Rebounds per game – 5.4 per game.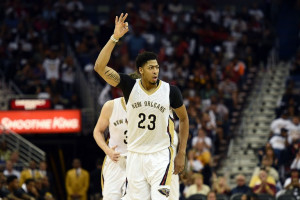 Anthony Davis
Easily the best defender in the NBA in my opinion, his role is to box the opposition post player out and then collect the defensive rebound. Anthony Davis goes the extra mile and can even guard players on the perimeter. He's an absolute monster inside the D area and can stay toe to toe with the quick and nifty guards on the switches. I'd pick Davis to lead the defense on Team USA.
Points per game – 23.3, Blocks per game – 2.47, Rebounds per game – 10.3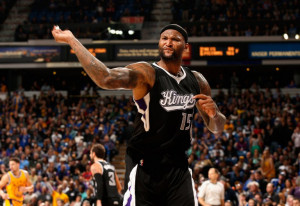 De Marcus Cousins
I picked De Marcus Cousins over LeMarcus Aldridge because I feel  Cousins is a slightly better player than Aldridge in terms of skills set and can bring more weight into the post plays. He is also 5 years younger than the latter, which makes him another player capable of taking on a leadership role for Team USA in the future. Over the years Cousins has developed his range shooting skills as well. A good offensive player, his size and strength makes it difficult for opposing Centers to body up against him and he studies the game well too. But what's most impressive about him is his amazing footwork for a big man.
Points per game – 26.7, Blocks per game – 1.29, Rebounds per game – 11.4 per game.
Kevin Durant
Another obvious choice, Kevin Durant is coming back from surgery but has been putting some good numbers in on his return to the NBA. He has amazing handling skills and can cross you over just like that and pull up for a jumper or take it all the way to the hoop. His strengths include the ability to shoot tough contested shots and he is also a great finisher at the rim. LeBron James has recently said that KD could very well become the All-Time NBA leading scorer, an honour held by the great Kareem Abdul Jabbar thus far.
He is also a very good team defender and a great passer of the ball with great vision. His inclusion in the team is one reason I have left James Harden out of the game, because KD can play the shooting guard if Team USA want to go big on their opponents.
Points per game – 26.5, Blocks per game – 1.21, Rebounds per game – 7.7 per game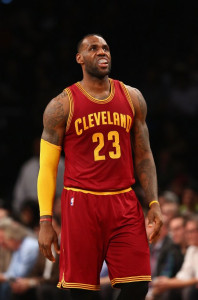 LeBron James
LeBron James is still the best player in the planet in my eyes because he can do it all despite a recent loss of form. He can play 4 positions on offense and guard all 5 positions on defense. He is freakishly athletic, has impressive passing ability, good back to the basket game, is a reliable jump shooter, very good finisher at the rim and impressive rebounder. He is the ideal forward who could set up plays for both for himself and others. He would more often than not beat his initial defender using his speed, size and strength and when help arrives hit the free man with a bullet pass.
Points per game – 25, Rebounds per game – 7.3 per game, Assists per game – 6.2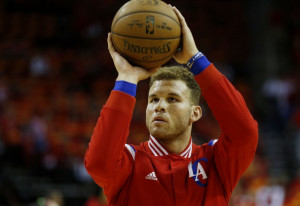 Blake Griffin
The ideal power forward any team would want. Standing at 6'10" he has a great low-post, back to the basket game. He is one of the most elite rebounders in the NBA both at the offensive and defensive ends. Over the years he has a developed a much improved outside jump shot as well, making it even more difficult to guard him. He's a very good individual and team defender too.  He also reads the game very well.
Points per game – 23.2, Rebounds per game – 8.7, Assists per game – 5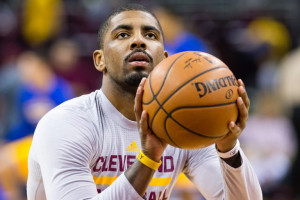 Kyrie Irving
Kyrie Irving is one of the best finishers at the rim, for a guard. Steph Curry and Kyrie Irving playing in the same team will be the worst nightmare for any team. Although Irving isn't as good as Curry with the outside shot he has a better pull up jumper from mid-range. Kyrie was the 2014 FIBA World Cup MVP, so the International basketball stage is nothing new for him despite being only 23 years of age.
I believe that if, at all, Kyrie is left out, it could only be because he is just returning from injury.
Points per game – 15.8, Assists per game – 3.8, Rebounds per game – 2.8 per game.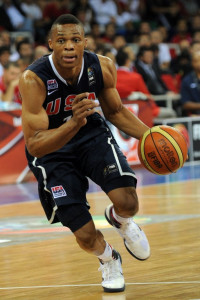 Russel Westbrook
I'd pick Russel Westbrook simply because he's Russell Westbrook! He has a sweet off the dribble mid-range jumper and has an amazing ability to finish his layups both left and right. Since he's a big and strong post he can also play a post-game if he gets a matchup with a smaller guard. Westbrook is also an elite rebounder for a guard. However what has been most amazing is the 9.8 Assists per game he has this season. In defense Russel Westbrook can be a nightmare to dribble against because of constant hustle, he is also a threat on the passing lanes and he has the speed and vertical leap to block shots.
Points per game – 23.9, Assists per game – 9.8, Rebounds per game – 7.1 per game.
Carmelo Anthony
Irrespective of the situation, Carmelo Anthony is someone who will shoot the ball or try to score somehow. I personally haven't seen a better player perform the 'Triple threat' than Carmelo Anthony.  The Triple threat refers to the fact that there are 3 options a player has when he gets the ball. He can pass it, shoot it or dribble it all the way to the basket, take a pull up jumper or perform a back to the basketball post play. He also has a ton of International basketball experience which will come in handy if the going gets tough.
Points per game – 21.3, Assists per game – 4, Rebounds per game – 7.5 per game.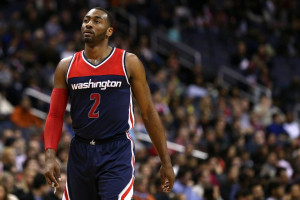 John Wall
I would pick Jon Wall on the team, because he can contribute to the team through distributing the ball rather than scoring. With the talent level in Team USA, a true point guard could come in handy. But why would I pick John Wall over Chris Paul? He's bigger, way faster and more athletic, has a better ability to drive in and finish at the rim. He's a great defender too both on and off the ball as reflected by his 2.15 steals per game and 0.73 blocks per game stats line. He's also younger than Paul, a type of player around whom you can definitely build the future Team USA.
Points per game – 19.9, Assists per game – 9.7, Steals per game – 2.15 per game.
Kawhi Leonard
The rise of Kawhi Leonard is one of the greatest stories of the NBA. In defense he's solid, in offense he's reliable. Also he is one of the most self-less players in the NBA.That is why I really believe players like John Wall and Kawhi Leonard are an absolute must for a team full of super stars.
Points per game – 20, Assists per game – 2.6, Rebounds per game – 6.9 per game.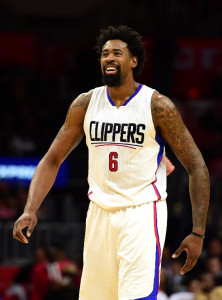 Deandre Jordarn
He isn't a good shooter of the basketball at all, but still will score 20+ points easily on any given night mainly through dunking on lobs, and with Team USA playing, there are going to be plenty of Alley-oops. I'd pick Jordan over Kenneth Faried who played at the 2014 FIBA World Championships because of his size and the fact that he is also a superior rebounder and defensive presence compared to Faried. Jordan is the ideal guy to keep possession alive through his work on the boards which would give the shooters even more liberty to take shots confidently, knowing that DJ is at the board!
Rebounds per game – 13.3, Blocks per game – 2.27, Points per game – 11.9
Those missing out
Paul George has already been excused by Coach K because he suffered a very serious injury sometime back and wants to focus on his NBA. I did not pick James Harden who was part of the 2008 Olympics because he is a defensive liability. He will, more often than not, be lax in guarding his opponent. Especially at the international arena where teams play with very superior shooters his lack of basic coverage on defense could spell disaster for the USA. Yes Harden is an offensive weapon, but so are all the 12 mentioned here, and guess what they play DEFENSE too!
I would not pick Chris Paul because his numbers have dropped a bit, he's an aging point guard and I think John Wall is as good a facilitator as Chris Paul and Wall is better defensively and his athleticism gives him a better ability to lead the breaks. But I do realize this is a controversial pick!
I am going with 4 Guards, 4 Small Forwards and 4 Post Players for my 12 man squad. My argument is that the players in this squad are so gifted and versatile that they can play most other positions too even though they are technically termed as 'Small Forwards', 'Power Forwards' or  'Centers'. I do however believe that Chris Paul and James Harden may get the nod for the team which will get playing time in Rio. Let us know what you think about my picks, whether you agree or disagree with me and or who you pick to play for Team USA 2016.
Until we meet next time at 'Swishing the Nets' on ThePapare.com , Keep Balling!