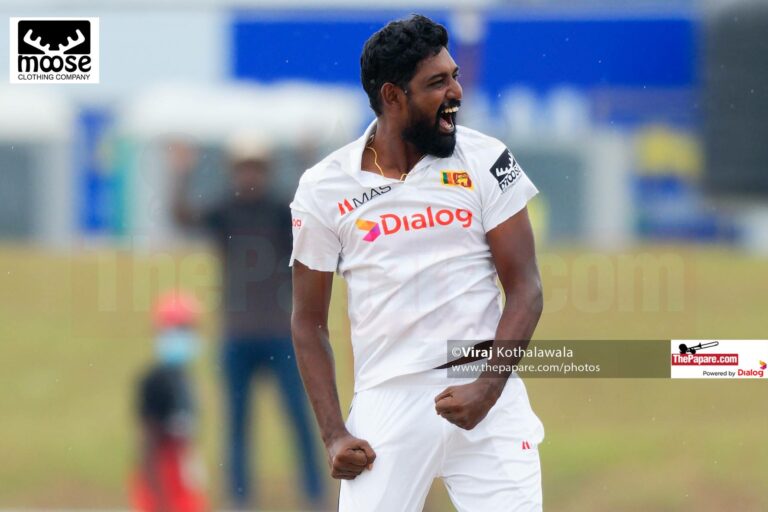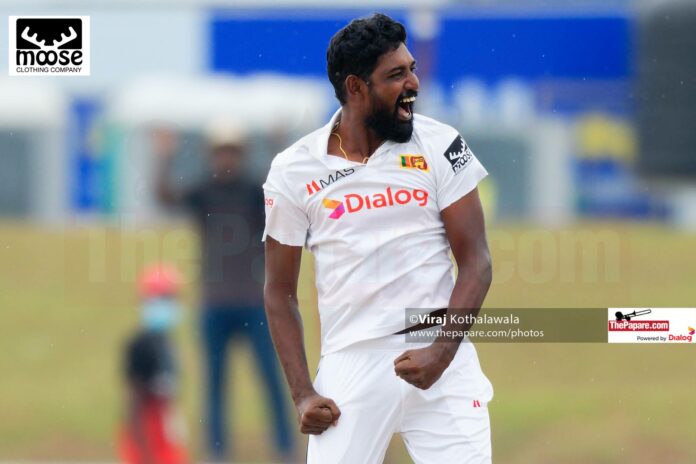 Rex Clementine in Galle
Thanks to COVID, cricket found a new hero in Prabath Jayasuriya.  Someone who had been rejected by the system and despised for not being able to live up to expectations having failed the now infamous skinfold test.
If the Sri Lankan camp in Galle had not been hit by COVID with three bowlers testing positive, Prabath Jayasuriya would have been never known to the cricketing world.  But life is such that opportunities spring up in your least expected moments. Prabath grabbed them from both hands and now has 29 wickets after three Tests. Only Indian leggie Narendra Hirwani had taken more wickets after his first three Tests in the history of Test cricket.
Had Sri Lanka been not hit by COVID, they would have persevered with the young spinners they had and had results not gone their way, they always had a trump card which is – 'this is a team in transition'.
Transition has been happening for the last seven years now. In a system where First Class cricket is fragile and opportunities to bridge the gap between First Class and Test cricket by getting involved in 'A' team cricket is infrequent, banking on experience is not a bad idea at all. The same formula should apply for other discards like Roshen Silva, who has much to offer the game.
If you take the dismissal of Mohammad Rizwan on the final day, Pakistan were sailing smooth with the vice-captain and captain Babar Azam adding 76 runs for the third wicket. Then Prabath produced that arm ball. The wide of the crease deliveries had spun away from Rizwan but the one that was bowled closer to stump was going straight on and the batsman was totally outfoxed. He left it and the ball hit the timber.
Even the umpires were confused. They suspected that Niroshan Dickwella's gloves had dislodged the bails and wanted a further look from the television umpire. But for Prabath, the celebrations were on. He knew Rizwan's goose had been cooked. This set the game up. Usually, when you play against Pakistan you just need to break that one big partnership and then they crack under pressure. It was evident by the fact that none of the other batters provided any resistance from that point on.
Now then, Prabath used the arm ball to deadly effect against right-handers. The left-arm spinners that we had tried before him were not all that clever with the straight one. Lasith Embuldeniya in fact doesn't have one. The other advantage with Prabath is his accuracy. His ability to keep pitching at one spot was tremendous. That's another trait lacking in the young spinners that Sri Lanka had picked. That's precisely the reason why they lost the first Test against Australia. On a horrible wicket, that spun sharply and bounced inconsistently, the spinners were found wanting. The Aussies swept and reverse swept to their heart's content and Sri Lanka played catch up.
So another question that arises is that if Prabath is your most accurate bowler and he uses variations to deadly effect, how come other spinners got a nod over him in Test match cricket. The simple answer is that our system is flawed. It's no way a failed system. The system that we have in place is one of the best in Asia, but it's just flawed. There are times that the best in business don't get a look in due to the preconceived ideas.
Credit to Dimuth Karunaratne for backing Prabath, breaking protocol and insisting that he show up in Galle. Dimuth had skippered him during the NSL when both represented Colombo. He knew exactly what to get from Prabath, nagging accuracy. That is exactly what Sri Lanka lacked against Australia in the first Test and a week later, Prabath's 12 wickets bowled Sri Lanka to a famous innings victory, their first ever innings win over the Aussies.
It's been stunning four weeks of Test cricket with Galle producing four different types of wickets for the four Tests. But, what's next for Sri Lanka?
Our next series is coming only in March in New Zealand and to stay away without playing Test cricket for eight months is too long a period. Even more worrisome is the fact that it's not clear when will be our next home Test match take place. Seems like there's a long wait.
Easily the Pakistan series could have been spread for three Tests. Nowadays, big boys India, Australia and England are quite happy to play with themselves. So while they hold onto the five game series all too frequently, countries like Sri Lanka should at least negotiate with teams like Pakistan to stretch the limit of Test matches. It's hard to believe that Pakistan visited the island after seven years. In that same period, Australia, India and England have all visited us twice each. Sport is not all about tours that bring money. It should go beyond, surely.