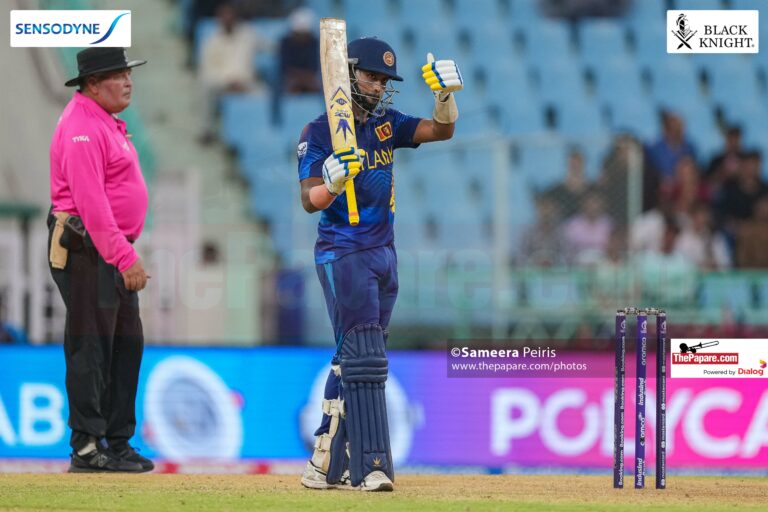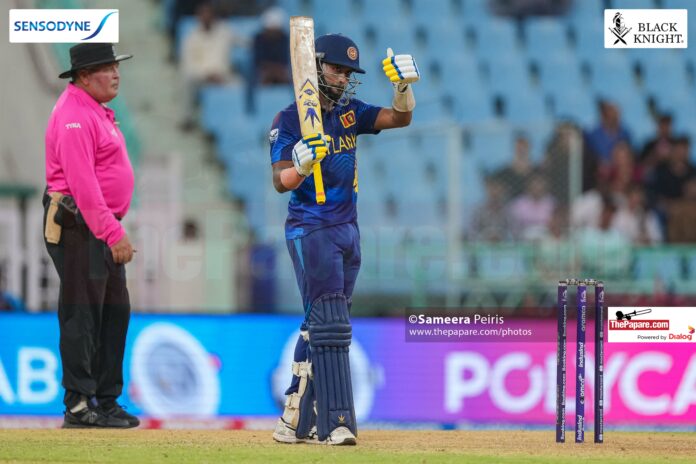 There's massive relief among fans and all stakeholders of the sport here in Sri Lanka that the national cricket team has collected its first points in this World Cup. The fact that Netherlands have beaten South Africa and Afghanistan have beaten England, there is quite a contest not only in the top half of the points table but even in the bottom half. Everyone would love to see a semi-final berth for Sri Lanka, but the realistic thing for them is to try and see whether they can finish sixth.
Sadeera Samarawickrama was one of the last names that was picked by the selectors for the sport's showpiece event. Very few would have expected that he would emerge the tournament's sixth highest run getter at the half-way mark. Just 64 runs separate Sadeera and tournament's highest run scorer so far – Mohammad Rizwan.
Sri Lanka failed to win the game in Hyderabad despite his outstanding century against Pakistan but a back to the wall unbeaten 91 in Lucknow has seen them overcome the Dutch, who came into the game with lot of momentum behind them having overcome the South Africans.
An organized player with all the shots, Sadeera is a treat to watch when he gets going. One grumble against his game is that he plays too many shots too early in his innings, but that's what most positive players do.
The energy levels that he shows on the field sets the benchmark for rest of his teammates while his wicketkeeping is very neat and flawless.
Sadeera's training methods are insane. Some say that there's no point in training for long hours and all what you need to do is to make most of your practice time. That may be true, but there's no harm in becoming the fittest you can and practicing direct hits and boundary catches. When a player pushes himself it tells you a story.
That was exactly what the great Kumar Sangakkara did and soon selectors took notice and were willing to give him the long rope and it paid back.
So, how come we have missed a trick with Sadeera?
Sadeera was first picked by Graham Labrooy in 2017 when he was Chief Selector. He said that while there was nothing extraordinary in domestic cricket or 'A' team cricket for Sadeera, he was impressed by the work ethic which seemed to be the need of the hour with the Sri Lankan team. Coach Graham Ford and Manager Asanka Gurusinghe agreed. We were told that the management was prepared to give him an extended run to find his feet in international cricket.
When Sadeera went to India later that year, former great V.V.S. Laxman in commentary spoke about how players like Sadeera with the right attitude are going to help the Sri Lankan side.
Just 22 at that time, Sadeera copped a nasty blow from Virat Kohli fielding at short leg. Most youngsters would have returned to the comforts of the pavilion, but our man stood his ground, and the Indian captain too praised his bravery.
Sadly, the powers that be in Sri Lanka were not watching or listening. At the end of 2017, cricket back home underwent overhaul change. There was a new Head Coach, there were new selectors and a management.
Sadeera was sidelined. Not just from the national team but even 'A' team cricket. More recently in the first few Lanka Premier Leagues, he was shockingly overlooked. There is something drastically wrong with our system.
You have preserved with so many players at a time when your cricket has gone from bad to worse. You have tolerated players who had breached discipline multiple times. Yet, you don't want to back someone who has given you all the right signals and someone about whom the likes of Laxman and Kohli have spoken so highly.
Some say that Sadeera has drastically improved his game in recent times. That may be true when it comes to his defence. But the point is that when you have identified someone who has got the right ingredients why don't you back him to the hilt. Why don't you help him to improve himself faster within the national set up rather than at domestic cricket.
That is exactly what we did with Kumar Sangakkara. He was just not an extraordinarily talented cricketer. He had the right attitude, and we had the right selectors who were able to see the future.
Had we backed Sadeera earlier than this, he would have by now played over 150 ODIs and won us lot more games. He is 28 and has only played 27 games. Better late than never they say. Sadeera's insatiable appetite for big runs has helped to earn his slot in the senior side. He has had very little luck going his way.
Now that he has made it and made an impact at the world stage look forward to him doing great things over the years. Most young players you find getting into trouble these days. Sadeera is someone who will not lose his focus. Good times are ahead of us.