There's a saying in rugby that every team is 'as good as you make them out to be'. This adage couldn't have been proved any truer by the masterclass showing from Royal College a week ago at Pallakelle.
It was a performance worthy of the champion side, in what was a fitting conclusion to the 2017 schools league.
Very good teams consistently put weaker teams to the sword. However, the hallmark of a true champion side is the ability to eke out a win, even when you are having a bad day, or far from your best. During the first-round games, particularly after the first two games, Royal were far from convincing. You could even argue that they were a bit fortunate to come out on the winning end against St. Joseph's and St. Peter's. But yet, when the heat was on, they still managed to rally together and see their team over the line. Come the second round, so superlative has their form been that they are barely recognizable from the group of boys that stuttered in those early days.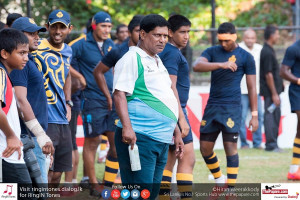 For this, an immense amount of credit must go to their Coaching team, spear headed by Sanath Martis. Recent years have seen the schoolboy game evolve into a near professional-like set-up with considerable investments being made in terms of sponsorships and funding. The ensuing pursuit of success has seen many a school go to the extent of even securing foreign expertise to coach their teams. I have absolutely no issue with this, as I believe it has gone some way in uplifting the standards of rugby in this country. After all, it has undoubtedly galvanized Trinity rugby, hasn't it? However, a bone of contention does present itself when you consider the vast disparity in the upholding of those from outside our islands borders, as opposed to our home-grown talent. I've heard of some insane amounts of money being doled out for foreign coaches, whereas local coaches despite having loads of experience have a much lesser market value. Deny it as you may, I feel it's almost in our culture to be more receptive of foreign opinion than our very own. Perhaps it could be put down to mild symptoms of a 'colonial hangover' that still prevail in our society. You must ask yourself – when was the last time a foreigner-coached team won the schools league?
A coach and mentor responsible for many of those wins is Sanath Martis, someone who I believe has not been given the due recognition he deserves.
If you look at the team line-ups for the Bradby, man-for-man you had to say that Trinity overall had the better individually gifted players. But that is where a coach comes in. You build a game plan based on your strengths – a formula that works for you. Martis did just that, and the result was evident for all to see. They did get the 'rub of the green' in certain instances, but no one can deny that Royal were the better side on the day. Ultimately, it was the vastly experienced old Pathanian that outsmarted the rest of the chasing pack, by converting a rather mediocre team to that of champion quality. I hope this will also boost other Sri Lankan coaches to aspire to greater heights. Special mention must also be made of Dushnath Lewke who keeps going from strength to strength as a coach. I can't think of a better example of what can be achieved if young local coaching talent is provided with the right training opportunities. The onus is also on the authorities to provide more opportunity and reasonable remuneration to home-grown coaches, to make it a viable profession. If we are to go forward as a rugby nation this is extremely important.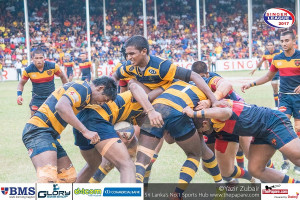 Coming back to that league decider (and Bradby 1st leg) I felt there were two critical moments that defined the final outcome. The first was when very early in the game, Trinity opted to kick for touch off a penalty. No problem. But then Lashan Wijesuriya kicked the ball dead. The Lions were exerting huge pressure on Royal at that time, and that error was a huge reprieve for the visitors. Then in the second half, Wijesuriya once again made the mistake of kicking the ball 'full-out' to give Royal a line-out on the '22'. With the 'rolling maul' a deadly weapon in the Royal arsenal, you don't give them soft chances like that. Trinity got away with it momentarily, only for Boyagoda to commit the same mistake off a box kick. This time Royal made them pay in a score that made the difference in the end.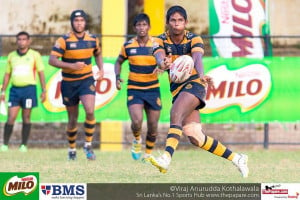 Prior to that game, deep down I felt that Royal was going to win that day. Momentum was with them, and they just get stronger and stronger as the game goes on. Furthermore, over the years I've noticed that Trinity don't play particularly well at Pallekelle. I have no idea why. Perhaps the expectation at home takes a toll of them. It proved to be the case again in this instance. Despite being outwilled and outsmarted by Royal in the first leg, I still believe that Trinity have what it takes to beat Royal and regain the Bradby. Going into that game at Pallekelle, there was a lot of talk about a possible first league win in 30 years, and so on. All that is gone now, and they have absolutely no burden of expectation to carry. Their a side that has nothing to lose and can just go out and express themselves. Rishan Madena is also likely to be back which will be a boost. They will no doubt turn up at Reid Avenue having done their homework. Beware of the wounded beast they say. Royal must guard against complacency. The job is but half done. That will undoubtedly be the message from within their camp. I have been hugely impressed by the leadership skills of Ovin Askey. He leads from the front, and his decision making has been spot on. I'm sure he'll motivate his troops and have them up for what promises to be another mouthwatering prospect.
In terms of the league, Royal walked away deserved winners. Trinity's slip up saw them slide down to third in the overall standings. Let's consider how the rest fared.
Isipathana were very much in the mix. They pushed Trinity all the way, only to fall agonizingly short. On the last weekend, they pulverized Wesley to win 28-zip to leap-frog Trinity to that runners-up spot. They have been a treat to watch, particularly in open play. They have struggled a bit when faced by bigger and more aggressive forward packs, but the boys from Havelock Park have more than held their own. The likes of Chamod Fernando, Sumudu Rankothge, and Harith Bandara have been simply outstanding. Resonating with the point I made earlier in the is article, I hope they persist with young Lasintha De Costa who has done creditably in his first season.
Wesley College enjoyed one of their best seasons in recent years. They have accounted for the scalps of the S. Thomas', St. Peter's, and the Josephians. They finished fourth in the end, which is neither more, nor less than they deserve. They have been very good going forward. But their weakness has been their defense – an issue they have not been able to address this season. They shipped another five tries to Pathana in their last game, which was a disappointing end to their campaign. They will have to fix this frailty if they are to challenge for the President's knock-out.
It was a case of missed opportunity for St. Joseph's. All the games they lost – Royal, Isipathana, Wesley, and even Trinity, they were all games within their grasp to win. I feel this team with the likes of Sachich Silva, Gemunu Chethiya, and Chathura Seneviratne could well provide a few upsets in the knock-outs. They have enough firepower to beat anyone on their day. Given the investment they have made in their rugby, you would expect them to now consistently press for honours in the coming seasons which is great for the sport.
St. Peter's have had a strange season. They reached dizzy heights in prevailing over Isipathana and Trinity, but have been woefully bad in most of their other games. When you have blinding pace in the form of the two Fernando's, Diyath and Ravin, to go with the abilities of Stephen Sivaraj and Theekshana Dissanayake, you would expect them to be somewhere near the top three. Sadly, they have struggled for cohesion this season. Its back to the drawing board for this side.
After finishing as runners-up last year, there was some degree of expectation from the Thomians this year. Unfortunately, their campaign never quite got going. Skipper Naveen Henakankaanamge, one of the best finishers in schools' rugby often cut a lonely disoriented figure without any quality ball to play with. They managed to chalk up a draw against the Petes to retain the Archibald Pereira memorial Trophy which saved them from the arduous distinction of a trophy-less season. All in all, this season was one of grave disappointment.
Zahira College have won the hearts of many this year. Speedster Yuzraan Lanthra being voted 'most popular schoolboy ruggerite' was perhaps testament to this fact. The boys from Maradana certainly added colour to the schools' tournament. They fell away a bit towards the end, but you would expect that to happen when you're making your way back to the top tier which is quite uncompromising. Special mention must also be made of Zahid Sinhawansa who was a pivotal part of this team.
As an outstanding season makes its way to its conclusion, we still have the President's Trophy knock-out to look forward to. As a rugby fan, I sincerely hope all the top teams do take part. A sudden-death environment brings its own unique charm to it. You fall short and there's no tomorrow. There's a voice inside my head telling me that we're going to see a few upsets. The tournament starts in a fortnights time.
Till ten, lest all raise a glass to our newly crowned champions. Take a bow Royal!