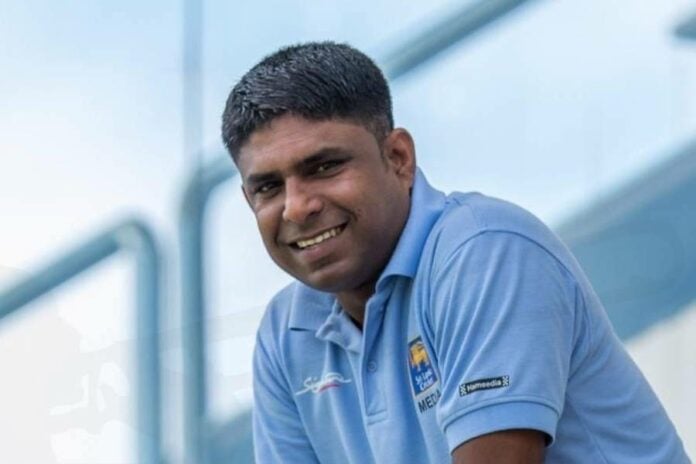 For 19 years, Chanaka Silva never missed an international cricket match in Sri Lanka. It can be safely assumed that nobody watched more cricket in Sri Lanka in the last two decades than Chanaka Silva. He breathed his last on Thursday , a life cut short at the age 40.
When Sri Lanka Cricket launched its media unit in 1999 under the dynamic leadership of former rugby star and First Class cricketer Chandrishan Perera, Chanaka joined that unit at the age of 19, straight from school. From Chandrishan to the incumbent Prasanna Rodrigbo, SLC had more than a dozen Media Managers in between and Chanaka served them all with loyalty. 
Messages of grief were outpouring from all over the world. Britain's leading broadsheet Guardian had sent down one of their finest cricket writers David Hopps to Sri Lanka to cover Shane Warne's return to Test cricket after his drug ban in 2004. In the Galle Test, Warne completed 500 wickets in Test cricket. Hopps missed the moment. Wonder why? He was across the road buying a toy duck for Chanaka's new born baby, Hopps wrote on Twitter. Chanaka leaves behind two children. 
During Chanaka's two decade service at SLC, he was drafted into work at ICC events held in Sri Lanka as well. For one such event, the 2012 World T-20, local officials  thought Chanaka's services weren't required and they left him in the office. Brian Murgatroyd, the ICC Media Manager when he came down for the team arrival press conference at Galadari, the first thing he inquired was the whereabouts of Chanaka. When told that he had not been roped in for that event, Brian ensured that Chanaka was soon drafted in. 
Brian's successor Sami-ul-Hasan greeted Chanaka with a hug every time they met. Rajshekar Rao, who occupies that office at present in Dubai also expressed his condolence. 
"I am absolutely devastated by this news. I'd  known Chanaka since 2002. Administrations and administrators came and went at SLC, but he was the one constant. Hard-working and honest," Murgatroyd, who had also been the Media Manager of England and Australian teams said.
Chanaka knew how the press box worked. A busy press box caters to about 100 journalists usually when England or India tour and smooth running is a tough ask given the ever increasing demands of the media. He saw how the written press evolved over two decades and the dimensions of live telecast being turned upside down. 
Typewriters still existed when Chanaka started in 1999 and there was a standard fax machine that was in operation. Then gradually journalists shifted to laptops and fax machines were done away with. A service provider was brought in to provide internet facilities and by 2006 with social media beginning to expand, SLC embraced the wifi technology.  Chanaka saw the  whole transformation and moved with times. 
Chanaka would arrive two days before a game to ensure that he looked into the minute details of the requirements of the press box so that by the time the game was played, the press box's function was smooth. 
In a quick time he mastered the art of how to run a press box. From making accreditation, to food and internet requirement to prevent unauthorized persons entering the press box, he saw to it all. He was well equipped to become a Media Manager provided he learned the art of conducting a press conference. Well, given the capacity of the man, he would have learned the art in no time had he been give the opportunity. 
English of course was a barrier for him. But make no mistake. He had friends from all over the world. Be it Lawrence Booth, the Editor of Wisden or Telford Vice, South Africa's finest cricket writer or Mike Coward, the doyen of cricket writing in Australia. Somehow they conversed.  His work went beyond helping out journalists in the press box. They were friends. Not just on Facebook, but in real life.
Chanaka had a superb sense of humour. He used to make fun at journalists, yours truly included. But none of it was with malice. It was all fun.  He also had that rare gift of being able to laugh at himself. 
Chanaka's role at the media department  was expanding with the years he had put in at Maitland Place. In 2017, he was given a scholarship by SLC to study videography at the Foundation Institute. After  he finished the course, he started recording press conferences, team arrivals and departures. 
Soon,  in an effort  to cater to ever expanding social media platforms, SLC started distributing these videos.  They became a popular feature and Chanaka was responsible for making it popular. 
In 2017, after spending 18 years at SLC, Chanaka was sent on his first overseas tour when Sri Lanka travelled to Pakistan. We were staying in the same hotel – Pearl Continental in Lahore and he did a terrific job.
Soon after that, there was some misunderstanding. Because of Chanaka's  friendship with journalists people started suspecting that he was leaking information. The truth in fact is far from it. He loved the institution he worked  for. Rumours, however, spread soon. Chanaka was kept away from the headquarters and the press box. That hurt him. 
Chanaka passed away at the age of 40.  He had a brief but terrific innings,  by no means a cameo. He left an indelible mark on all those whom he met.  He was philosophical about most things and lived life believing in one thing, 'live and let live.'
*Disclaimer: The views and opinions expressed in this article are those of the author's and do not necessarily reflect the official policy or position of ThePapare.com.