On Saturday the 1st of June, we descended upon Pallekele. The home of Trinity rugby. If you checked it out on Google earth, there is a lush green lump of land with a shoe string like access way to it. When we finally got there, it was a surreal feeling. Expecting to witness a school boy rugby match you'd be forgiven if you thought you were there to witness the shooting of Ben Hur.
The crowds were not quite at its fullest but the rugby and its worldwide broadcast to all four corners of the earth made up for it, maybe ten folds. A record LIVE audience on ThePapare.com and an expectant crowd were treated to some gladiatorial entertainment with Skipper Thulaib Hassen playing the role of Judah Ben Hur with A Charlton Heston-esque like performance.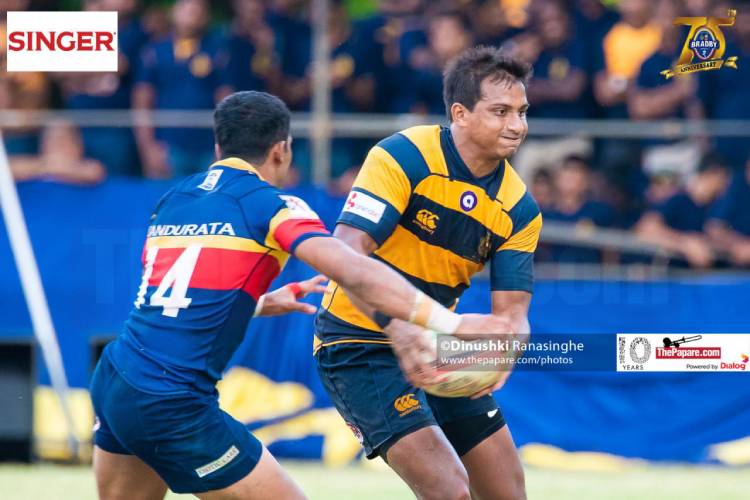 The off and on field talent was exquisite. If I were to be critical, on it slightly trumped that of in the grandstands. Kandy's finest dressed were on show at what felt like a rougher version of the Kembla Grange racecourse.
Royal had arrived, fresh up and on fire. Their chariot of a bus, worthy transport for a performance like that. Trinity too, for their part were in the fight for long periods but just faded away at the last furlong. It's all to play for in a fortnight and here's what we know after the first leg. Here's my, high five.
1.Transformers
In my pre-game analysis based on the data available and patterns of form, Royal were supposed to come out and play safety first. Key word– supposed to. All that was chucked in the bin as the holders of the shield came up with an entirely different brand of footy. What was supposed to be a one out, one back– pick and go and their famed driving maul, they tore up that script and had seemingly watched Transformers 3 to do an Optimus Prime.
Trinity, who were supposed to be doing all the running and attacking from all over the park– keyword, supposed to, did exactly the opposite. Instead of looking to keep the ball in play and utilizing their outside backs, it was hit ups and kicks to touch which dominated their play. Strange, given that they had far more pace than Royal could cope with. An almost replica of Sentinel.
To the viewer's eye and much to the surprise of those present, Royal kept looking for width and instead of slowing it, they quickened the pace. Trinity went the other way. They were largely flat on attack and were forced on the backfoot. All their fast men were in cold storage or had terrible quality ball to contend with.
Much like the movie, the game ended with Optimus prime getting the better of Sentinel. In a bruising contest, Trinity and Royal had seemingly had a complete role reversal. Trinity played a Royal like game and Royal did a Trinity at Pallekele. If form pro is your game, in an almost back marker to front runner transformation and vice versa. No one really saw this coming.
2. Sleeping giant awakens
Six games in the first round didn't really give us a true picture of what this Royal team is really capable of. One game in, after an eight-week break, fresh up and on the bounce, Royal tipped almost all expectations on its head.
They started off conceding a try and the thought of Trinity getting away at home was very much on the cards. However, it looked like this Royal side had done their prep. Especially with their "line speed" and their defenders moving up as one, was awe inspiring. They were wide awake and knew their job descriptions.
Looking at the numbers and a less than 3% missed tackle count, compared to an average of 11% per game in the first round, it would be fair to say that Royal had woken up.
Like a heavyweight boxer sniffing smelling salts, this juggernaut was on point. Ruthless and efficient. St Peter's who beat them when they were half-asleep had done Royal a massive favor. Unfortunately for Trinity and the rest of the league, not so. The sleeping giant has awoken. The numbers suggest it and that slumber of a downward spiral has been arrested. Keep in mind they bombed a certain try and a couple of shots at goal, bouncing off the posts. A potential 7+2+3, 12 points.
Allowing for natural improvement, any performance remotely better than what we saw on Saturday– makes them odds on to go all the way. No side in the current league will come within a whisker of beating such a Giant. Their upfront physicality when on song is intimidating and spartan like.
3. A star has arrived and E=MC2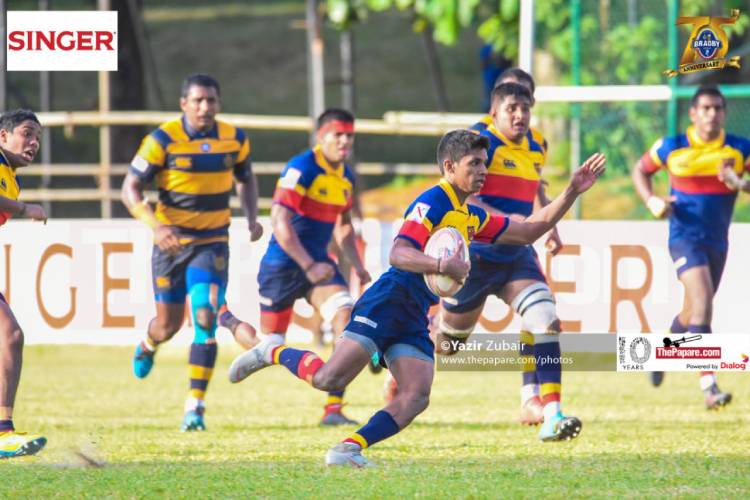 Several weeks ago I named my #straightup 1st XV. In it, I included a slightly built and insanely skilled Trinitan. He was my "bolter of the side". His name is Harsha Samarasinghe. I guess by now you know that and understand why I picked him ahead of so many experienced players, at second five eighth or No.13.
As the second half started and Royal put the ball into touch, Trinity had a line out on their own 10-meter line. As a stats_pert and having dissected the TCK V Science footage, in what I will plug myself in as an Einstein like moment, calling for Samarasinghe to come into the game. Guess what?
As if he had a headset on him to listen to what I said on commentary, off a quick line out ball, he is hitting a hole at pace and then out comes "Ghost protocol". He glides past and then steps off his right and beats no less than 4 defenders to careen away and score what was one of the greatest tries in Bradby history. Pure bliss and setting the turf alight.
Royal looked pedestrian and it was a moment which could have defined and galvanized Trinity to take the upper hand. Unfortunately, that didn't happen. In anycase, individual brilliance doesn't get any better and it would have made ESPN's play of the day. It was that scintillating.
4.Higher IQ
Eight weeks is a long time to have in between drinks. Having dropped their last game in the first round and in an awful mess at times– thoughtless is a word which comes to mind. Royal bounced back in some style and had done their homework. They looked every bit the T-Rex in a jungle looking for prey. They had migrated their "Jurassic park" form upto Pallekele and made it their own, "Jurassic World".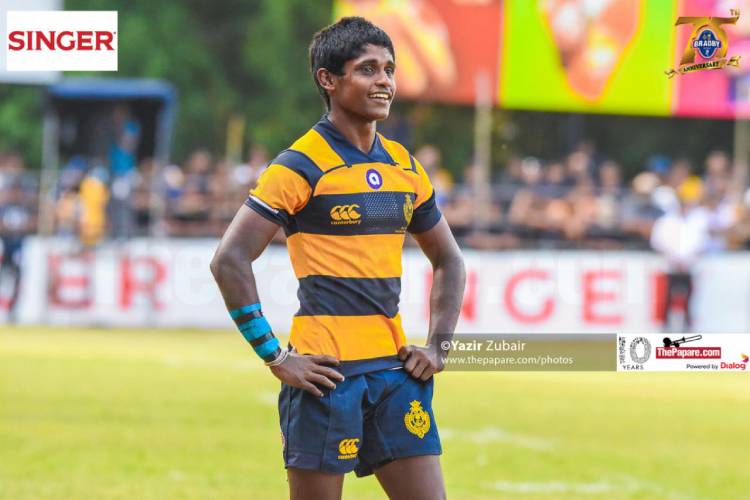 The aggression and physicality aside, they had planned and prepared their movements in a careful manner. Starting Yasojana at half back as opposed to Mihisanka and getting Thulaib Hassen into the game with short and sharp busts through the middle, tapping and going with a liking to spread it wide on the short side were a few patterns of higher rugby IQ.
The most telling play of all was in the 59th minute, where they recycled 3 very slow rucks with good presentation. Then, in the next movement, half back Yasojana in a deliberate attempt to speed up and create a fast ball, wraps around a two man offloading pod (both men angling towards the posts) and puts skipper Hassen into a hole, who in turn offloads in the tackle to Lehan Gunarathne to dot down. Immaculate execution and brilliant coaching from a stats_pert like play book. Playing the numbers and high percentages to create scoring opportunities by design.
In short, higher rugby IQ. DL. Dushanth Lewke.
5. ThePapare planned perfection
Occasions don't get any bigger and if there ever was a challenge worthy to respond to, this was it. In a groundbreaking and historic first, SINGER who have been the god father of all sports promotions in Sri Lanka made a forthright decision of getting Sri Lanka's no.1 sports hub in ThePapare.com as the Bradby's broadcasting partner.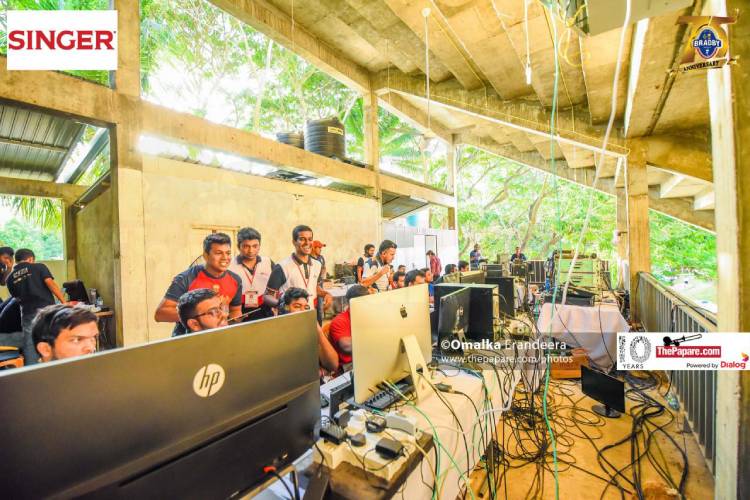 In a response worthy of its stature, a full-blown production was in place to bring a world class broadcast to your screen. A team of 60 went to work for 72 hours before kickoff in what was a monumental effort to make sure one hundred thousand plus viewers got a smooth and uninterrupted stream to enjoy. The whole gig was nine months in planning. I can attest to that.
I have to say it was quite a step up from the previous years in broadcast quality and the view from the comm box was majestic. It sure beat doing the calling from a hastily built "takarang" shack from behind the goal posts. Planned preparation at its finest, delivered to what I would consider near perfection. The reviews so far suggest it.
Play of the day:
It has to be that of "ghost protocol". Harsha Smarasinghe who hit a ball at full flight, jinxed and then stepped, to beat a would-be defender, pricked his ears like Lonhro did, racing at Moonee Valley and set sail for the goal line. A 71+ meter effort and one for the ages. Pallekele and it's surprisingly lush green turf was scorched after his sprigs sprinted across.
Icing on the cake for what was a well rehearsed set play off a line out. He will go on to make more of these and I sincerely hope for another at the second leg. Hands down or #straightup, my play of the day.  
Hero of the day:
Thulaib "Ben Hur" Hassen. Skipper and fourth year coloursman who led Royal by example. His physicality, decisiveness and ability to make positive (gain line) meters was inspirational. He had no less than 7 carries, a try and a crucial try assist which gave his team a 17 point buffer going into the second leg. Moreover, this meant that Royal were back in the groove, leaving their lethargy at home. Marking themselves down as strong contenders for the schools' premiership.
Leaders make good heroes and on the Saturday gone by, he became one. Less talk and more action. Something ALL leaders in ALL facets of life in SL should take note of.
Obiter Dictum:
One of the talking points before the game was the appointment of referee Aqeel Jamaldeen. Not that there was anything wrong with his officiating. That was a AOK. It was that in some quarters or eighths, his "non-neutrality" and youthfulness was brought into question. To add fuel to the fire, his father, Nizam Jamaldeen is the president of the local ref's association. So, it was all made to look very mired in controversy.
Be that as it may, in my opinion, he was and is an excellent referee. Furthermore, based on merit he or whoever is on top of the ladder should get the nod. It just so happens that he is an old Royalist, whose father runs the officials and his brothers have played and captained Royal. None of that can be changed nor the fact that he is the best, first choice off his own back. It is what it is.
Then came his on-field performance. Overall, I couldn't fault him. He is fit, on point and has just the right amount of chat. Most importantly, didn't get overawed and hand out yellow cards like a used car salesman.
Two particular instances. One, when a Royal player was upended, slightly past the horizontal and dumped to the turf. It looked brisk but followed the right process to only award a penalty. It was the correct call. Then again, a brutal head clash which seemed like a high shot with no arms in contact (sadly ending TCK's Amith Kulathunga's evening and Bradby for the 1st leg) was referred to TMO Anil Jayasinghe, who in turn looked at all the angles on hand and made the right call.
To me this is maturity and professionalism. In times where their every move is scrutinized, Jamaldeen Jnr. was a breath of fresh air along with his team of officials. There will always be a mob who will cry over perceived bias and favoritism. Not much can be done about that nor should it be given any serious credibility.  
The verdict:
It took an almost lifetime and we finally got there. After much hold ups and hesitation, with the security being cleared for it, the show hit the road running. 75 years of history was upon us for the holy grail of local rugby.
The game itself lived up to the hype and setting it up for a grandstand finish. Royal and Trinity played out what was an absorbing contest. Royal getting the better at a venue they have historically struggled at.
Royal were over the moon and their supporters now truly believe that Bradby and possibly, the league, is theirs to lose. Trinity for their effort shouldn't be too disheartened. It's a 17-point gap but they didn't deserve to be on such a handicap. It should have read 34-28 but numbers don't lie. They have all to do and a tough two weeks ahead, away and on the road. Bouncing off St Peter's and then, all roads lead to Jurassic park.
The tough news is, in-form and in work, a ruthless T-Rex will be ready and waiting.