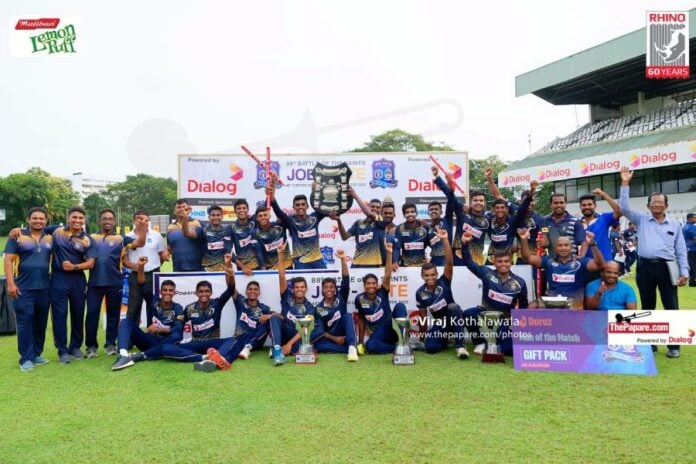 St. Peter's College regained the Rev. Fr. Peter Pillai Memorial Shield after a lapse of five years, beating St. Joseph's College by 26 runs in their 48th annual Limited Overs Cricket Encounter played at SSC Grounds on Saturday.

Read : Joes out to retain Rev. Fr Peter. A. Pillai Memorial Trophy
After being in a peculiar 61 for 6, Peterite Skipper Wanuja Kumara smashed a brilliant, rear-guard hundred to rescue St. Peter's College along with Danal Hemananda, who made a fighting 81. After posting 245 on the board, the Peterite spinners bowled extremely well to restrict St. Joseph's to 219.
After 48 games, St. Joseph's led the tally with 24 wins, whilst St. Peter's registered their 21st win. St. Peter's won this encounter after a lapse of five years.
Earlier, Mithira Thenura and Deshan Senevirathne removed the Peterite openers cheaply as the Josephians used the good bowling conditions perfectly well. One drop batter Shenal Botheju looked at ease in the middle scoring a run-a-ball 34. However, the Josephian first-change bowler Muditha Dissanayake bowled some useful off-cutters to remove dangerous Botheju.
Dunith Wellalage took a screamer at cover-point to dismiss Sanshay Gunathilake, and then got Nimuthu Gunawardene caught at first slip as the Peterites were 6 down for 61 in the 16th over.
REPLAY – St. Joseph's College vs St. Peter's College – 48th One Day Encounter
Kumara and Hemananda batted with great composure and their chanceless partnership ensured St. Peter's put up a respectable score on the board. They added 174 runs for the 7th wicket as St. Joseph's lost the plot with the ball. Skipper Kumara reached his hundred in the 49th over.
Chasing 246 runs to win, St. Joseph's College lost Sahan Dabare in the very first over due to a mix-up in the middle, resulting in a run-out. However, the Josephian chase was bolstered with a record-breaking 147-run stand for the second wicket by Shevon Daniel and Sadeesh Jayawardene. The Josephian Captain Daniel was more of the aggressor, but he fell short of a well-deserved century, which triggered a collapse for the Josephians.
Jayawardene too perished as St. Peter's came back into the game quite well. With a couple of quick wickets falling, St. Joseph's required 70 runs to win in the last 10 overs with 6 wickets at hand. Dunith Wellalage and Hiran Jayasundara kept St. Joseph's in the hunt, despite the required run-rate nearing 9 runs per over.
However, the Peterite spinners were superb towards the end of the Josephians innings, especially Niman Umesh and Shennon Rodrigo, who ended with 3 wickets apiece as St. Joseph's middle order faltered in the second half of their innings.
Brief Scores;
St. Peter's College – 245/8 (50) – Wanuja Kumara 102*, Shenal Botheju 34, Danal Hemananda 81, Muditha Dissanayake 3/43, Deshan Senevirathne 2/45.
St. Joseph's College – 226/7 (50) – Sadeesh Jayawardene 61, Shevon Daniel 91, Dunith Wellalage 28, Niman Umesh 3/34, Shennon Rodrigo 3/32, Wanuja Kumara 2/50.
Individual Awards
Best Fielder – Dunith Wellalage (SJC)
Best Bowler – Niman Umesh (SPC)
Best Batter – Danal Hemananda (SPC)
Player of the Match – Wanuja Kumara (SPC)
>>Click Here For More Cricket News<<


Batsmen
R
B
4s
6s
SR
Rusanda Gamage
c Sahan Dabare b Mithira Thenura
2
7
0
0
28.57
Vishen Halambage
c Hirun Matheesha Kapurubandara b Deshan Seneviratne
1
7
0
0
14.29
Shenal Boteju
c Sandeesh Jayawardena b Muditha Lakshan
34
34
5
0
100.00
Shanshay Gunathilaka
c Dunith wellalage b Deshan Seneviratne
6
15
1
0
40.00
Lahiru Dewatage
c Muditha Lakshan b Sandeesh Jayawardena
1
4
0
0
25.00
Wanuja Sahan
not out
102
111
12
0
91.89
Nimuthu Gunawardene
c Sahan Dabare b Dunith wellalage
4
12
0
0
33.33
Danal Hemananda
c Deshan Seneviratne b Muditha Lakshan
81
106
3
3
76.42
Niman Umesh
c Dunith wellalage b Shevon Daniel
1
2
0
0
50.00
Shenon Rodrigo
not out
2
3
0
0
66.67
| | |
| --- | --- |
| Extras | 11 (b 0 , lb 1 , nb 1, w 9, pen 0) |
| Total | 245/8 (50 Overs, RR: 4.9) |
| Bowling | O | M | R | W | Econ |
| --- | --- | --- | --- | --- | --- |
| Deshan Seneviratne | 9 | 1 | 45 | 2 | 5.00 |
| Mithira Thenura | 3 | 0 | 17 | 1 | 5.67 |
| Muditha Lakshan | 10 | 0 | 43 | 3 | 4.30 |
| Kavean Pathirana | 3 | 0 | 16 | 0 | 5.33 |
| Dunith wellalage | 6 | 0 | 36 | 1 | 6.00 |
| Shevon Daniel | 10 | 0 | 53 | 1 | 5.30 |
| Lahiru Amarasekara | 9 | 0 | 34 | 0 | 3.78 |


Batsmen
R
B
4s
6s
SR
Sandeesh Jayawardena
b Niman Umesh
61
112
1
0
54.46
Sahan Dabare
run out (Abilash Dinakara)
0
0
0
0
0.00
Shevon Daniel
c Wanuja Sahan b Niman Umesh
91
94
5
4
96.81
Mithira Thenura
c Niman Umesh b Shenon Rodrigo
4
4
0
0
100.00
Dunith wellalage
c Kavika Jayasundara b Shenon Rodrigo
28
52
0
0
53.85
Hiran Jaysundara
c Niman Umesh b Shenon Rodrigo
9
15
0
0
60.00
Lahiru Amarasekara
b Shenon Rodrigo
1
3
0
0
33.33
Muditha Lakshan
not out
5
9
0
0
55.56
Deshan Seneviratne
b Wanuja Sahan
1
2
0
0
50.00
Hirun Matheesha Kapurubandara
c Shenon Rodrigo b Wanuja Sahan
10
7
1
0
142.86
Kavean Pathirana
not out
1
3
0
0
33.33
| | |
| --- | --- |
| Extras | 8 (b 0 , lb 1 , nb 1, w 6, pen 0) |
| Total | 219/9 (50 Overs, RR: 4.38) |
| Bowling | O | M | R | W | Econ |
| --- | --- | --- | --- | --- | --- |
| Danal Hemananda | 7 | 1 | 27 | 0 | 3.86 |
| Abilash Dinakara | 4 | 0 | 32 | 0 | 8.00 |
| Nimuthu Gunawardene | 10 | 0 | 43 | 0 | 4.30 |
| Shenon Rodrigo | 10 | 0 | 32 | 3 | 3.20 |
| Wanuja Sahan | 9 | 0 | 50 | 2 | 5.56 |
| Niman Umesh | 10 | 0 | 34 | 3 | 3.40 |