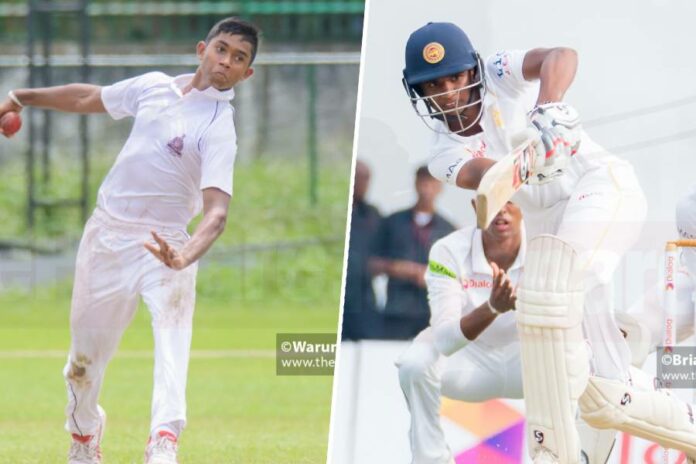 Six games of Schools U19 Division 1 – Tier A Tournament were worked off today (23) along with seven games of Tier B. St. Peter's College and Royal also brought their traditional fixture to a close. 
Schools U19 Division 1 – Tier A Tournament
Trinity College managed to finally earn a win in the season after a streak of poor games. They defeated De Mazenod College with a bonus point to open their account in the tournament. 
Along with them, Mahanama College, Prince of Wales College, St. Sebastian's College, Nalanda College and Wesley College recorded wins today. Mahanama and Prince of Wales earned bonus points. 
It is noteworthy that the front-runners of last year's tournament St. Joseph's College suffered their second consecutive loss in the tournament to remain winless. It was a low-scoring game against St. Sebastian's College where the Josephians were given 134 runs to chase and they lost it by 2 runs. 
In individual performances, Raveen de Silva played a gem of a knock for Nalanda College which put them well ahead of Maliyadeva College with 273 runs on board. De Silva struck an unbeaten 99 before coming out and demolishing the Devans with a fifer. 
Trinity College pener Thewin Amarasinghe was instrumental in their win as he steered the chase with an unbeaten 83 runs. Youngster Pawan Pathiraja also made a useful contribution with a half-century. 
Sachira Weliwatta (Mahanama College), Sahil Dias (Wesley College), Vinuja Ranpul (Nalanda College), Rishi Adishtan (Maliyadeva College) and Mithul Senerath (De Mazenod College) scored half-centuries today.
Schools U19 Division 1 – Tier B Tournament
Devapathiraja College registered a comprehensive win against St. Sylvester's College to earn bonus points in the game while Thurstan College massacred Dharmaraja with an 8 wicket win which gave bonus points too. 
Other teams to win bonus points were, Lumbini College and Mahinda College while Isipathana College and St. Joseph Vaz College also recorded wins today.
Up and coming star from Devapathiraja College, Pawan Sandesh, was the leader of the batting in today's games. Sandesh struck an elegant 79 runs to seal an easy win for his alma mater. 
Diniru Abeywickramasinghe (St. Servatius' College), Kosala Udayanga 75 (Mahinda College), Navod Paranavithana 65 (Mahinda College) and Rashmika Madushanka 64* (Mahinda College) were the other cricketers who got half-centuries today.
In bowling, it was the Thurstanite Nipun Premaratne who did major damage for the opponents by picking up 4 wickets for 32 runs. Raaed Rizwan of Zahira College too picked 4 wickets today for 35 runs. 
Schools U19 Division 1 – Traditional Matches
Despite being troubled in the first innings, Royal College managed to pull off a convincing draw in their traditional encounter against St. Peter's College. 

After being undone for 216 runs, the Royalists managed to restrict the hosting Peterites for just 138 runs. 
Then after the visitors decided to bat the day out with their skipper taking complete control of the centre. Ahan Wickramasinghe amazed with his 3rd century of the season as Royal College ended the game at 191 for 5 in the second essay. 
Brief scores
Schools U19 Division 1 – Tier A Tournament
Trinity College, Kandy vs De Mazenod College, Kandana
At Asgiriya International Stadium (Toss: De Mazenod College won & bat)
De Mazenod College 184 (48.5)

Mithul Senerath 62, Ashen Silva 24, Abhishek Anandakumara 3/33, Dinuka Thennakoon 3/39

Trinity College 185/3 (37.2)

Thewin Amarasinghe 83*, Pawan Pathiraja 51, Chanuka Silva 2/36

TRINITY COLLEGE WON BY 7 WICKETS (TRINITY 5 POINTS)
---
Mahanama College, Colombo vs St. Benedict's College, Kotahena
At St. Benedict's College Ground (Toss: St. Benedict's College won & field)
Mahanama College 234/6 (50)

Sachira Weliwatta 69*, Pavan Rathnayake 45, Achintha Supun 26, Danaja Sandalidu 24, Savindu Kavinda 22, Akindu Karunaratne 2/42

St. Benedict's College 143 (47.4)

Sharujan Shanmuganathan 31, Hasindra Kavirathne 25, Chamath Chathurya 25*, Sethum Kenula 3/30, Pavan Rathnayake 2/17, Devindu Kekirideniya 2/22, Sampath Nissanka 2/32

MAHANAMA COLLEGE WON BY 91 RUNS (MAHANAMA 5 POINTS)
---
D.S. Senanayake College, Colombo vs Wesley College, Colombo
At Campbell Park (Toss: D.S. Senanayake College won & bat)
D.S. Senanayake College 196 (47.2)

Maneendra Jayathilaka 46, Manura Gathsara 41, Amitha Dabare 25, Pamuditha Perera 24, Pasindu Denipitiya 21, Thenuka Perera 3/28, Ravindu Sigera 2/22, Anudith Wickramasinghe 2/43

Wesley College 200/6 (47.5)

Sahil Dias 57, Rakith Fernando 42*, Anudith Wickramasinghe 29*

WESLEY COLLEGE WON BY 4 WICKETS (WESLEY 4 POINTS)
---
Nalanda College, Colombo vs Maliyadeva College, Kurunegala
At Maliyadeva College Ground (Toss: Nalanda College Colombo opt to bat)
Nalanda College 273/7 (50)

Raveen De Silva 99*, Vinuja Ranpul 50, Rashan Dissanayaka 39, Rusiru Vilochana 37, Charuka Herath 2/23, Nikila Dharmadasa 2/45, Thimira Chandrasena 2/48

Maliyadeva College 221 (43.1)

Rishi Adishtan 50, Thimira Chandrasena 38, Matheesha Weerasinghe 33, Chaluka Athapaththu 21, Pasan Kahagalla 21, Raveen De Silva 5/42, Sajitha Vithanage 3/36

NALANDA COLLEGE WON BY 52 RUNS (NALANDA 4 POINTS)
---
St. Sebastians College, Moratuwa vs St. Joseph's College, Colombo
At St. Joseph's College Ground (Toss: St. Sebastian's College won & bat)
St. Sebastian's College 134 (48.5)

Savindu Rodrigo 29, Chakila Perera 22, Shenuka De Silva 4/30, Mithira Thenura 2/09

St. Joseph's College 132 (49.5)

Sheran Fonseka 28, Shevon Daniel 20, Kalana Sandeepa 3/31, Mahen Silva 2/15, Sandeesh Fernando 2/29

ST. SEBASTIAN'S COLLEGE WON BY 2 RUNS (ST. SEBASTIAN'S 4 POINTS)
---
S. Thomas' College, Mount Lavinia vs Prince of Wales College, Moratuwa
At POW College Ground (Toss: S. Thomas' College won & bat)
S. Thomas' College 114 (38.3)

Thenuka Liyanage 49*, Dhiren De Silva 23, Pasindu Pathum 4/32, Mahinsa Dinushan 2/18

Prince of Wales College 112/4 (23.4)

Tharindu Amarasingha 37, Upeka Fernando 32*

POW WON BY 6 WICKETS – POW 5 POINTS (PARABOLA TARGET: 112 FROM 47 OVERS)
Schools U19 Division 1 – Tier B Tournament
Mahinda College, Galle vs St. Aloysius' College, Galle
At Galle International Cricket Stadium (Toss: St. Aloysius' College won & field)
Mahinda College 260/5 (50)

Kosala Udayanga 75, Navod Paranavithana 65, Rashmika Madushanka 64*, Dhanuja Induwara 23, Sandeepa Shamod 2/50

St. Aloysius' College 65/2 (21.1)

Archana Udugampola 34*

MAHINDA COLLEGE WON ON PARABOLA METHOD – MAHINDA 5 POINTS (REVISED TARGET: 151 FROM 21.1 OVERS)
---
Isipathana College, Colombo vs Dharmapala College, Pannipitiya
At Dharmapala College Ground (Toss: Dharmapala College won & field)
Isipathana College 167 (40.5)

Thevindu Dickwella 44, Lomitha Ravindith 24, Kavindu Amantha 23, Thisara Sishara 3/13, Sachintha Chamika 2/30

Dharmapala College 149/6 (40.1)

Hiru Pawan 46*, Pasindu Theekshana 33, Praveen Kumarapperuma 32, Lomitha Ravindith 3/19

ISIPATHANA COLLEGE WON ON PARABOLA METHOD – ISIPATHANA 4 POINTS (REVISED TARGET: 152 FROM 40.1 OVERS)
---
St. Joseph Vaz College, Wennappuwa vs Zahira College, Colombo
At St.Sebastian's College Ground, Katuneriya (Toss: Zahira College won & field)
St. Joseph Vaz College 160 (49.2)

Kaushan Wijerathne 37, Menusha Perera 34, Raaed Rizwan 4/35, Adhil Ismarly 2/23

Zahira College 143 (43)

Raaed Rizwan 37, Rilwan Yoosuf 26, Ishan Ruhaim 22, Shon Shenil 3/32, Kaushan Wijerathne 3/39, Menusha Perera 2/12

ST JOSEPH VAZ COLLEGE WON ON PARABOLA METHOD – JOSEPH VAZ 4 POINTS (REVISED TARGET: 151 FROM 43 OVERS)
---
St. Sylvester's College, Kandy vs Devapathiraja College, Rathgama
At Dharmaraja College Ground (Toss: St. Sylvester's College won & bat)
St. Sylvester's College 158 (44.1)

Sadeepa Halangoda 43, Charith Samuditha 21, Shashika Gihan 20, Matheesha Saranga 3/23, Sasanka Nirmal 2/18, Irushka Thimira 2/33

Devapathiraja College 164/6 (27.4)

Pawan Sandesh 79*, Darshaka Sandeepa 30, Irushka Thimira 23, Shashika Gihan 3/42, Maleesha Silva 2/50

DEVAPATHIRAJA COLLEGE WON BY 4 WICKETS (DEVAPATHIRAJA 5 POINTS)
---
St. Servatius' College, Matara vs Lumbini College, Colombo
At BRC Ground (Toss: St. Servatius' College won & bat)
St. Servatius' College 121 (47.3)

Diniru Abeywickramasinghe 69, Sasanka Nethmina 3/15, Sahan Kaushalya 3/25

Lumbini College 124/5 (34)

Gimhana Theekshana 46, Sakuna Nidarshana 32, Damindu Sankalpa 2/44

LUMBINI COLLEGE WON BY 5 WICKETS (LUMBINI 5 POINTS)
---
Dharmaraja College, Kandy vs Thurstan College, Colombo
At Thurstan College Ground, Colombo (Toss: Thurstan College won & field)
Dharmaraja College 91 (33)

Malitha Hapuarachchi 29, Upendra Warnakulasooriya 22, Nipun Premarathne 4/32, Punthila Kumara 2/15

Thurstan College 92/2 (18.2)

Dananja Silva 35, Sandeepa Kalhara 28*

THURSTAN COLLEGE WON BY 8 WICKETS (THURSTAN 5 POINTS)
Schools U19 Division 1 – Traditional Matches
Royal College, Colombo vs St. Peters College, Colombo
At St. Peter's College Ground (Toss: St. Peter's College won & field)
Royal College, Colombo 216 (68.3) 

Dasith Manchanayake 81*, Ahan Wickramasinghe 40, Gishan Balasuriya 30, Sheahan Herath 26, Danal Hemananda 4/37, Wanuja Kumara 2/68, Jesura Benjamin 2/27 

& 191/5 (49)
Ahan Wickramasinghe 100*, Ashen Gamage 32, Dasith Manchanayake 24, Niman Umesh 2/49

St. Peter's College, Colombo 138 (61.3) 

Lahiru Chethaka 38*, Senal Botheju 24, Sonal Amarasekara 3/29, Kavindu Pathirathna 2/36, Prashan Kalahara 2/21

MATCH DRAWN