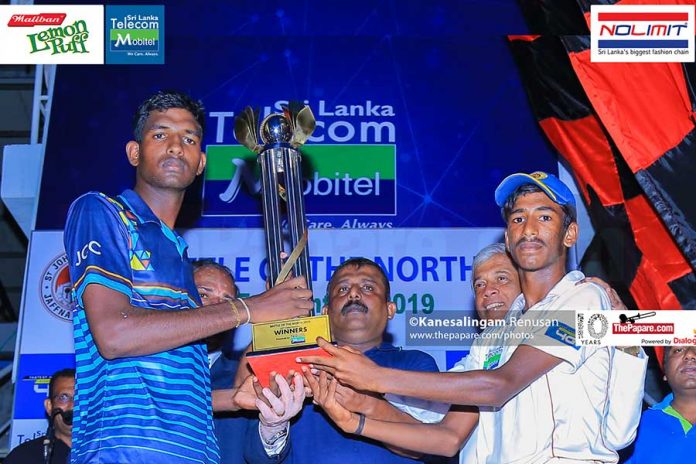 Jaffna Central College were given a target of 232 runs in 40 overs in the final session to win. They were on course, but ultimately ran out of time which saw the 113th Battle of the North ending in an exciting draw, at Jaffna Central College grounds. 
Unbeaten opening stand puts Johnians in control
The day resumed with St. John's College in a commanding position at 121 for no loss in their second innings. Openers Naganthirajha Sowmiyan and Chrsity Thanujan reached their half centuries but soon perished against Mathushan. He was in the middle of a fiery spell as he kept testing the batsmen with pace and seam movement. Together with Vijayakanth Viyaskanth, the pair rattled through the first five wickets and shifted the momentum towards the home side. 
However, the defiant 6th wicket stand and few gritty knocks at the back-end helped St. John's College post 245 for 9 in their 2nd innings before they finally decided to declare. A target of 232 runs were given to the hosts to get in just 40 overs in the final session. The openers did not show much urgency but kept a steady run rate in their half century stand. But after the loss of 3 wickets, with their skipper Mathushan at the crease, there was real sense of intent from the Central lads. 
Photos: Jaffna Central College vs St. John's College – 113th Battle of the North | Day 3
Mathushan came out all guns blazing as he stroked the ball all around the park. His long limbs were put to good use, as he put 4 over the rope and found the fence 5 times in his 36-ball knock of 65. He almost made a match out of nothing but, he wst johas dismissed by Murfin Abinash and that halted the run chase. 
It turned into, just the matter of seeing off the final few overs, without losing anymore wickets for the home side. They managed to do just that and ended at 176 for 7 at stumps on the final day
195/10 (79.2) & 176/7 (40)
St. John's College, Jaffna
181/10 (46.5) & 245/9 (89)


Batsmen
R
B
4s
6s
SR
Sowmiyan Naganthirarajah
c Nitharan Saravanamuththu b Iyalarasan Kamalarasa
9
12
2
0
75.00
Thanujan Christy Prasanna
c Nitharan Saravanamuththu b Iyalarasan Kamalarasa
18
28
3
0
64.29
Vinojan Thiyagarajah
c Viyaskanth Vijayakanth b Mathusan Selvarasa
0
2
0
0
0.00
Elshan Denushan
c Viyaskanth Vijayakanth b Iyalarasan Kamalarasa
9
12
2
0
75.00
Hemathushan Mahendran
c Vithusan Theesan b Iyalarasan Kamalarasa
1
14
0
0
7.14
Abinash Murfin
c Inthujan Balarupan b Viyaskanth Vijayakanth
24
30
1
1
80.00
Dinoshan Theivendram
c Rajclinton Rajaratnam b Viyaskanth Vijayakanth
98
134
11
2
73.13
Rathushan Nageswaran
c Vithusan Theesan b Braveenraj Kamalarajkurukkal
0
1
0
0
0.00
Sabesan Kamalapalan
b Viyaskanth Vijayakanth
4
7
1
0
57.14
Abishek Anton
c Viyaskanth Vijayakanth b Iyalarasan Kamalarasa
5
17
0
0
29.41
Saraan Anton Selvathas
not out
0
26
0
0
0.00
| | |
| --- | --- |
| Extras | 13 (b 2 , lb 2 , nb 2, w 7) |
| Total | 181/10 (46.5 Overs, RR: 3.86) |
| Bowling | O | M | R | W | Econ |
| --- | --- | --- | --- | --- | --- |
| Iyalarasan Kamalarasa | 15 | 2 | 54 | 5 | 3.60 |
| Mathusan Selvarasa | 4 | 2 | 12 | 1 | 3.00 |
| Nitharan Saravanamuththu | 1 | 0 | 5 | 0 | 5.00 |
| Vithusan Theesan | 7 | 0 | 38 | 0 | 5.43 |
| Viyaskanth Vijayakanth | 11.5 | 3 | 43 | 3 | 3.74 |
| Braveenraj Kamalarajkurukkal | 6 | 0 | 20 | 1 | 3.33 |
| Nithusan Aniston | 2 | 1 | 5 | 0 | 2.50 |


Batsmen
R
B
4s
6s
SR
Sarangan Sritharan
c Rathushan Nageswaran b Dinoshan Theivendram
0
1
0
0
0.00
Iyalarasan Kamalarasa
c Sabesan Kamalapalan b E.Denushan
77
239
8
0
32.22
Inthujan Balarupan
c Abinash Murfin b Dinoshan Theivendram
15
67
3
0
22.39
Jeyatharsan Antony Dias
lbw b Saraan Anton Selvathas
21
54
3
0
38.89
Rajclinton Rajaratnam
c & b Abinash Murfin
10
40
2
0
25.00
Viyaskanth Vijayakanth
b Hemathushan Mahendran
41
35
1
3
117.14
Mathusan Selvarasa
lbw b E.Denushan
2
6
0
0
33.33
Nithusan Aniston
b Saraan Anton Selvathas
10
21
1
0
47.62
Nitharsan Saravanamuththu
c Sabesan Kamalapalan b Saraan Anton Selvathas
0
2
0
0
0.00
Braveenraj Kamalarajkurukkal
b Hemathushan Mahendran
0
7
0
0
0.00
Vithusan Theesan
not out
1
10
0
0
10.00
| | |
| --- | --- |
| Extras | 18 (b 11 , lb 0 , nb 6, w 1) |
| Total | 195/10 (79.2 Overs, RR: 2.46) |
| Bowling | O | M | R | W | Econ |
| --- | --- | --- | --- | --- | --- |
| Dinoshan Theivendram | 13 | 6 | 25 | 2 | 1.92 |
| Abishek Anton | 12 | 3 | 18 | 0 | 1.50 |
| Sowmiyan Naganthirarajah | 1 | 0 | 2 | 0 | 2.00 |
| Rathushan Nageswaran | 10 | 6 | 13 | 0 | 1.30 |
| Abinash Murfin | 11 | 2 | 41 | 1 | 3.73 |
| Saraan Anton Selvathas | 20 | 4 | 54 | 3 | 2.70 |
| Hemathushan Mahendran | 8 | 2 | 20 | 2 | 2.50 |
| Elshan Denushan | 4.2 | 0 | 11 | 2 | 2.62 |


Batsmen
R
B
4s
6s
SR
Sowmiyan Naganthirarajah
c & b Mathusan Selvarasa
50
117
2
3
42.74
Thanujan Christy Prasanna
c Sarangan Sritharan b Mathusan Selvarasa
66
163
11
0
40.49
Vinojan Thiyagarajah
c Iyalarasan Kamalarasa b Viyaskanth Vijayakanth
1
16
0
0
6.25
Elshan Denushan
c Iyalarasan Kamalarasa b Viyaskanth Vijayakanth
5
19
0
0
26.32
Hemathushan Mahendran
c Sarangan Sritharan b Mathusan Selvarasa
3
14
0
0
21.43
Abinash Murfin
run out
14
34
1
0
41.18
Dinoshan Theivendram
c Sarangan Sritharan b Viyaskanth Vijayakanth
24
61
3
0
39.34
Rathushan Nageswaran
run out
0
2
0
0
0.00
Sabesan Kamalapalan
b Viyaskanth Vijayakanth
14
42
3
0
33.33
Abishek Anton
not out
31
57
5
0
54.39
Saraan Anton Selvathas
not out
4
14
1
0
28.57
| | |
| --- | --- |
| Extras | 33 (b 26 , lb 1 , nb 5, w 1) |
| Total | 245/9 (89 Overs, RR: 2.75) |
| Bowling | O | M | R | W | Econ |
| --- | --- | --- | --- | --- | --- |
| Mathusan Selvarasa | 22 | 6 | 51 | 3 | 2.32 |
| Iyalarasan Kamalarasa | 12 | 5 | 24 | 0 | 2.00 |
| Viyaskanth Vijayakanth | 38 | 8 | 88 | 4 | 2.32 |
| Braveenraj Kamalarajkurukkal | 2 | 0 | 5 | 0 | 2.50 |
| Vithusan Theesan | 11 | 3 | 39 | 0 | 3.55 |
| Nithusan Aniston | 3 | 0 | 8 | 0 | 2.67 |
| Jeyatharsan Antony Dias | 1 | 0 | 3 | 0 | 3.00 |


Batsmen
R
B
4s
6s
SR
Sarangan Sritharan
c Sabesan Kamalapalan b Abinash Murfin
25
52
5
0
48.08
Iyalarasan Kamalarasa
st Sabesan Kamalapalan b Saraan Anton Selvathas
27
45
4
0
60.00
Inthujan Balarupan
run out
7
28
1
0
25.00
Jeyatharsan Antony Dias
c Abinash Murfin b Dinoshan Theivendram
23
52
1
0
44.23
Mathusan Selvarasa
c Hemathushan Mahendran b Abinash Murfin
65
36
5
4
180.56
Viyaskanth Vijayakanth
run out
14
15
0
1
93.33
Rajclinton Rajaratnam
lbw b Abishek Anton
0
4
0
0
0.00
Nithusan Aniston
not out
1
8
0
0
12.50
Nitharsan Saravanamuththu
not out
0
0
0
0
0.00
| | |
| --- | --- |
| Extras | 14 (b 10 , lb 2 , nb 1, w 1) |
| Total | 176/7 (40 Overs, RR: 4.4) |
| Bowling | O | M | R | W | Econ |
| --- | --- | --- | --- | --- | --- |
| Dinoshan Theivendram | 7 | 1 | 26 | 1 | 3.71 |
| Abishek Anton | 5 | 0 | 24 | 1 | 4.80 |
| Abinash Murfin | 11 | 2 | 29 | 2 | 2.64 |
| Sowmiyan Naganthirarajah | 5 | 1 | 23 | 0 | 4.60 |
| Saraan Anton Selvathas | 10 | 1 | 52 | 1 | 5.20 |
| Elshan Denushan | 1 | 0 | 6 | 0 | 6.00 |
| Rathushan Nageswaran | 1 | 0 | 3 | 0 | 3.00 |