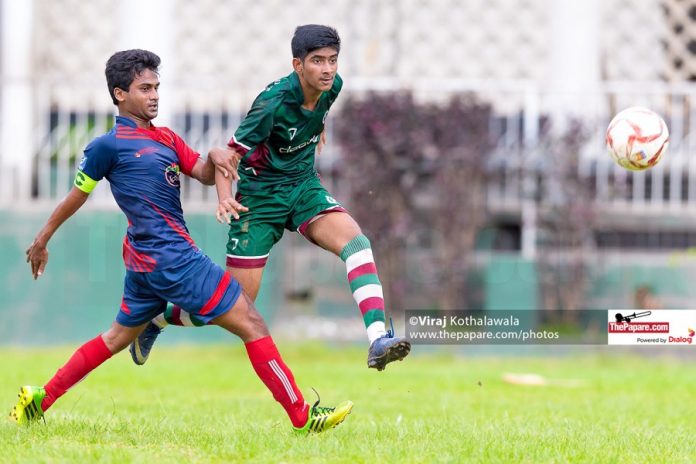 Zahira College put on an incredible performance to beat Maris Stella College 5-1 at the Zahira Grounds, Maradana in the U18 Division I Schools' Football Championship 2018.
Zahira College dominated play as they triumphed 4-1 against…
Zahira had the first major opportunity of the match when their forward went for a bicycle kick which went just inches wide of the bar.
Soon after, in the 12th minute Mohamed Sajid broke into the Maris Stella box, after Maris Stella's skipper failed to clear the ball in time, and neatly tucked away the ball to break the deadlock.
Zahira almost made it 2-0 few minutes later with their forward dribbling brilliantly past the defense to take a shot, but it deflected off a defender and struck the bar before the keeper collected the ball.
Maris Stella were sloppy as the game progressed, giving the ball away cheaply on more than a few occasions while Zahira were breaking into the opposition box at will.
Against the run of play, Maris Stella pulled off the equalizer in the 28th minute when Mohamed Shipan took a shot from inside the box catching the keeper Mohamed Shakir off guard to bring things level.
Zahira almost immediately retook the lead with Sahil Ahamed brilliantly breaking past the defense but the keeper managed to just get a fingertip on the ball which put the forward off giving the defender time to clear.
Maris Stella's defensive vulnerability was on full display as they kept giving the ball away cheaply and kept making defensive errors as Zahira kept taking shots on goal.
Half Time – Zahira College 1 – 1 Maris Stella College
Half time talks seemed to have changed nothing as Maris Stella's sloppy play continued giving Zahira chance after chance and were lucky to see a free-kick for Zahira just outside the box struck inches wide of the target.
First major chance for Maris Stella in the second half came in the form of a free-kick outside the box, but no one in the box could get a head to it.
In the 63rd minute Zahira were allowed a simple cross into the box and defenders did very little to prevent Mohamed Mushfir leaping and heading the ball into the back of the net to make it 2-1.
Zahira made it look easy, and it continued to score through Mohamed Akthar for the third goal.
Zahira College continued to run riot as Maris Stella's defense kept falling into shambles continuously giving the ball away and looking reluctant to go head on into challenges as they were punished with another goal in the 70th minute by Hussain Riza.
In the dying moments of the game, Hussain Riza capitalized on a goalkeeping error to tap in to an open goal to give Zahira their 5th goal.
Full Time – Zahira College 5 – 1 Maris Stella College
ThePapare.com Player of the Match – Hussain Riza (Zahira College)
Goal Scorers

Zahira College – Mohamed Sajid 12', Mohamed Mushfir 63'. Mohamed Akthar 65', Hussain Riza 70' & 90'
Maris Stella College – Mohamed Shipan 28'
>>For more Schools' Football News Click Here<<