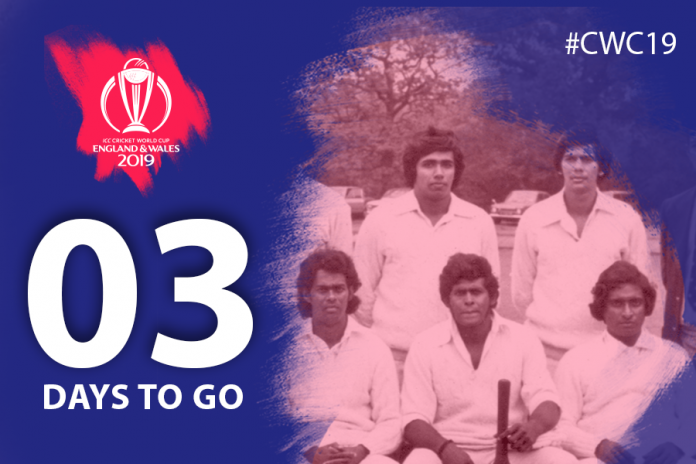 Sri Lanka's selectors picked a 17-year-old in their World Cup squad in 1979. Certain selection panels tend to pick a young player to go on a tour not with the intention of getting him to play games, but to get a feel of international cricket with the hope that the experience will help the player to mature faster.
>>ICC Cricket World Cup 2019<<
Sudath Pasqual, a hard-hitting left-handed batsman and a medium pace bowler, who went to England for the 1979 World Cup, though was different, as he played two games in that competition, including in Sri Lanka's historic win over India at the Old Trafford.
Pasqual actually went onto captain Royal College the year after he played the World Cup. Not just World Cups, but Pasqual remains the youngest man ever to play ODI cricket for Sri Lanka, having made his debut against New Zealand at Trent Bridge aged 17 years and 237 days. The oldest player in that squad was leg-spinner D.S. de Silva, who was 19 years older to Pasqual.
In fact, Pasqual made his Sri Lanka debut before his Royal College skipper Ranjan Madugalle, who was also in the squad. Madugalle made his debut in the next game – against India in Manchester.
Read More : Legends on the World Stage (1975 -87)
On debut, Pasqual was dismissed for a second ball duck by Sir Richard Hadlee. He bowled four wicketless overs as well but in the next game against India made an impact.
Pasqual walked in at the fall of Madugalle's wicket at number six and shared a 52-run stand with Man of the Match Duleep Mendis. Pasqual finished unbeaten on 23. He should have gone onto play a lot more cricket for Sri Lanka but his career came to an abrupt end when he decided pursue higher studies after schooling.  He migrated to the US and although he returned home, his playing days were over by then.
Pasqual took up cricket writing, contributing to certain publications before going onto join Sri Lanka Cricket. He started off as the Manager of Umpires and then was put in charge as Provincial Cricket Manager and Women's Cricket Manager. After a five-year stint with SLC, he decided to migrate to Canada with his family.
It was Madugalle who went onto have a more successful career of the two Royalists. He represented Sri Lanka in the inaugural Test match, going onto top score with 65 runs in the first innings. He was picked as Sri Lanka's captain as well with Duleep Mendis reaching the twilight of his career. Madugalle retired prematurely before his 30th birthday.
A few years later, he was appointed as a Match Referee by the International Cricket Council and went onto become the Chief Match Referee in 2001. Madugalle has refereed in over 100 Test matches and 300 ODIs. He also served a spell as a national selector and was part of Duleep Mendis' committee that picked the victorious 1996 World Cup team.
The quality of school cricket with players being able to walk into the national team straight from school or while still at school speaks volumes of the standards that schools maintained in the yesteryear. Sri Lanka's maiden half-century in Test cricket was scored by an 18-year-old with Arjuna Ranatunga, achieving the milestone while still being a schoolboy at Ananda College.
Read Also : Royal – Thomian – A Family Affair
The quality of coaching was top notch at that point and players could hold their own even against the greatest opponents. Today we hardly see even players in their teens turning up for the senior side. There is also lack of conviction among authorities to throw young players into the deep end.