The Independence Cup 2017 it set to kick off in Lahore as the World XI take on hosts Pakistan in what one hopes will be the beginning of the return of International Cricket to Pakistan.
Pakistan's predicament over the past few years is one Sri Lanka could relate to easily as they also experienced strenuous security issues for decades. But perhaps the apex of them came during the 1996 World Cup. Controversy swirled around the tournament before any games were played as Australia and West Indies refused to play in Sri Lanka owing to security reasons. In response, Sri Lanka questioned the credibility of quoting security concerns when the ICC had already determined that the country was safe.
Although Zimbabwe and Kenya had already opted to play in Sri Lanka, the island nation needed a few stronger cricketing nations on their side to defy the skeptics.
The moment came when co-hosts India and Pakistan agreed to play a match at the R. Premadasa Stadium against Sri Lanka. The world stood astounded as two teams who hadn't even played a bilateral series since 1989/90, combined for perhaps for the first and only time in their history.
On 13th February, 1996 the stage was set at RPS with the Wills XI boasting a star-studded lineup to face Sri Lanka. Before the match, Mohammad Azharuddin, captain of the Wills' India and Pakistan XI spoke to the media, "As far as the game is concerned, we are all together. We have come to Sri Lanka to make sure that it is going to be a very successful day today. I hope everyone realizes that there is nothing wrong where sport is concerned". Wasim Akram added to Azhar's comments, "We have no fears of any security in Sri Lanka. We are just relaxed and it was like coming to Sri Lanka on a normal cricket tour".
Sri Lankan captain Arjuna Ranatunga expressed his gratitude, praising India and Pakistan for traveling to Sri Lanka to prove that the island was safe to play cricket.
C.J. Mitchley of South Africa and Mehboob Shah of Pakistan took the field as umpires for this historical match while Farid Malid was the TV umpire. The Match referee was Nasim-ul-Ghani.
Batting first, early inroads were carved by the combined XI as openers Sanath Jayasuriya and Romesh Kaluwitharana were back in the pavilion for 6 runs courtesy of speedsters Waqar Younis and Wasim Akram. However, Asanka Gurusinha and Arjuna Ranatunga annexed 70 runs for the 3rd wicket. Ashish Kapoor removed Ranatunga for 32 while Tendulkar teamed up with Ajay Jadeja to send Gurusinha back for 34.
Sri Lanka's middle order was impaired by Anil Kumble who took 4 for 12 from his 8 overs as Sri Lanka were ceased at 168/9 in their 40 overs.
Let's Talk Numbers by Thilina Galappatti…
Chasing a target 169, Wills XI openers Sachin Tendulkar and Saeed Anwar added 53 for the opening wicket. Saeed Anwar departed when Kumar Dharmasena trapped him LBW for 16 and soon Aamir Sohail followed, when Muttiah Muralitharan sent him back for 10. Tendulkar made 36 before Murali took him too. Quick scalps by Upul Chandana saw skipper Azharuddin and Ijaz Ahmed rattled, denting the Wills team's hopes of a successful pursuit. With the visitors on 126/5, the game was heading for a thrilling finish. However, Ajay Jadeja (28) and Rashid Latif (21*) mustered an adequate reply with a stand of 38 runs before Waqar Younis sealed the victory in the 35th over with 4 wickets to spare.
Anil Kumble was named Man of the Match, a trophy he received from then Sports Minister S.B. Dissanayake. The Wills XI hoisted the Wills Solidarity Cup to the Colombo night sky, not only savouring a momentous episode in the sport, but also sending out a strong statement to the other teams.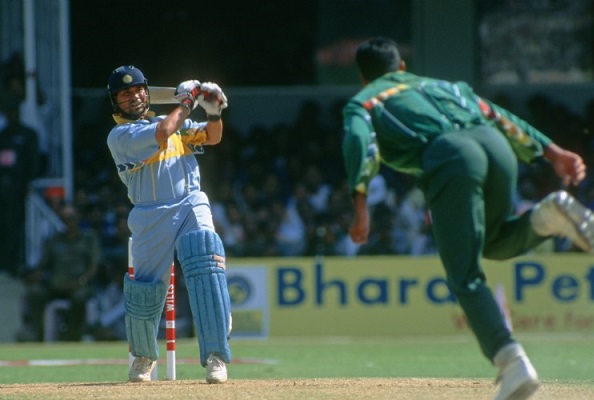 Who could have imagined Anil Kumble would collaborate with Aamir Sohail to dismiss Hashan Tillekeratne or the most daunting fast bowler at the time, Wasim Akram, to play alongside the best batsman Sachin Tendulkar and team up to remove Kaluwitharana, or Tendulkar to partner with Saeed Anwar to make a 50 plus opening stand?
It was a moment to cherish, a dream come true for millions of fans who aspired to see these bitter rivals unifying in solidarity, as they later faced against each other at Bangalore in a boiling confrontation during the World Cup quarterfinal.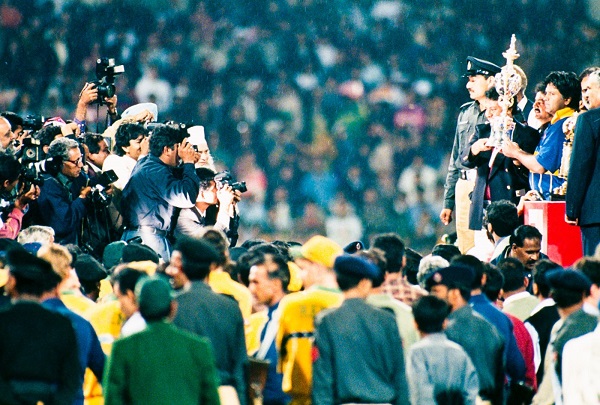 It was an exceptional gesture by two great cricketing nations, who fraternized in hope for a beautiful island nation which was struggling to warrant themselves to host cricket's highest stage.
True to his words, Arjuna Ranatunga, after being crowned world champions a month later at Lahore, stated at the final presentation, "I think I should thank the Pakistan public. They were really behind right throughout the game. I should thank Azhar and Wasim. They are the ones who brought the sides to Colombo when we were in trouble. Thanks a lot Wasim and Azhar. We are very grateful to you".    
Team which played the Wills Solidarity Cup at the RPS on 13th February, 1996:
Wills India and Pakistan XI:
Sachin Tendulkar, Saeed Anwar, Aamir Sohail, Mohmmad Azharuddin (Captain), Ijaz Ahmed, Ajay Jadeja, Rashid Latif (WK), Waqar Younis, Wasim Akram, AR Kumble, AR Kapoor.
Sri Lanka:
Sanath Jayasuriya, Romesh Kaluwitharana (WK), Asanka Gurusinha, Arjuna Ranatunga (Captain), Marvan Atapattu, Hashan Tillekeratne, Upul Chandana, Kumar Dharmasena, Chaminda Vaas, Muttiah Muralitharan, Ravindra Pushpakumara.