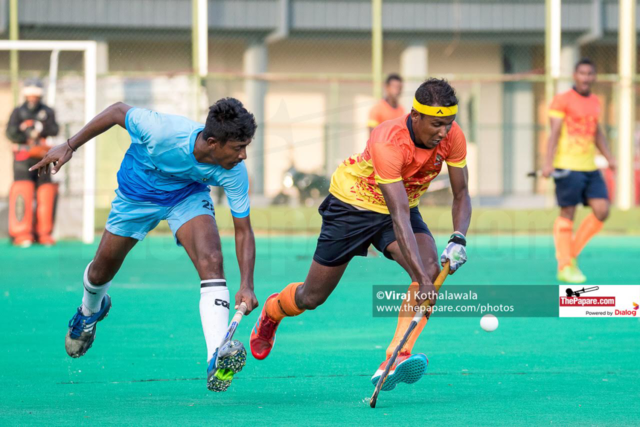 The annual National's Sports Festival which is organized by the Sri Lanka Sports Ministry, , started off successfully for the 44th time, at the Colombo Astro Turf yesterday.  
In this year's competition there are nine Men's teams and seven Women's teams participating, representing the different provinces. In 2017, both Men's and Women's Championships was won by Central Province and Western Province was awarded the 1st runners-up in both Men's and Women's categories.
Here's a look at what happened
The first scheduled match was between Central and Western Province. It was Central Province who took control and was leading from the very start of the match. Eastern implemented offensive strategies but was unable to beat the strong defence of Central Province. The final score showed 17-0 in favour of Central Province and they were able to qualify for the final round. Goals were scored by C. Wijessoriya, S. Jayarathne, K. Dayananda, M. Dharmarathne, T. Themiyadasa, A. Gunawardana and G. Damayanthi for Central Province.
In the next semi-finals match, Western Province was able to beat Southern Province. In the first few minutes both teams played very energetically and displayed equal skills throughout the match.  Several attempts made by both teams failed since they both had balanced defensive and offensive aspects. However, in the 12th minute Sandali Dilahara scored the first goal for Western Province.  Next goal was again scored by Sandali Dilahara and in the 55th minute Anaka Shekaza scored the final goal for Western Province. The final score was in favour of Western Province 3-0.
In the Men's category, North Western Province was able to take an easy win against Northern Province by recording a goal score of 8-1 and qualify for the semi-final round. However, after a very tight game in the semi-final round North- Western Province was beaten by Central Province with a score of 1-0. In the following match Sourthern Province was able to book their slot in the finals by defeating Western Province with a score of 5-2.
In the Women's category, Central and Western Province will be playing the final round while Southern and Central Provinces will be facing each other in the final round tomorrow at Astro Turf.