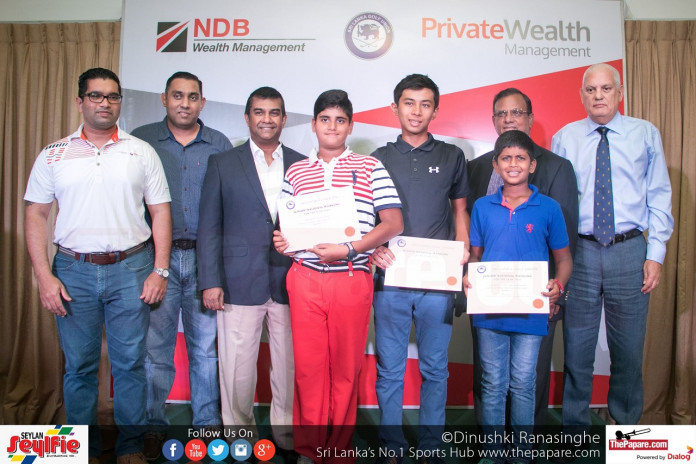 Junior golfer Vinod Weerasinghe clinched the top award on offer at the National Junior Golf Ranking Awards ceremony held at the Royal Colombo Golf Club for his achievement in being the top-ranked junior golfer in the country in the past year.
The Junior Golf Ranking Awards held to motivate the up and coming golfers in the country after the successful completion of the three-course junior series that was conducted around the island during the year 2016.
Vinod Weerasinghe of British School in Colombo emerged victorious in the Sri Lanka Junior Open Golf Championship…
The rankings that come under the purview of the Sri Lanka Golf Union are categorised into 4 divisions; Gold, Silver, Bronze and Copper according to the age categories.
Fifteen-year-old Vinod Weerasinghe, who had a successful campaign in the final round of the Sri Lanka Open Junior Golf Championship in December, took the top spot in the Gold division ages 15-17+ rankings while in second was Armand Flamer-Caldera. Coming in at third at the end of the year was Taniya Balasuriya.
It was Kayla Perera who topped the rankings in the Silver Division which is for the ages 12-14 while S. Duwarshan came in second.
Nirekh Tejwani with 1225 ranking points took the first spot in the Bronze Division ranking which is for the players in the ages of 10-11+ and Shanal Binuksha was the top-ranked player in the Copper division. The Copper division has the participation of players from 9 to under.
Golf Union interested in uplifting Juniors
The Sri Lanka Golf Union, the governing body for the sport is currently improvising a mechanism to enable the identification of new talent in the sport and as a first initiative, the union has made arrangements to provide a facility for all ranking players to play at any golf course in the country without a levy.
With the 2017 tournament set to begin later in the year, such incentives will keep the players motivated to stay en-route in the path to enter the professional sphere.
NDB Welath Management comes forward in sponsoring the awards and uplifting the spirits of the junior golfers.
"We feel that excellence in golf and exemplary money management share similar attributes which are all essential for success in these fields and also success in life." Prabodha Samarasekara, Chief Executive Officer of NDB Wealth added.