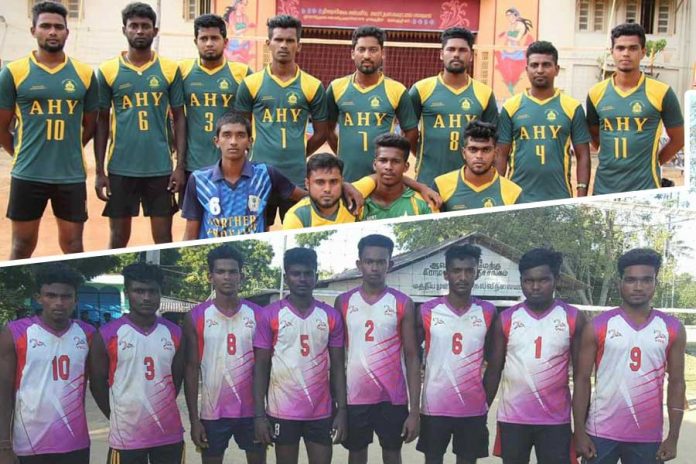 The Volleyball Championship sponsored by Dialog for the President's Gold Cup in Jaffna District concluded in Avarangal Central Sports Club Grounds in both Open and Under 22 category.
The quarter finals consisted of 3 sets while semi finals and  finals consisted 5 sets each.
Under 22
Puththur Central Stars who instrumented an upset in the quarter finals beating last year's champions Ilavalai Central two sets to one faced Garuda Anna team who came into the semifinals surpassing  Mattuvil Mohanathas team by the same margin.
Garuda Anna team shrugged off the threat of Puththtur Central Stars with ease by dominating the game winning 3 sets to nil (25:13, 25:12, 25:12).
On the other hand Puththur Valarmathi came from behind to to beat Avarangal Hindu Youth in the quarters while Siruppitti Janashakthi beat Ambaal team two sets to nil.
Puththur Valarmathi team won the second semi finals without losing the set against Siruppitti Janashakthi with the score lines of 25:20, 25:13, 25:21.
Both Puththur Valarmathi team and Garuda Anna came into the finals without breaking much sweat in the semi finals but it was Puththur Valarmathi who continued their form run as they brushed Garuda Anna team away winning the finals with straight seats and a score line reading 25:21, 25:14 and 25:21. Puththur Valarmathi team were selected for the National level Championship following the victory.
Open Category
Last year's Champions Hindu Youth surpassed Neerveli United in the first quarters . With both Ilavalai Central Sports Club and Naayanmaar Bharathi Sports Club failing to present on the day, Hindu Youth gained a spot in the finals without having to play in a semi final clash.
The emerging team of the recent past, Avarangal Central Sports Club entered the semi finals faced Kalaimathi Sports Club who came on the back of a quarter final victory against KMV Harish Sports Club.
Avarangal Central managed to register a 3-1 victory over Kalaimathi team who gave a tough competition till the end but Avarangal Central proved to be too good winning the match with the score lines of 25:14, 24:26, 25:18, 25:20.
The finals started with Hindu Youth winning the first set without much fuss 25:15. Avarangal Central replied in emphatic manner winning the next se 25:14. The match started to tense up with both teams displaying intense competition. Hindu Youth's Janagan helped his team win the closely fought third set 25:23 with some terrific dashes.
After the intense passage of play, Hindu Youth sailed over the line winning the fourth set comprehensively with the scoreline of 25:18 becoming the champions for the second time retaining the cup.