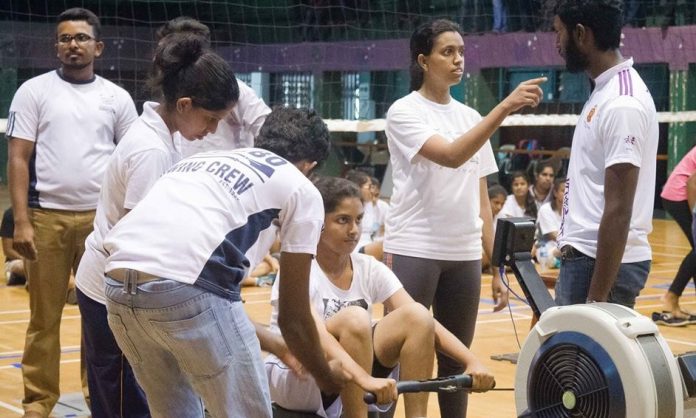 The University of Colombo Freshers' Indoor Rowing event for the year 2019 was held on the 4th of April at the University Gymnasium.
From 2017 onwards, the University of Colombo Rowing Crew has organized an Indoor Rowing event as part of the Annual Freshers' Meet. The event is usually well-attended and many freshers get their first taste of rowing through this exciting event.
The races take place as relays, with teams of four racing 2000 metres. Spectators can watch an animated race simulation as the teams row their hearts out.
This year's event saw 24 teams participating from all of the university's faculties and affiliated campuses. After several rounds of nail-biting heats, the final rounds began to the earth-shaking roar of the crowds cheering their batchmates on.
The races finally concluded with the Law "A" team winning the Women's Championships and the Management "A" team winning the Men's.
If you imagined that indoor rowing was a fairly modern concept, linked to the advent of rowing as a serious competitive sort, now's the time to re-imagine things Indoor Rowing, that is, practicing on a machine that helps recreate the motion needed to row an actual boat, was probably first begun in Ancient Greece. The Greeks would have used the machine as training for the navy. Fast forward to the late 19th Century, and we have the first patented rowing machines making an appearance.
Although the rowing machine was originally used exclusively as a training machine for rowers, in the 1980s a group of university students held an informal indoor rowing competition. This later evolved into the World Indoor Rowing Championships. In keeping with the university-based origins of indoor rowing as a sport, in 2015, the General Sir John Kotelawela Defence University, along with the Amateur Rowing Association of Sri Lanka and the Bolgoda Lake Rowing Club, organized Sri Lanka's first National Indoor Rowing Championships.