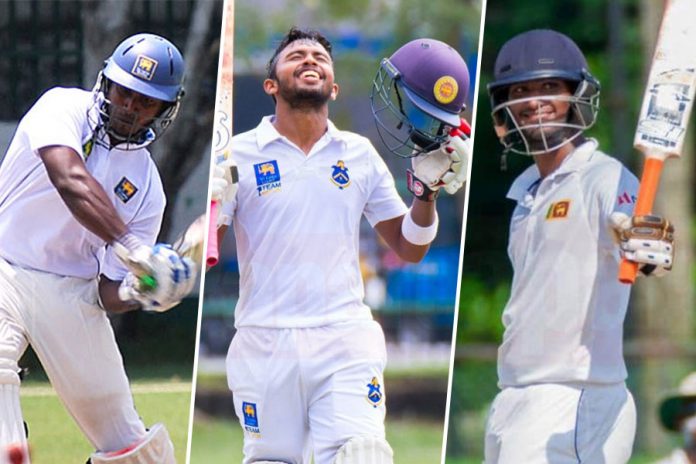 Two games of the Super Provincial four day cricket tournament, organized by Sri Lanka Cricket (SLC) concluded today at Katunayake and Hambanthota.

Colombo vs Galle
The clash between Colombo and Galle ended in a draw today at Hambanthota with first innings points won by the Galle team. The lads from Galle resumed day four on 4 for no wicket but opening batsman Madawa Warnapura was trapped lbw by left arm seamer Vishwa Fernando for 8 runs.
Number three batsman Oshada Fernando could not stay at the crease for long as he was also trapped lbw by Vishwa Fernando for just 3 runs. However, left handed Lahiru Milantha and right handed Sadeera Samarawickrama rescued the innings with a 147-run partnership for the third wicket.
Samarawickrama showed his elegant stroke-play again with a 77-run knock which included 8 boundaries. Milantha remained unbeaten on 74 runs stroking 7 boundaries. Left arm seamer Vishwa Fernando was impressive with the ball for Colombo as he picked up 2 wickets for 24 runs. The Umpires decided to call off play for day four around 3.30 pm due to bad light.
Full Scorecard
Team Galle's 2nd Inning
Match Drawn
Team Colombo's 1st Innings
Batting
R
B
Kaushal Silva
b Mohomed Dilshad
13
26
Shehan Jayasuriya
c Oshada Fernando b Nisala Tharaka
8
17
D.De.Silva
lbw by Mohomed Dilshad
66
59
Lahiru Thirimanne
not out
125
258
LD Chandimal
c Sadeera Samarawickrama b Akila Dananjaya
18
30
Chamara Silva
b Akila Dananjaya
10
25
Dilruwan Perera
c Madawa Warnapura b Akila Dananjaya
0
1
Kavishka Anjula
c Sadeera Samarawickrama b Dasun Shanaka
46
57
L. Embuldeniya
lbw by Chathuranga de Silva
24
95
V. Fernando
c Sadeera Samarawickrama b Chathuranga de Silva
0
10
| Bowling | O | M | R | W | E |
| --- | --- | --- | --- | --- | --- |
| Nisala Tharaka | 17 | 2 | 66 | 1 | 3.88 |
| Mohomed Dilshad | 15 | 4 | 49 | 2 | 3.27 |
| MD Shanaka | 15 | 2 | 62 | 1 | 4.13 |
| M. Pushpakumara | 18 | 1 | 55 | 0 | 3.06 |
| A Dananjaya | 22 | 2 | 61 | 3 | 2.77 |
| PC de Silva | 8.5 | 1 | 22 | 2 | 2.59 |
Total
333/10 (95.5 overs)
Fall of Wickets:
1-21, 2-25, 3-117, 4-149, 5-171, 6-171, 7-250, 8-331, 9-333
Team Galle's 1st Innings
Batting
R
B
M.Warnapura
b Lasith Embuldeniya
18
39
L.Milantha
(runout) Kaushal Silva
0
0
Oshada Fernando
c Dushmantha Chameera b Kavishka Anjula
0
7
S.Samarawickrama
c Lasith Embuldeniya b Kavishka Anjula
1
10
R. Silva
not out
231
392
MD Shanaka
b Dilruwan Perera
95
157
PC de Silva
c Vishwa Fernando b Dilruwan Perera
47
63
Nisala Tharaka
b Lasith Embuldeniya
20
36
A Dananjaya
(runout) Lahiru Thirimanne
24
84
M. Pushpakumara
b Vishwa Fernando
19
47
Mohomed Dilshad
c Kaushal Silva b Dilruwan Perera
4
16
| Bowling | O | M | R | W | E |
| --- | --- | --- | --- | --- | --- |
| V. Fernando | 23 | 2 | 88 | 1 | 3.83 |
| Kavishka Anjula | 17 | 5 | 52 | 2 | 3.06 |
| Dushmantha Chameera | 11 | 1 | 31 | 0 | 2.82 |
| L. Embuldeniya | 37 | 1 | 147 | 2 | 3.97 |
| Dilruwan Perera | 34 | 5 | 106 | 3 | 3.12 |
| D.De.Silva | 8 | 2 | 13 | 0 | 1.63 |
| Shehan Jayasuriya | 11 | 0 | 31 | 0 | 2.82 |
Fall of Wickets:
1-0, 2-3, 3-10, 4-22, 5-224, 6-321, 7-370, 8-431, 9-461, 10-476